Aloha King Elvis Slot Game Review
In 1973, Elvis "The King" Presley held the first ever concert to be broadcast live worldwide from somewhere in the Pacific Ocean. "Aloha from Hawaii via Satellite" was the concert documentary, and the stunning island state was the tropical backdrop.
In the Cafe Casino Aloha King Elvis slot, Elvis is holding his comeback concert on those familiar Hawaiian sands, and you have the opportunity to secure your all-access pass and claim a prime position.
Though… don't be too alarmed if he looks a little different than expected. You see, this version of Elvis, beneath the threads and that crooning voice, is actually a super-suave frog, with his complexion a cheery bright green.
But there are so many reasons to toadally embrace this incarnation; the Elvis in this online slot has the swagger, the voice, and the oh-so-stylish mop of locks that sit atop those oh-so-stylish yellow aviators. So when Elvis Frog invites you (in a series of ribbits), along to one of his nightly soirées for free spins, giant symbols, and bonus buy features, you'll naturally reply, Aloha, King Elvis!
So, start right here with the Cafe Casino Aloha King Elvis slot review, and after that, you're just a shimmy and shake away from being serenaded by the King of Rock n' Roll.
Aloha King Elvis Slots FAQ
Is this game related to Elvis Frog in Vegas?
It's true! Elvis Frog features in both games, which are quickly becoming the top must play slots of the week at Cafe. 
How do you get a shot at the biggest fixed jackpot?
You can win the Mega jackpot from within the coin re-spins round when you fill all three horizontal lines with coins.
What's the highest possible RTP?
When you purchase the Buy Bonus feature with free spins and the giant symbol, the RTP rises to 98.69%.
Aloha King Elvis Game Theme
In the Aloha King Elvis slot at Cafe Casino, Elvis is a frog dressed in suitably island-themed garb, complete with hibiscus flowers in his swept-back hair, a traditional lei and oversized, citrus-colored 1970s shades.
He's accompanied by the highest-paying symbols in the game: his froggy ladyfriend, a bright pink VW tour van, his ukulele, and a set of bongo drums. What more could a Hawaiian Elvis need?
The concert begins from the moment you hit spin, and you could add a few more coins to your account balance from the get-go. For each friend you invite that makes a successful deposit at Cafe, you'll receive a referral bonus to play with!
Now get ready to rock-a-hula baby, rock-a-hula baby. Got a hula lulu from Honolulu, that rock-a-hula baby of mine…
Aloha King Elvis Game Format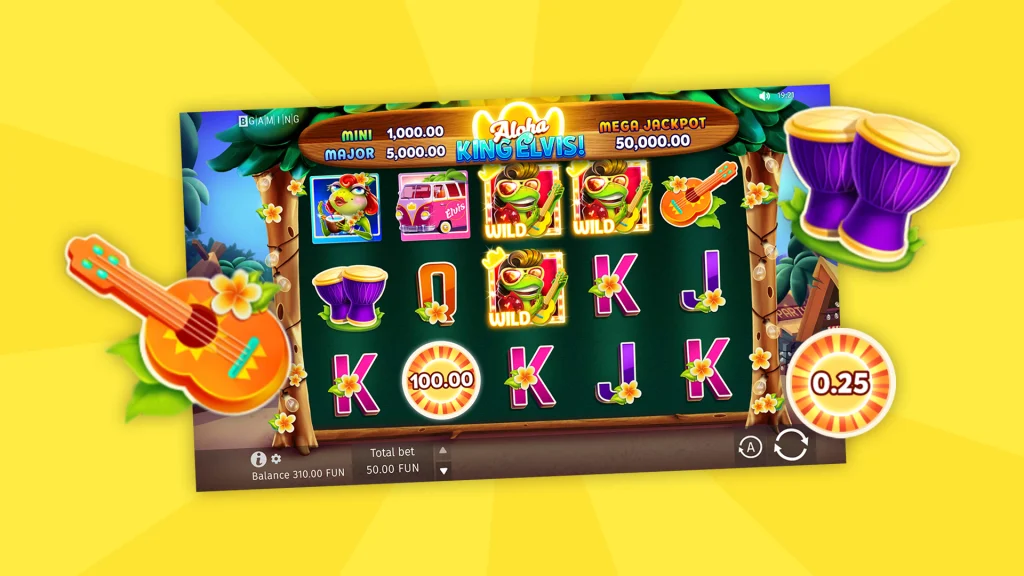 5 reels, 3 rows, and 25 paylines are a familiar setup for many Cafe Casino online slots. The minimum bet of $0.10 is a wholly inclusive one for players, and the maximum bet of $250.00 ensures that heavy hitters who roll high will have their own marquee on the beach.
As is usually the case with games that have bonus buy and chance x2.5 options, the RTP of Aloha King Elviscan be anywhere between 94.98% and 98.69%. Where, exactly it sits in any given spin depends on which slots features you opted into when you selected them.
Aloha King Elvis Game Features
"The night is heavenly and you are Heaven to me" are the lyrics that play like melodies in your mind as you encounter these slots features one by one.
Coin Symbol
The coin symbol contains the shining sun in its sphere. 6 or more of them in the main game will trigger the coin re-spin feature. After all the coins land, their values are added up for a final prize.
Surfing Jackpot
During the coin re-spins round, if just one horizontal line fills up with coins, you'll win a Mini jackpot of 20x your bet. If two horizontal lines are filled, you get the Major jackpot of 100x your bet. To get the Mega jackpot of 1,000x your bet, you'll have filled up all three horizontal lines. Then the crowd goes wild… but this time it's not for Elvis, it's for you, the jackpot-winning star of the show.
Free Spins
The bonus symbol is a tiki mug sporting a straw. Go ahead and take a big sip if you're a little parched! If you land three of these on reels 1, 3, and 5, you can choose between two different rounds of slots free spins.
Special Guest Party: The middle three reels converge into one giant reel. The symbols that fall within these reels are giant, too, and you get 5 free spins to witness them.
VIP Party: You only see middle, high, and coin symbols on the reels, along with 8 freebies to spin the night away.
Buy Bonus
If you're interested in the highest possible slots RTP, this is where you'll find it. You can activate the Buy Bonus with the corresponding button in the base game. Now, you can directly purchase your entry into one of the free spins rounds or the coin re-spin feature. If you opt to do the free spins with giant reels and symbols, you'll elevate your RTP to 98.69%!
Chance x2.5
When activated, the Chance x2.5 feature automatically increases your bet as well as your chances of triggering free spins or the coin re-spins slots features.
As always, the greatest feature of all is to play this game via crypto gaming. Experienced players at Cafe deposit and withdrawal through crypto. That means they get paid a lot faster, and their transactions are the most secure.
Is Aloha King Elvis Slot Game worth a spin?
An island dream, original theme and features galore, including a variable RTP, lay the foundations for a tropical treasure hunt.
No matter how you sing it, this Aloha King Elvis online slot review leaves little room for doubt: this smash hit slot game is worth a double platinum spin.
Even if you don't use the Buy Bonus or Chance x2.5 features, the 3 fixed jackpots, free spins, and parties busting with giant, exclusively high-paying symbols will still make this trip to Hawaii one to remember.
FYI – fixed jackpots are different from Hot Drop Jackpots. Hot Drop Jackpots come with three jackpots that are required to drop by certain times. Your odds increase the closer you get to the trigger point. When you're done singing along with Elvis, learn more about these must drop jackpots.
Play Aloha King Elvis Slot Game at Cafe Casino Now
You've flown from afar into the Aloha King Elvis slot at Cafe Casino, and the surf and sand alone is music to your ears. But if you hear a song set adrift on a lazy breeze: "Take my hand, take my whole life too, for I can't help falling in love with you", then here's your big chance. Follow Elvis into the reels, and take a front row seat as you hit spin.