Aztec Magic Bonanza Slot Game Review
Following the disappearance of the Mayans in Central America, a new era dawned; and it belonged to the Aztecs. This vibrant civilization, nestled throughout the verdant, fertile landscapes of central Mexico between the 14th and 16th centuries. They were known for their advanced culture, intricate mythology, and complex social, political, and religious systems.
But for today in the Cafe Casino Aztec Magic Bonanza slot, they're known most prominently for their Buy Bonus, free spins with random multipliers, and tumbling reels features, too.
In this Aztec Magic Bonanza slot review, we're traveling to the bustling city of Tenochtitlan, the capital of the Aztec Empire. You'll experience first-hand the spiritual rituals of the Aztecs and the divine forces, fueled by their belief, permeating the reels and resulting in grandiose displays of slots wins.
It's an entire bonanza of culture, ceremony, and riches. Open your eyes and look around; you're officially in the Aztec Empire, and the reels are yours to explore.
Aztec Magic Bonanza Slots FAQ
How many reels does Aztec Magic Bonanza have?
There are 6 reels and 5 rows, so the game screen is nearly a perfect square.
How does the Chance x2 feature work?
When you activate this feature, your bets are automatically increased along with your chances of winning a bonus game.
How can you access the highest RTP?
This comes from the Buy Bonus feature. If you purchase free spins at the highest price, your slots RTP consequently reaches the highest as well.
Is this slot eligible for a bonus?
Yep! The most popular bonus for this slot is the referral bonus. That's where you get up a bonus just for referring a friend to Cafe Casino. You don't even have to make a deposit yourself!
Aztec Magic Bonanza Game Theme
Way back in 1325 when the Aztec city of Tenochtitlan was founded, the magnificent Templo Mayor was founded as the center of the peoples' religious ceremonies. The Aztec Magic Bonanza slot at Cafe Casino could have been formed right beside it with intricately carved symbols made of stone.
The Chief, known as the tlatoani, played a particularly important role as the leader of religious ceremonies, making him the highest-paying regular symbol in this slot. On his right hand is a female priestess there to help guide the rituals of the reels as the second highest-paying symbol of the game.
The sound effects are both stoic and fiercely alive with successive wins highlighted by a tlapitzalli, or Mexican clay flute song of the native peoples; hollow and melodic.
Aztec Magic Bonanza Game Format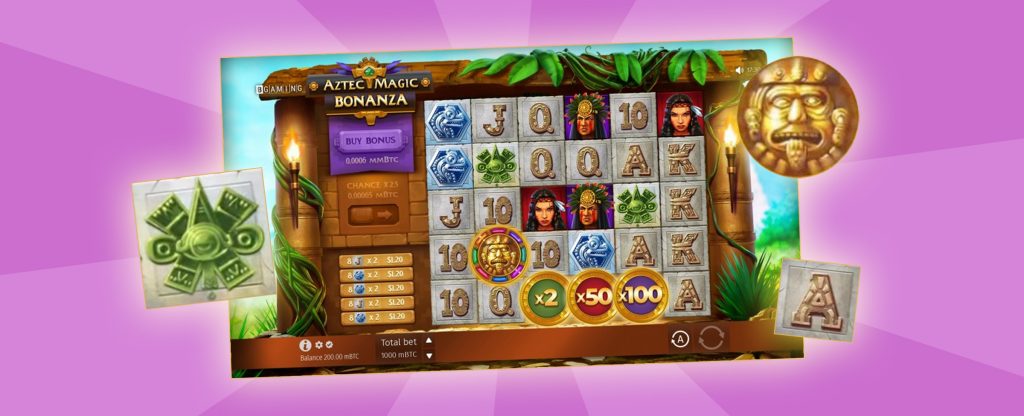 6 reels and 5 rows within the temple grounds leave a plenty big slots grid for catching matching symbols. That's extra important since there are no paylines in the game. Instead, you win by landing a minimum of eight matching symbols from anywhere on the reels.
Because of the Buy Bonus and Chance x2 features, the RTP can be either 94.51%, 94.15%, or 94.14%, which are all fairly standard.
The minimum bet is $0.20 and the maximum bet is only $49 without the bonus buy or chance features, which we'll go over later.
Since this is a game at Cafe Casino, Aztec Magic Bonanza also qualifies to play through crypto gaming. All you have to do to get the convenience of crypto is deposit with crypto. You can still view your player balance in USD. Then simply withdraw in crypto again to get paid faster than any other method.
Aztec Magic Bonanza Game Features
The Aztec people had rich and complex religious beliefs that reflected a deep respect for nature, the cosmos, and the interconnectedness of all beings. If only they had known about Cafe Casino online slots like this one, they likely would have appreciated these features, too.
Tumbling Reels
As the stone symbols tumble and crack over the reels, the ones involved in a win drop from view and are replaced by new symbols to help form new wins. The tumbling reels feature keeps tumbling down until the gods put up their hand and no more wins are achieved.
Free Spins
The scatter is represented by the carved-out, golden face. Landing 4 of them anywhere on the reels will trigger a round of 10 free spins. As the energy picks up from the temple ceremony, however, you may land 5 scatters to get 20 free spins, or 6 scatters to get 30, all enhanced by the multiplier symbol. If those aren't enough for you, you could always land three more scatters to play with 5 additional free spins.
Multiplier
"Abundance" was a concept well-known by the Aztecs with their flourishing agriculture and rich natural resources. So it's no surprise that in a slot online dedicated to their legacy, we would find our own abundance in a field of multipliers, too.
The multiplier symbol appears during the slots free spins round, and it takes on a random multiplier from 2x to 100x whenever it lands on the reels. All multiplier symbols that appear during one sequence are tallied together for a bigger win.
Buy Bonus and Chance x2 Features
While the Aztecs were spiritual people who had a deep respect for the gods of the Earth and cosmos, they weren't ones to sit back and leave the success of their booming civilization to chance. You don't have to, either.
You can use the Buy Bonus feature to skip ahead and purchase a round of free spins. Another option is to activate the lever on the left for the Chance x2 feature, to increase your odds of triggering it. In either case, your purchase amount will be displayed on the screen.
Once you learn the mitotiani dance of the reels and the cryptic Nahuatl script of the features, you'll be full of enough power to try Hot Drop Jackpots, too. These online slots produce some of our most major big winners since they have three jackpots that are required to trigger by certain times or amounts.
Is Aztec Magic Bonanza Slot Game worth a spin?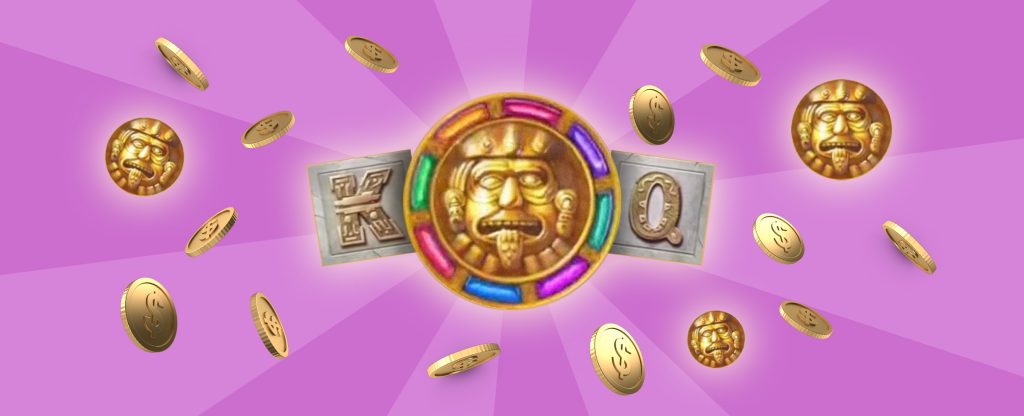 One question should sum this up: Have you played a slot online with a spiritual and historical theme, zero paylines, and slots features that let you take control of your experience with a direct connection to the symbol-giving gods?
If you've not, then the Aztec Magic Bonanza slot at Cafe is just the game to widen your eyes to a different kind of magic, and to bless you with a time of learning and growth – personally and financially!
Play Aztec Magic Bonanza Slot Game at Cafe Casino Now
As you've seen in this Aztec Magic Bonanza online slot review, this game is abundant with the valuable resources and riches that were so distinct to the Aztecs' time on planet Earth. For your own journey to the wealth of an ancient people at Cafe Casino, simply approach the temple, place a bet, and watch as the stone symbols crack and crumble from the reels to reveal your magical, ancient prize.