BONANZA BILLION SLOT GAME REVIEW
Experts agree: two cups of fruit a day makes for a healthy body and a healthy mind. With the Cafe Casino Bonanza Billion slot, you'll have mountains more than that, and you'll end up with a healthy balance in your life as well. That is, a healthy balance in your game!
In this Bonanza Billion slot review, you'll learn about the six fruity reels and how sweetness isn't just a flavor, it's an experience of slots features too. When you reveal the core of these sugary, ripe fruit symbols, you won't believe the enticing treats that are hiding inside.
With a unique setup that doesn't have any paylines, the option to buy your own bonus, and a random multiplier value applied to your wins in free spins, you'll be gobbling up the bounty of the fruity bonanza a billion times over.
Let the sweet escape begin!
BONANZA BILLION SLOTS FAQ
Can I play this game on my phone?
Absolutely. Bonanza Billion is a great mobile slot with its simple, non-busy graphics that automatically scale down to size.
Can you still win without purchasing the bonus buy?
Of course! The bonus buy is just an added feature in case you'd like to skip ahead to free spins.
What is this slot's RTP?
Because of the bonus buy and chance x2 features, the slots RTP can range from 93.86% to 94.04%.
BONANZA BILLION GAME THEME
Bonanza Billion starts out by being calming, featuring a muted green backdrop of hills in front of a blue sky, with gentle harp and piano music to listen to while you play. But it's going to keep your attention, that's for sure!
The relaxed atmosphere is paired with a bright fruity-colored game grid that bursts and refills with new symbols, capturing your eyes and ears with every spin. The high-paying slots symbols are luscious 3D fruits with a sugary shine, accompanied by gems, stars, and hearts.
There's also juicy gobs of unique features popping up (literally!) all over the place. You're sure to have an adrenaline – and sugar! – rush on the reels within a mere matter of spins.
BONANZA BILLION GAME FORMAT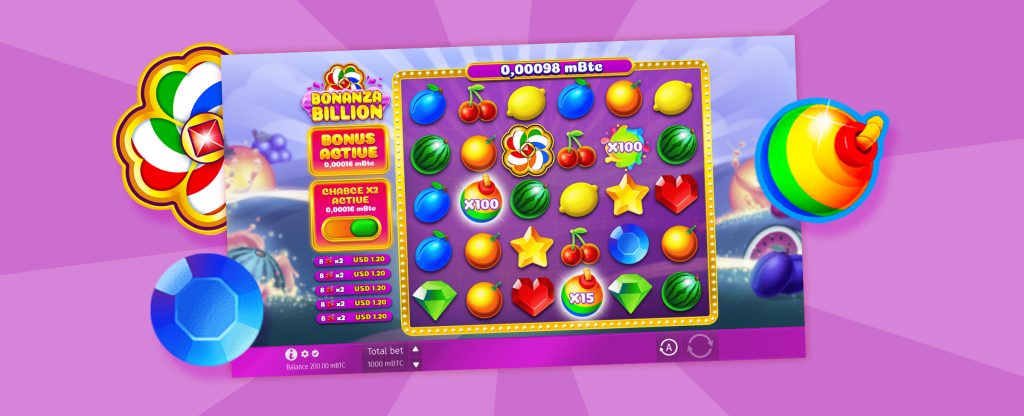 Bonanza Billion slot at Cafe Casino is certainly a unique one when it comes to format. There are 6 reels and 5 rows, but zero paylines. Each symbol has its own bar of health, if you will, and landing a certain number of them anywhere on the reels will award the "cha-ching!" of their prize.
The minimum bet of $0.20 is pretty standard, and the maximum bet of $33.00 is on the lower side. But there are plenty of multipliers to make up for it.
The slot game's RTP is 94.03%, but it can vary slightly if you apply the buy bonus or chance x2 features.
Like all of our games, you can indulge in the fruits of Bitcoin gambling transactions. That just means you deposit with crypto, view your balance in USD, then withdraw in crypto again. Then you'll enjoy the fastest, most private, and most convenient transaction method at Cafe.
BONANZA BILLION GAME FEATURES
When you play Bonanza Billion slot at Cafe Casino, you hop inside a fruity bonanza with what feels like a billion features to swallow.
TUMBLING REELS
The reels in Bonanza Billion don't "spin" as much as they release the lever and allow the symbols to drop onto the reel. Whenever symbols are involved in a win, new symbols tumble and bounce into their place to help you win again.
SCATTER
As if the fruit bonanza didn't already have a billion colors to behold, the scatter symbol brings them together into another bright treat. It's a flower-shaped pinwheel spinning in hypnotizing motion with red, green, and orange. This is the symbol you need to open up the round of slots free spins.
FREE SPINS
Don't get too used to the green pastures of the base game, because all of that fades away in a flash of tree branches and bird noises to reveal a brand-new land of cotton-candy purple and pink.
The number of free spins you get depends on the number of scatters you landed:
4 scatters = 10 free spins
5 scatters = 20 free spins
6 scatters = 30 free spins
And it only takes three more scatters in this online slot to retrigger with 5 more free spins!
MULTIPLIER SYMBOL
If you see a rainbow-colored bomb bounce its way onto your reels, don't flinch! That's just a bomb of multipliers that appears during free spins, and it explodes to reveal a multiplier at random between 2x and 100x.
BONUS BUY
In some ways, you can think of this online slot like a fruit market. With the Bonus Buy feature, you can press a purple button and buy a bundle of rainbow pinwheels to take you straight to free spins. No one ever said you had to wait!
CHANCE X2
With the second purple button, you can switch it on for Chance x2. This feature automatically increases your bet and tells the game to give you higher odds of triggering free spins.
And remember, to get the features you have to have enough funds to last you inside the slot online, and we have something to help. If you refer a friend to Cafe and they make a successful deposit, we'll give you a bonus.
IS BONANZA BILLION SLOT GAME WORTH A SPIN?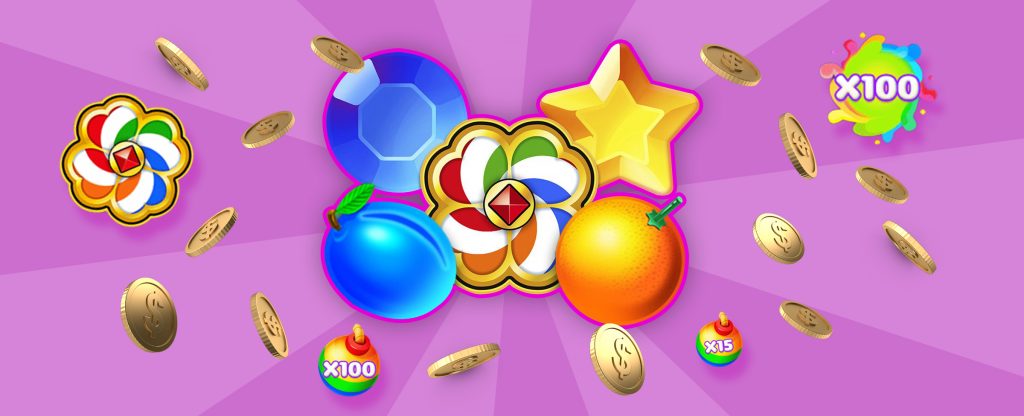 As you've seen in this Bonanza Billion online slot review, the features like 6 reels and 5 rows, zero paylines, a bonus buy, and chance x2 make this game extra unique. Although the maximum bet isn't super high, the multipliers available in the free spins round are more than enough to fill up your balance and satisfy your craving for wins. The simplicity of this game makes it great for beginners, too!
When you're done, you could take a few minutes to digest all that fruit and try out some Hot Drop Jackpots. These games have a daily and an hourly jackpot that must be triggered before the timer hits zero!
PLAY BONANZA BILLION SLOT GAME AT CAFE CASINO NOW
Of our Cafe Casino online slots, Bonanza Billion has a billion opportunities to ripen up your balance with prizes. You can buy your way into the free spins round, or enjoy the pleasant theme as you spin, explore, and taste to your heart's, and your stomach's, content.