Fruit Million Slot Game Review
We've all seen the classic games with their fruits, bells, horseshoes, and sevens. You may have even seen them on a modern setup with five reels and three rows. But what's the bet you've never seen those symbols quite like you do inside the Cafe Casino Fruit Million slot?
This game pushes the boundaries of a classic with five reels, four rows, and 100 paylines. It takes the slots features you're familiar with and adds a touch of modern ingenuity, like stacked symbols, two scatters, and a gamble feature.
Not even the theme is set in stone. You just may find yourself exploring everything from a winter wonderland to a field of summer dreams.
This Fruit Million online slot review is about to show you how everything works.
Fruit Million Slots FAQ
How many themes can you choose from, and how do I select them?
There are eight themes in total, and you can pick one by clicking or tapping the chameleon button above the reels.
How do two scatters work?
Each scatter has its own special function and payouts. Scatter 2 only pays out on certain reels.
What's this game's RTP?
It has a slots RTP of 94.59%.
Does it have Hot Drop Jackpots?
No, it doesn't have Hot Drop Jackpots with hourly and daily jackpots. That said, Fruit Million offers a huge max win of 3,000x your bet, so there are other ways to score a big payday!
Fruit Million Game Theme
So what's the theme of the Fruit Million slot? Well, that's a loaded question. Loaded with options, that is.
In fact, the slots theme itself is customizable. If you select the little chameleon button above the reels, you'll be prompted to choose between eight unique setups. Each one has its own art, effects, and soundtrack, most of which are downright peppy!
You can choose between the standard setup, a festive Christmas, a lovely Valentine's Day, a lucky St. Patrick's Day, a joyful Easter, a sunny Summer, a tipsy Oktoberfest, or a spooky Halloween.
There's an assortment of juicy fruits, while other slots symbols shift and change by theme. Like, the horseshoe may have a sprig of festive holly, a spider crawling over it, or even something else. You'll just have to change the theme to find out!
Fruit Million Game Format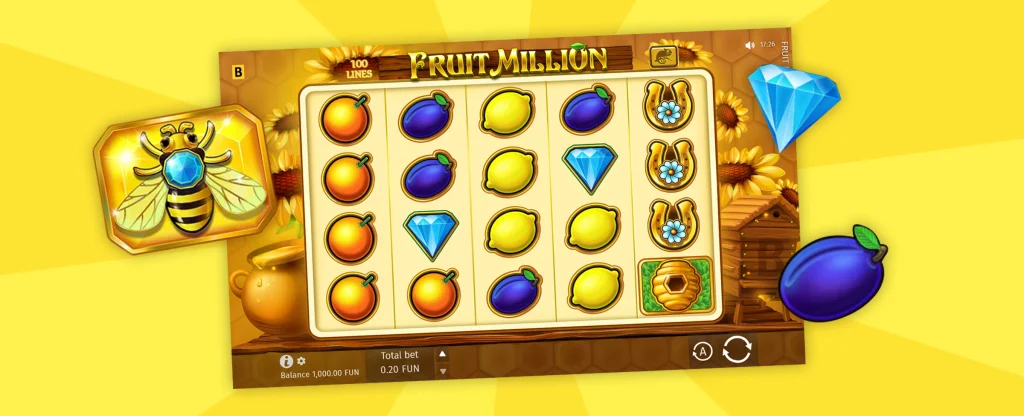 Fruit Million slot at Cafe Casino is a true classic, but with its own twist.
There are 5 reels, 4 rows, and 100 paylines. The RTP is 94.59%.
The minimum bet is $0.10 which means you can spin for ages just to enjoy the different themes. When you're ready to see what the game is made of, you can boost your bet size up to a maximum bet of $165.00.
As with all Cafe Casino online slots, the higher your bet size goes, the higher your possible win. In this case, you can get a max win of 3,000x your bet!
Fruit Million is an ideal game to play after receiving your casino referral bonus, too. Simply invite a friend to make a deposit at Cafe, and we'll pad your balance with a bonus, totally on us.
Fruit Million Game Features
It may be Christmas, Easter, or Valentine's Day, but either way, the features are always the same when you play Fruit Million slot.
2 Scatters
The scatter has long been a crowd favorite when it comes to features. In this game, you get two.
Scatter 1 pays from anywhere on the reels when you land 3 to 5 of them. Scatter 2 only appears on reels 1, 3, and 5 and pays when three symbols land.
Expanding Wild
The Wild symbol can be a four-leaf clover, multi-colored gems, a red heart gem, frothy beers, or something else altogether, depending on your theme. It will appear on reels 2, 3, and 4, and expands to cover the entire reel as a special themed symbol.
Stacked Symbols
To help you out even more in this online slot, symbols can appear in stacks that cover either a part or all of a reel.
Gamble Round
After any winning spin, you're invited to play a guessing card game in the Gamble feature. Guess the color or suit of a face-down card. Correctly guessing the color doubles your previous win. Guessing the correct suit quadruples it!
Is Fruit Million Slot game worth a spin?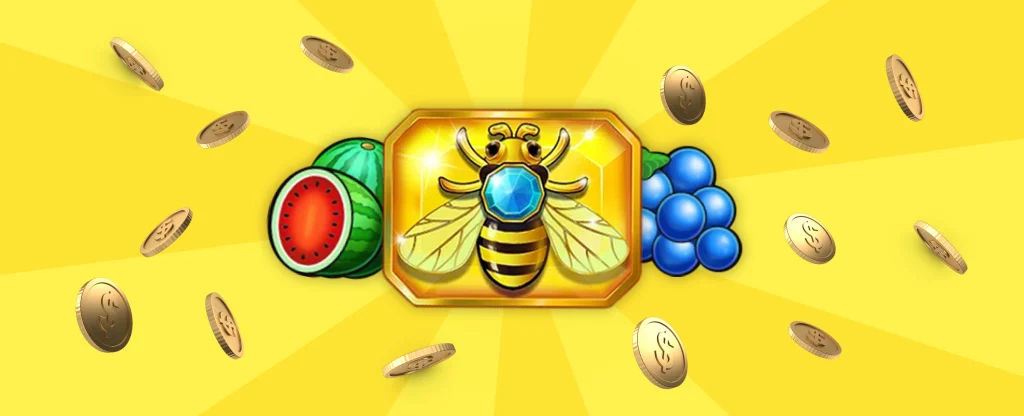 This Fruit Million slot review describes a classic game with a modern twist. The features behind the traditional symbols are unique and fresh. They're not overly complex, so you won't need Google to understand them. The game strikes a perfect balance between familiarity and novelty. And with the variety of themes, you'll never get bored.
The best way to enjoy a game like this is by playing the slot online with crypto gambling. Depositing is done lightning fast in comparison to your bank, and nothing changes in your game – you still see your player balance in USD. That's what's so interesting about crypto: you get all of the benefits for minimal effort.
Play Fruit Million Slot Game at Cafe Casino Now
There's always a reason to play Fruit Million slot at Cafe Casino at any time of year. Whether you're stirring a creepy cauldron or hunting for eggs, stacked symbols, a gamble feature, and expanding Wilds are waiting to join you. However they appear will be up to you!