Miss Cherry Fruits Jackpot Party Slot Game Review
A disco party has been infused with jackpot beats, and the red-hot-red-haired host is inviting you to the dance floor to make a play and bust a move! It's time to reely get down.
Cafe Casino Miss Cherry Fruits Jackpot Party slot is the most happening and delicious slot in Cafe Town. It's a funky party on the reels with flashy disco balls, re-spins, free spins, and three fixed jackpots. There's also a buy bonus and chance x2.5 nudge in the right direction for anyone who attends.
The DJ has started spinning the tunes, so you'll have to enter the doors of this Miss Cherry Fruits Jackpot Party slot review to join the party and spin a few tunes of your own – to the distinctive beat of payday chimes.
Miss Cherry Fruits Jackpot Party Slots FAQ
Is this similar to the Miss Cherry Fruits slot?
Yes, this slot is based on the same Miss Cherry Fruits, but this time she's bringing added slots features, with a bit more of a modern look and feel.
How do you win the fixed jackpots?
Inside the re-spins round, you have to collect coins on one, two, or all three horizontal lines for the mini, major, and mega jackpots respectively.
What's the best way to deposit to play this game?
Cafe Casino is a renowned Bitcoin casino, and most players deposit and withdraw with crypto. It's all-around more convenient because the transactions easier and they require far fewer fees than your bank.
Miss Cherry Fruits Jackpot Party Game Theme
If you've been tempted to join any other party in the coming days, toss that invitation out the window! The Miss Cherry Fruits Jackpot Party slot at Cafe Casino is the gathering of the year! The sprawled-out dance floor is bathed in festive red light, complete with funky disco music, a flashy disco ball, and fellow attendees who are all around sweet – literally – because they're an assortment of fruits!
This slot game matches your personality if you're outgoing and quick with a smile; but wallflowers will find plenty to love, too. Skip the small talk and shimmy straight to the bonus round from the Buy Bonus feature – but more on that later.
Miss Cherry Fruits Jackpot Party Game Format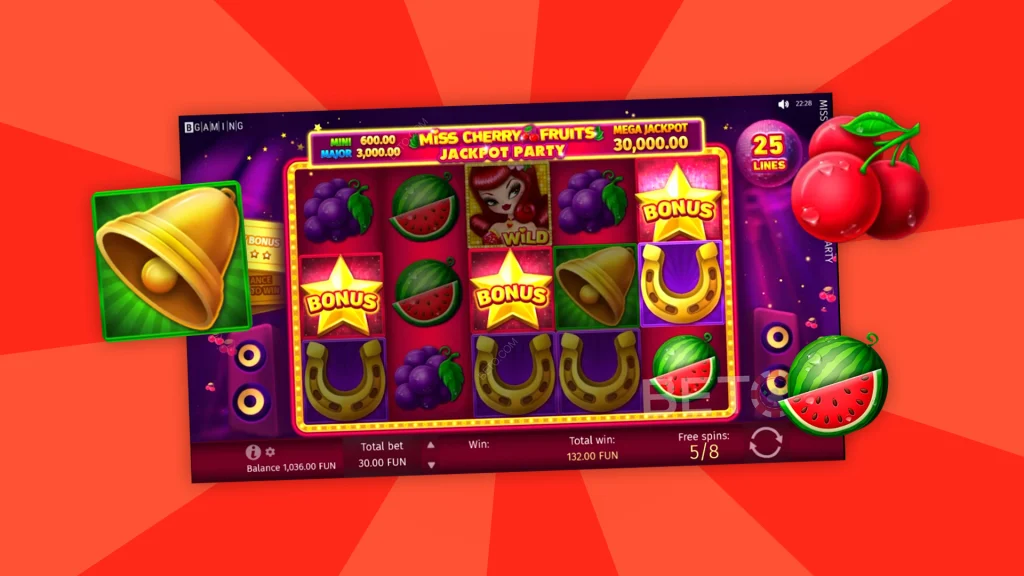 With 5 reels, 3 rows, and 25 paylines, there's plenty of room to show off your moves on the online slots dance floor.
The cost of the ticket is anywhere from a minimum bet of $0.10 to a maximum bet of $750.00.
Depending on the features you play with in this slot online, the RTP can vary. Overall, the slot RTP is 94.65%. With Buy Bonus, it varies from 97.13% for the free spins round to 96.9% for the re-spins round. The Chance x2.5 feature ranges from 94.83% to 94.77% depending on which are activated.
Miss Cherry Fruits Jackpot Party is always welcoming more guests. If you know anyone who perks up at a good night out, feel free to invite them and we'll give you a referral bonus.
Miss Cherry Fruits Jackpot Party Game Features
This party is a lively one, and understanding the features is the best way to enjoy the positive energy and mingle with the prizes.
Wild
Your vivacious, red-haired host is the Wild, and she lives up to the name as one of the most vibrant symbols in attendance, substituting for all other regular symbols.
Bonus Symbol
There's another star on the dance floor, and it's not you or the host this time. It's the bonus symbol which is a big gold star, and three of them on reels 1, 3, and 5 are your ticket to free spins.
Free Spins
You'll start with eight slots free spins in this quickstep round, but only the high and middle symbols show up to get their groove on. And if eight isn't enough, you can always land three more bonus symbols to get eight more. Oh, and the retriggers are unlimited. Can you last 'til dawn!?
Disco Ball Re-Spins
You can't have a funky party without a disco ball. When six or more disco balls appear on the reels of this online slot, a re-spin feature kicks off. Each disco ball that lands during re-spins has a given value from 1x to 20x. The more that land, the higher your win will be.
Three Fixed Jackpots
While you might expect a disco party to feature just one disco ball, Miss Cherry Fruits has other ideas. The more disco balls on this dance floor, the better.
If you happen to land disco ball symbols across one horizontal line, you get the Mini jackpot of 20x your bet. If you fill up two horizontal lines, the Major jackpot is yours at 100x your bet. If you happen to fill up all three lines with disco balls, you get the Grand jackpot of 1,000x your bet. Just when you thought you couldn't party any harder…
That's the whole jackpot party point!
Buy Bonus
Like many of our Cafe Casino online slots, this game has a Buy Bonus feature. When you activate it, your next spin puts you directly into either the free spins round or the re-spins round. There'll be no waiting in line out in the cold with that sort of ticket.
Chance x2.5
With the Chance x2.5 feature, a little extra money in your bet will more than double your chances to trigger one of the two (or both!) bonus rounds, and you can nudge up your RTP when you do.
Is Miss Cherry Fruits Jackpot Party Slot Game worth a spin?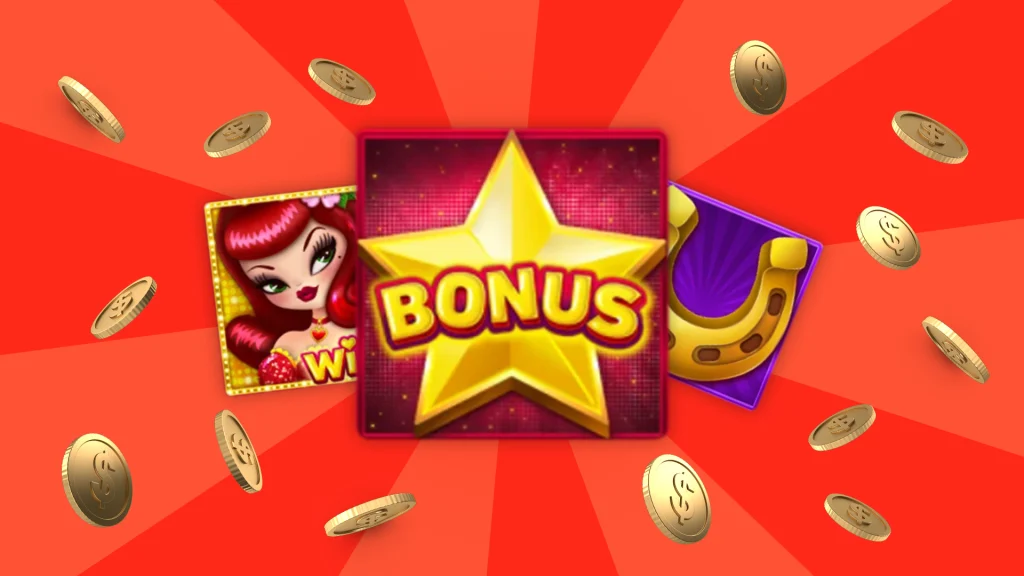 Every spin, twirl, and shimmy will land you in a different feature laid out in this Miss Cherry Fruits Jackpot Party online slot review. There's so many opportunities, RTPs… and yes, jackpots. It's fair to say that anyone who enjoys some fun and excitement should accept Miss Cherry Fruit's invitation and be first to arrive at the next Jackpot Party.
Jackpots come in several flavors – not just fruit. Have you tried Hot Drop Jackpots? These jackpots are being awarded constantly throughout the day, since the hourly jackpot is configured to trigger every hour, and the daily jackpot every 24 hours. You'll see them ticking down on the homepage of Cafe Casino, so keen watchers can put one foot in the door at just the right time to win!
Play Miss Cherry Fruits Jackpot Party Slot Game at Cafe Casino Now
The groove is going strong in the Miss Cherry Fruits Jackpot Party slot, and there's an open space on her reels for you to get down and boogie. Just a bet is all you need to get in, and three fixed jackpots await you. Now, let's perfect your disco spin…