Wild Cash X9990 Slot Game Review
There's nothing quite like strolling down memory lane with the cozy embrace of a retro game. Remember the days when arcade sounds mingled with high-top sneakers and SoBe tea? Close your eyes and let the chorus of clinking coins transport you back to yesteryear, all while you dive into the world of nostalgia with a game that's as comforting as your favorite meal – the Cafe Casino Wild Cash X9990 slot.
Step into the realm of Wild Cash X9990, where juicy fruits and the chance to win up to 9,990x your bet await. Modern games might dazzle you with their high-end graphics and complex features, but fear not! No need to study paytables here. In fact, it's refreshingly simple – just what you need for a chill slots gaming session.
Hold on to your joystick, because this game really does keep it classic with just one in-game feature to watch out for. And guess what? If you're in a rush to score big, there's a Buy Bonus waiting for you, allowing you to skip ahead like a pro.
We break down everything you need to know in this Wild Cash X9990 slot review.
---
MICHELLE C. FROM NH WON $149K PLAYING WILD CASH X9990 AT CAFE CASINO IN JULY 2023!
---
Wild Cash X9990 Slots FAQ
Is this game associated with Wild Cash?
Yes! Wild Cash is the even more retro version, featuring just 3 reels and 3 rows and a simplified version of the features.
How do you get the max win of 9,990x your bet?
Nab the 10x multiplier by landing 5 of the bonus symbol, then hit the maximum multiplier value of 999x during the bonus round. Next move: victory dance.
Are there bonuses that can be used for this game?
Yes – bag a referral bonus by getting a friend to sign up at Cafe Casino and you can put that straight into Wild Cash X9990, maybe even turning it into an avalanche of wild winnings.
Wild Cash X9990 Game Theme
Are you a fan of the original Wild Cash slot? It's one of our top 3×3 classic slots. Well, Wild Cash X9990 brings the same retro look and feel, but in a bigger version, with inflated reels and rows and a juicier maximum win.
In the Wild Cash X9990 slot at Cafe Casino, the fruit symbols are bright and ripe, and ready to be picked. While you bite into those, you spot timeless symbols like the big red 7 and a yellow shining star amidst the lineup, visuals that'll make your inner gamer cheer.
Retro arcade music and sounds accompany each spin, while a midnight-blue background spotlights dollar bills raining to the ground, reminiscent of tickets pouring out of your favorite old-school arcade machines.
Wild Cash X9990 Game Format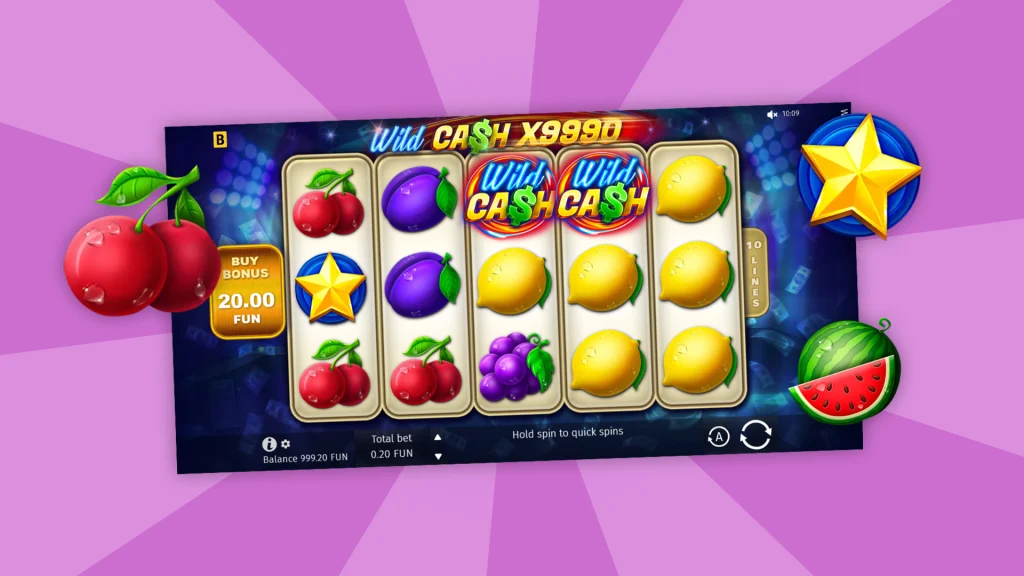 This game may be retro, but we hope our Wild Cash X9990 online slot review makes it clear: don't expect it to go small.
There are 5 reels, 3 rows, and 10 paylines, and a maximum win of 9,990x your bet; hence the name!
When you play Wild Cash X9990 slot, a minimum bet of $0.10 will do just fine, or you can crank it up to a maximum bet of $50.00.
Because there's a Buy Bonus feature, the RTP varies from 96.12% overall to 96.07% when you skip ahead by purchasing the bonus round.
Wild Cash X9990 Game Features
While you only need a minimum of three flashy Wild Cash bonus symbols to enter the slots bonus round (the primary game feature), how the round unfolds depends on exactly how many bonus symbols you land.
If You Land 4 Bonus Symbols
With four, your trip to the bonus round is accompanied by a multiplier of 3x.
If You Land 5 Bonus Symbols
This is the big one. Five bonus symbols trigger the bonus round with a multiplier of 10x, which is needed to clinch the game's maximum win.
Bonus Game
You've made it to the bonus game, and it's like a neon dreamscape. A massive line, spanning three reels, takes center stage, illuminating your screen.
Spin that reel, and watch the numbers land. The magic number will be between 1x and 999x – it's your multiplier value in the bonus round. That number is multiplied by any multipliers you secured when you entered the round (ie. 3x or 10x).
If luck graces you with a 999x, and you breezed in through 5 bonus symbols, guess what? The stars align, the heavens sing, and you hit the max win of 9,990x your bet. Jackpot, anyone?
Buy Bonus
With the Buy Bonus feature, you can spend the amount on the screen to walk straight into the bonus round. The next spin will land with either 3, 4, or 5 bonus symbols and take you right there.
Got a taste for control? Hot Drop Jackpots is where it's at. While you can't buy your way into the bonus round like with Wild Cash X9990, you can wait for that timer to inch closer to zero and then jump in. The closer you get to liftoff, the hotter your chances become.
Is Wild Cash X9990 Slot Game worth a spin?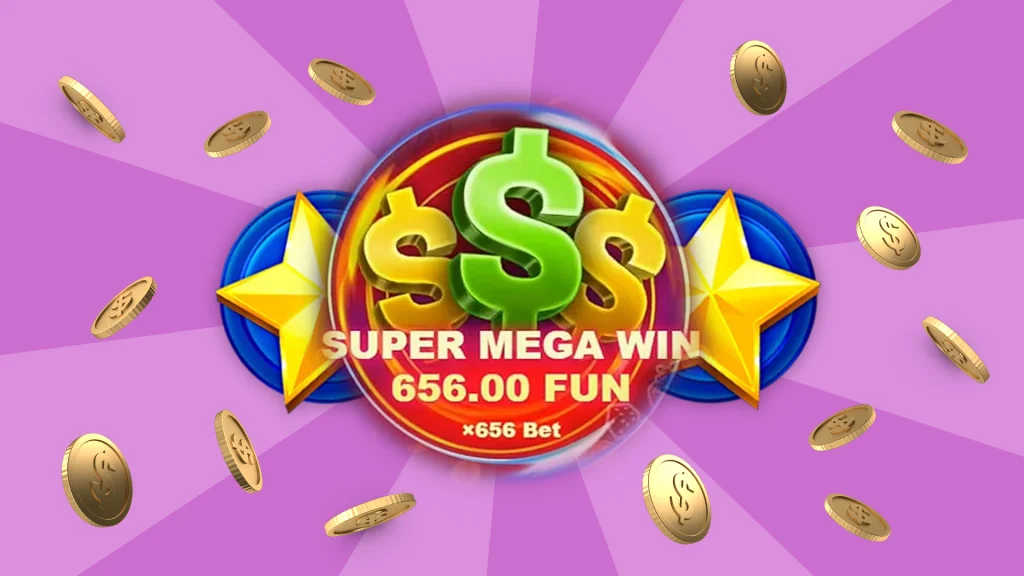 With just one primary feature but a max win of 9,990x your stake, this is one of the top Cafe Casino online slots to play when you want to chill out with something familiar without skipping the thrills.
Just three Wild Cash symbols are all it takes to enjoy the bonus round which is the central draw of the game. Of course, the feature could always be improved with four or five Wild Cash symbols, but that's just a bonus on top of the bonus!
One of our next big slots winners just might be a few spins away in Wild Cash X9990, so it's definitely worth it to play! And since Cafe Casino is a top crypto casino to play at, you can withdraw your wins at warp speed. Plus, the withdrawal maximum is even higher than your classic arcade high score.
Play Wild Cash X9990 Slot Game at Cafe Casino Now
Don't just reminisce about the past – live it through with Wild Cash X9990 slot online at Cafe Casino. Pluck those fruity symbols, give 'em a good squeeze, and keep your eyes peeled for the Wild Cash symbol that could transform your modern-day gaming session into an unforgettable journey down memory lane. Your wins are multiplying, and so is the excitement. Are you ready to play?