These Big Winners Felt the Rush! See Their $150K+ Paydays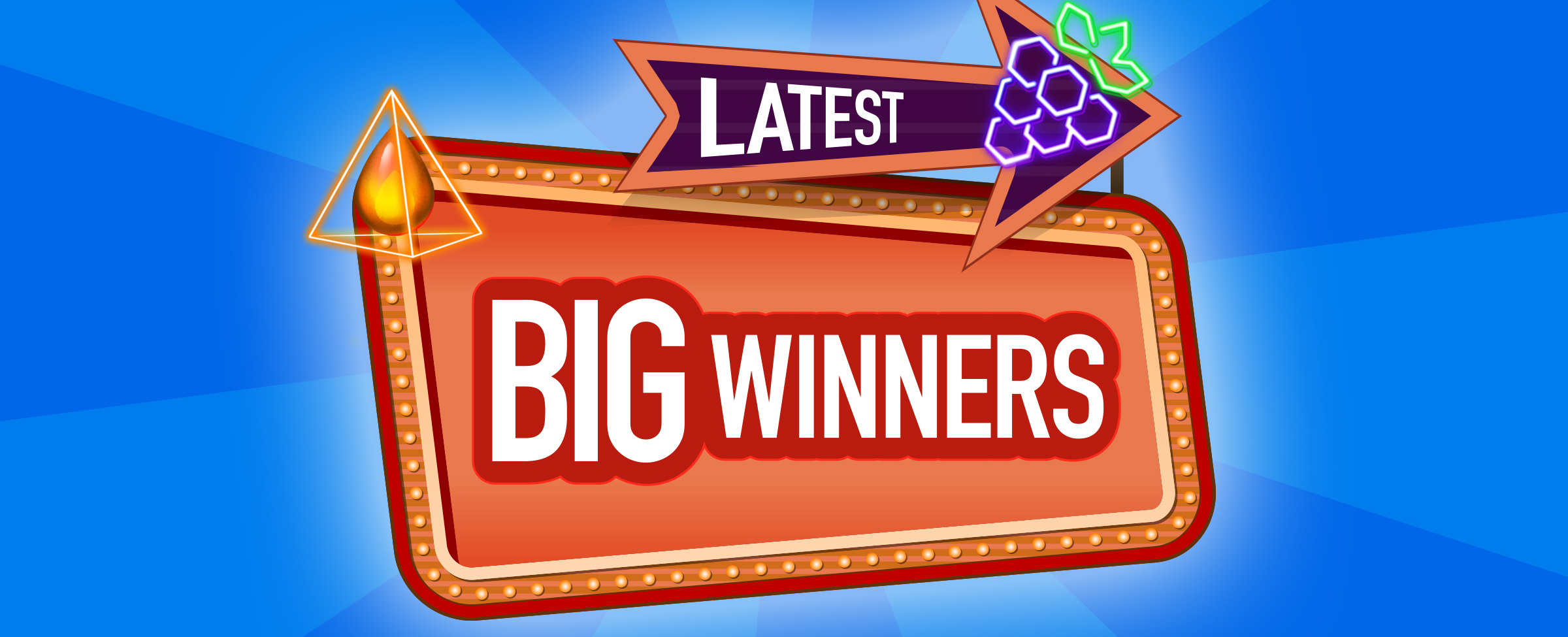 Those who have partaken in online slots know: you don't have to ride a rollercoaster or go skydiving to get a jolt of life-affirming adrenaline. The thrill is there from the moment you hit spin, and when the jackpots come into view, your heart begins to jump like a jackhammer, and your imagination is running alongside it in lockstep.
Jackpots and adrenaline are exactly what April's Cafe Casino big winners got. These lucky five strapped their bets on, glided from the airplane into some of our best online slots, and made a soft, perfectly choreographed landing on a pile of pure, green cash.
Luckily for the rest of us, those big wins will only keep on coming, and these Cafe Casino winners, even as they lap up the glory and the acclaim, won't be the last five to stand on the winners' podium. Every game your eyes can feast upon is dripping with prize potential.
Before you set off on your own rendezvous with the chance to fly past five digits, let's take a minute to congratulate these $150,000+ winners for their stunning success.
Ralph B. from OH won $243,489 on Oasis Dreams Hot Drop Jackpots
It's unusual to meet a slots player who hasn't dreamt of winning big; after all, even with all the fun and entertainment, wins are part the reason we play.
As the largest of our Cafe Casino jackpot winners from last month, Ralph B. from Ohio saw his dreams come true when he won the major prize inside Oasis Dreams Hot Drop Jackpots.
Although the Arabian desert is vast and dry, this slot is teeming with the energy of living features. Bonus symbols lead to a bonus game to win either up to 15 free spins with up to 200 additional Wilds or a Hold and Spin game for up to 1,000x your stake. Better yet is if you find a few crown symbols within the sand. That means you win one of three Hot Drop Jackpots!
As long as you enjoy games like this one via Bitcoin gambling, you'll ride out on a camel in style with your withdrawals. You still see your balance in USD when you play, but it is a lot faster and more convenient to take payouts with crypto than by bank.
Vitaly S. from IL won $237,422 on Reels of Fortune Hot Drop Jackpots
Speaking of Cafe Casino Hot Drop Jackpots… These slot games are all the rage at our online casino. They're designed with three jackpots that are set to trigger by a certain time or dollar figure. One drops every 60 minutes, another every 24 hours, and the Super Jackpot drops before it reaches $300K.
Vitaly knew what to do when the Super Jackpot was reaching its limit in Reels of Fortune Hot Drop Jackpots: just dive in and take a shot. The closer it got to the must drop point, the higher Vitaly's odds were of winning.
A Wild diamond can multiply your wins by 2x or 5x when it lands on the single payline. If you land one bonus symbol on the third reel, a bonus wheel appears with multipliers up to 500x.
Of course, if you want to win the major prize of one of the Hot Drop Jackpots, all you have to do is land three special crown symbols on the payline, like this lucky big winner did. Then, you'll have an extraordinary chance to place your hands on the jackpot wheel and spin… and it's a done deal!
Anna W. from MN won $165,838 on Mystic Elements
Let's give it up for yet another Cafe Casino winner who surpassed $150K!
Anna W. from Minnesota got swept away with the magic of the Mystic Elements slot.
If you've ever played this slot before, then you know it's an ethereal ride through the 5 reels of another dimension. Elements of the universe are present in the form of earth, water, wind, and fire, but the element you're really after is light.
If you land at least three free spins symbols in the base game, the mystical vibes wrap you up in hypnotic music as you're invited to play with up to 150 free spins through a series of retriggers.
The light symbol only appears within the free spins bonus round, and you'll want five of them to win the progressive jackpot. That would place you right next to Anna, and, hopefully, it will be yet another jackpot that soars past $150K!
Chad M. from IL won $161,375 on 10 Times Vegas
Chad M. has proved that he has what it takes to make it big in Vegas. In fact, it was Vegas that turned around and paid him $161,375.
In 10 Times Vegas, you can join Chad in a takeover of the Strip, in a brilliantly nostalgic online slot bolstered by neon lights. There are only 3 reels and 3 paylines to play for here – it's straight to the point, and the point is jackpots! Along the way, you'll dig those classic symbols like fruits, hearts, and bars. The aim of the game is to land a Wild multiplier on reel 3 to retrigger a re-spin on reel 2.
 With the retrigger, a special jackpot spin may be rewarded at random. If it is, you could win the same progressive jackpot that made Chad the king of Vegas and a Cafe Casino big winner.
Just like a real night out on the town, don't forget to invite some friends. For each friend that you refer to Cafe, you can earn a referral bonus.
Patrice C. from TX won $154,399 on 777 Deluxe
If you think players love a deluxe-style game with eight jackpots, well, you're right! They most definitely do. That's part of what makes this game one of our best online slots this month… and every month, really (it's super popular!).
777 Deluxe took Patrice on a golden ride from Texas to a playground in the stars. There weren't any reel lines in this classic-inspired slot, which made the symbols and their wins stand out even more.
If three mystery symbols happen to appear, a new game will take over where you can spin to match up sevens on a single payline. Matching sevens of any color awards a slots prize, but the triple gold is what will have you leaping for joy alongside Patrice with the massive progressive jackpot.
What does it take to be the next big winner? Let's see: playing some Cafe Casino online slots you love, a handful of bets to play, and a lucky combination of symbols that will let you take it all. These five players not only prove that it's possible, but also that you can win over $150K. What a dream! So, start by picking some slots online and make it come true.