What's Brewing In Crypto News (This Week: Your Favorite Big Brands Love Crypto)
In search of the best crypto casino? You've found it right here at Cafe Casino, where knowing all there is to know about the world of cryptocurrency is our jam.
To make sure you can stay up to date as well, we're delivering key news stories for you to digest with your morning coffee. It's the exhilarating world of crypto, one byte at a time.
Let's see what's brewing.
Your Favorite Big Brands Love Crypto
May 31, 2023.
News organization Axios has unveiled its reputation-ranking annual Axios Harris Poll, with respondents giving their views on top U.S. companies. Outdoor goods retailer, Patagonia, topped the list at #1 with its positive consumer sentiment, and the beleaguered Trump Organization (#100) appeared last.
Between these two extremes, some interesting facts have emerged – especially pertaining to the crypto landscape. Scandalized Crypto Exchange, FTX, came in at #99 – no shock, there. However, Bitcoin was a surprising #93rd place.
It's true: the public appetite for crypto follows the ups and downs of the news cycle. However, Decrypt, an online crypto-focused publication, is showing why Bitcoin, and crypto in general, should be more popular in public opinion.
Decrypt analyzed where these trusted and prominent American brands stand on Web3 and crypto – and it seems they are embracing the digital assets with enthusiasm.
Take Chick-Fil-A, for instance. As one of the largest fast-food chains in the country, they secured the 5th position on the list and have shown a keen interest in crypto-related ventures. They've even filed trademark applications, signaling their intention to explore the NFT and metaverse space. Right behind them is the Toyota Motor Corporation at #6, acknowledging the transformative potential of blockchain technology.
And the names keep coming; Kellogg Company (#26), who have been serving our breakfast for generations, has ventured into Web3 gaming via pop tarts. Leading tech giant Sony, which ranked #12, has even applied for a patent related to NFTs, hinting at exciting possibilities for PlayStation and the Web3 world.
As we look ahead, we can only imagine momentum as your favorite brands continue to recognize the potential and actively explore the crypto benefits for you as consumers in the new digital world.
---
Have crypto questions? Check out our Crypto Casino FAQ!
---
US Secret Service Holds Reddit AMA, Reveals Enthusiasm for Crypto
May 25, 2023.
A Secret No More! The US Secret Service are self-declared crypto "enthusiasts".
How do we know that? Isn't it meant to be secret?
Well, on May 15, verified US Secret Service Agents from the San Francisco field office, joined by Bay Area Regional Enforcement Allied Computer Team (REACT), encouraged r/cryptocurrency community members to "Ask Me Anything".
The Redditors learned via the Q&A that the Secret Service has embraced crypto; they hold cryptocurrency, have their own NFT collection, and are avid users of various trading platforms. All of which, they added, conveniently informs their work as investigators.
The thing about the secret service is this: what they do is not really a secret, and that's to safeguard and protect elected and public officials on U.S. soil, and also our financial infrastructure.

Like traditional financial crime, cryptocurrency – now a sizable part of our financial system – has its share of bad actors and opportunists. Accordingly, the Secret Service has been tasked with the same investigative powers to pursue those individuals, and they made clear that they do.
In the AMA, the agents affirmed blockchain's inherent security and transparency advantages. They also the discussed the ways in which people should protect their digital assets, and advertised some of the big wins they've had against the shadowy types who will go to extremes wherever they smell opportunity.
The Agents who availed themselves of a thrilled and curious online audience of crypto fans weren't just shooting the breeze or merely informing the public, though: the engagement was part of a drive to recruit 450 new crypto-focused Special Agents, too.
If the thread's 590 comments are any indication, it looks like they went to the right place.
---
Want to play at a best crypto casino? Here's how:
---
Pepe Coin, a Story of Internet Culture, Memecoins and Crypto Craze
May 18, 2023.
In a whirlwind of events, Pepe coin, a new cryptocurrency fueled by pure hype and the popularity of memes, took the market by storm in recent days, only to experience a dramatic tumble shortly after. It started when Twitter account @pepecoineth shared a cartoonish green frog with a red cap and the "Make Memecoins Great Again" slogan.
With the supply of 420.69 trillion coins, it soon stirred a crypto trading frenzy, catapulting Pepe to an astonishing market cap of over $1.6 billion within three weeks of its mid-April launch.
The coin's exponential growth attracted investors and eventually gained listing on major exchanges like Crypto.com and Binance. "Pump the frog" became the rallying cry on social media platforms, igniting further interest.
If you're not familiar with the meme's origins, Pepe's ascent was entangled with controversy due to its historic connection to internet-based radical groups. However, the coin's link to the meme's history has stayed ambiguous.
Pepe's developers saw an opportunity for the frog meme to reign supreme, and thanks to its memecoin predecessors, Dogecoin and Shiba Inu, it has. Even though Pepe didn't reach either of Dogecoin or Shiba Inu's peaks, it's been able to boast about being one of the fastest-growing cryptocurrencies yet.
Investors are optimistic about the future of memecoins, after witnessing the rise of $PEPE, though the long-term fate of Pepe coin remains to be determined. Still, it has fascinated crypto enthusiasts and novices alike in this unpredictable memecoin landscape.
---
Play Cafe Casino Hot Drop Jackpots with a crypto deposit!
---
ChatGPT Founder Launches Crypto App With A Twist
May 11, 2023.
In a world caught off-guard by the sudden rise of artificial intelligence, much is being made of the blurring distinction between human and AI technology.
Worldcoin, co-founded by OpenAI's Sam Altman (the company behind ChatGPT), has met the moment by launching a product with a biometric solution. Worldcoin's latest innovation, the World App, is described by its developers as "one part minimalist crypto wallet, and one part passport for the AI era."
The World App, developed by Tools for Humanity, provides a wallet-style platform where users can manage their World ID and several digital currencies. It also purports to solve the human vs bot conundrum – the ability to authenticate users as real individuals.
The World ID protocol is an identity-verification system. It underpins Worldcoin's lofty goal of establishing a global distribution network for universal basic income. Verified users – i.e. those who have had their retinas scanned – would claim their share of Worldcoin's soon-to-be-released token.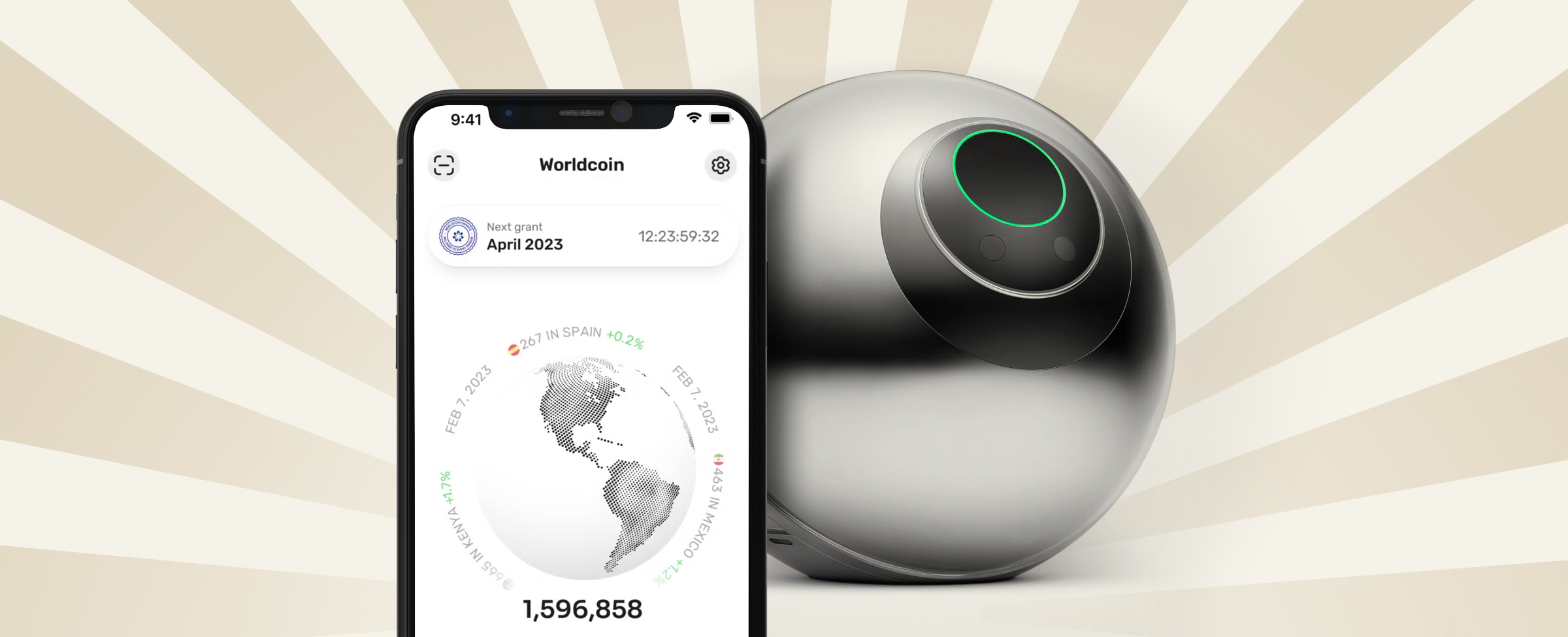 Though critics of World App have raised concerns about privacy and data security regarding the use of biometric scans, the pre-launch adoption numbers (over 1.5 million globally-distributed users!) would indicate that these issues aren't a major barrier to market appeal.
As digital currencies increasingly intersect with traditional markets, tools like the World App will likely close the gap between old and new economies by making platforms so user-friendly that transacting won't require any special knowledge.
The app's universal accessibility and minimalist appeal already puts it a cut above the rest. But with the man behind the tech story of the decade – OpenAI – also standing behind World App – it's difficult to see how it could be anything but a success.
---
Learn how you can earn a casino referral bonus by referring friends to Cafe Casino!
---
Crypto and Web3 The Focus of Killer New Reality Show
May 4, 2023.
CoinMarketCap and Hello Labs, a Web3 entertainment powerhouse, have teamed up to create a new reality TV show where the worlds of crypto and television collide in a competitive battle of innovation and creativity.
Killer Whales, drawing inspiration from the wildly popular Shark Tank series, will showcase – and perhaps fund – the most ambitious Web3, crypto, and NFT projects within the digital landscape. With filming scheduled for June, the series is set to air on major streaming services and Hello Labs' very own Hello TV.
Contestants will have the chance to impress a panel of esteemed judges – entrepreneurs, influencers, and Web3 company founders – by earning 'Swim' votes. By the same token, too many 'Sink' votes could spell the end for contestants. Fans of Shark Tank will be familiar with the show's format.
But there's a slight twist: the show encourages audience participation by allowing projects to rally supporters to secure a "Wildcard" slot in each episode. By upvoting their project pages, viewers with a Hello.one Web3 wallet can directly impact the show's outcome.
Moreover, the introduction of the HELLO token, the show's native cryptocurrency, adds yet another twist; with a minimum requirement of 1,000 HELLO tokens in your wallet, you can unlock a daily Super Vote… equivalent to ten regular votes.
Killer Whales promises to deliver an exhilarating and informative viewing experience. With more Web3-focused television shows in the works (like Krapopolis by Rick and Morty co-creator Dan Harmon), the versatility and potential of blockchain technology will be closer than ever to mainstream.
And who knows: some of them may even get their start from a panel of killer judges.
---
Cafe Casino is the Best Crypto Casino
Why are we the best place to be for crypto casino games? We've got all the right ingredients, that's why! No other crypto casino online offers the benefits that we do.
Lowest deposit minimum: You can get inside games like our popular Cafe Casino Hot Drop Jackpots for as little as $10, versus the $20 deposit minimum if you use your credit card. On top of that, crypto is more private and more secure than any other deposit method!
Always able to deposit: When you're ready to play a game and intent on snatching up its jackpot, the worst thing at that moment is to wait, wait, and wait. There's a sure-fire way to skip credit card hassles. When you deposit crypto to transfer USD at Cafe Casino, your money will be ready in about 15 minutes, so you can jump right into your game and play for that prize before it's gone.
Fastest withdrawal times: Instead of waiting your typical 4-10 business days for a bank wire or check, you can get your paydays within an hour or less once it's approved, but often it's yours within minutes when you withdraw using crypto at Cafe Casino. That's what we call service, and it's what you deserve.
Bigger crypto bonuses: The cherry on top and the reason most of our players love our crypto casino is the bigger bonuses! Take our refer a friend bonus – it tops you up when you tell friends about Cafe and they deposit with crypto!
You're already at the best crypto casino when you play at Cafe Casino, so now is the time to make your deposit and get a satisfying taste of what the world of crypto casino gaming has to offer.