What's Brewing In Crypto News (Crypto-Friendly State Bill Might Bring Widespread Change)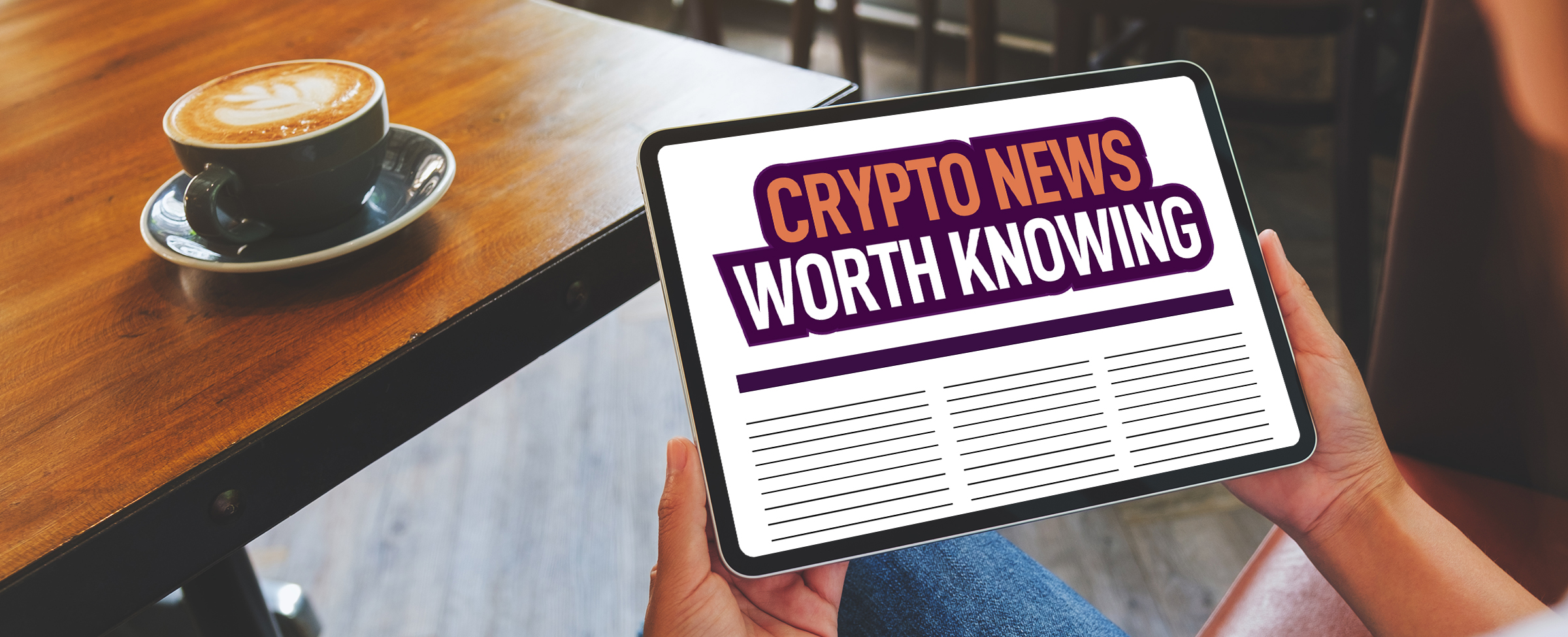 In search of the best crypto casino? You've found it right here at Cafe Casino, where knowing all there is to know about the world of cryptocurrency is our jam.
To make sure you can stay up to date as well, we're delivering key news stories for you to digest with your morning coffee. It's the exhilarating world of crypto, one byte at a time.
Let's see what's brewing.
Crypto-Friendly State Bill Might Bring Widespread Change
February 2, 2023.
New York State is one step closer to mainstreaming cryptocurrency. This comes with a new bill being proposed by Clyde Vanel, a Democratic Assembly Member, called the New York State Assembly Bill A523.
The move is an important one. It means that any state agency can choose – though there is no requirement to do so – to accept crypto payments, and the courts will uphold the decision. To become law, the bill must be passed by the New York Assembly and the Senate, then signed by the state's Governor.
Residents would have the ability to pay for certain bills and state charges – including fines, rent, taxes, fees, revenue, interest, and other payables – via cryptocurrency.
If the bill passes, it will be a leap forward in the state's efforts to embrace cryptocurrency. New legislative frameworks would ultimately lead to a wider uptake, increased services and more applications in day-to-day transactions.
The bill has surprised some. The Empire State was quick to regulate crypto, with some of the country's strictest laws. As far back as 2015, New York was the first state to introduce licensure for companies engaging in business with cryptocurrency.
As recently as late-2022, lawmakers banned certain types of crypto mining. Rather than hinder progress, though, it appears that these early regulations may have ultimately laid the groundwork to usher crypto into the modern era.
With the U.S. Congress set to enshrine crypto into existing regulations in 2023, expect plenty more crypto chatter in the chambers.
---
Want to play at a best crypto casino? Here's how:
---
Cardano Is Soaring As Big Changes Loom
January 26, 2023.
The value of Crypto coin Cardano (ADA) is high and rising, gaining by more than 14% in the past week, 5.4% just in the last 24 hours, and nearly 60% in the past month. This has resulted in the cryptocurrency reaching a statistical milestone of 70 on the Relative Strength Index (RSI), affirming the uptrend.
As of publication, the market price of ADA is $0.3815.
Cardano is the 7-year-old brainchild of Ethereum co-developer, Charles Hoskinson, and now looms as its most comparable competitor. It's already substantially cheaper to transact using Cardano than both Ethereum and Bitcoin. And although Ethereum continues to improve its energy efficiency, Cardano was developed with a reduced carbon footprint in mind.
The reason for the sudden uptick of the crypto coin can be attributed to impending key changes to their smart contract; an automated, digital agreement that manages transactions between parties. In February, Cardano will amend this contract in a way that facilitates external developers to improve the token and to make it more scalable. With more functionality, we can reasonably expect more attention. Ergo, the value trends upward.
Cardano is already the market's eighth-ranked crypto coin. If its market cap continues to increase, we may see it surpass the $1.0 mark within the next few months, ensuring a tidy profit for those earlier investors who take heed of the RSI indicators.
---
Play Cafe Casino Hot Drop Jackpots with a crypto deposit!
---
Miss Universe Contestant Wears Cryptocostume For World's First Cryptocountry
January 19, 2022.
It was a gold carpet affair at the 71st beauty pageant franchise better known as Miss Universe. At least, it certainly was when Miss Universe El Salvador, Alejandra Guajardo, stepped forward with a striking metallic stiletto to showcase her digital assets. 
Keen observers of the Bitcoin market will recall that, in 2021, El Salvador became the first country to pass legislation that officially recognized Bitcoin as legal tender, meaning that it must be accepted wherever traditional currency is, with some minor exceptions.
The country's president, Nayib Bukele, whose domestic popularity hovers somewhere around 90%, has used his two-thirds majority government to enact Bitcoin-friendly environmental and taxation laws. This included the extraordinary step of abolishing capital gains tax for investments transacted with Bitcoin.
Whether or not Bukele had a hand in Miss Guajardo's costume is unknown, but the contestant did hashtag her president in an Instagram post featuring the head-turning outfit.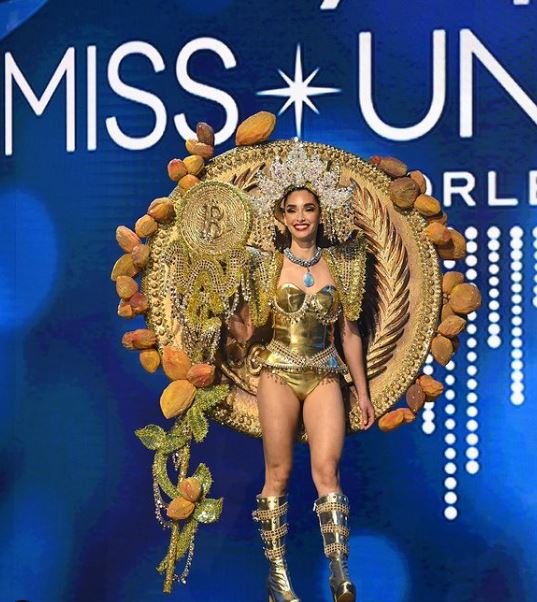 Despite Miss Universe El Salvador returning home without the crown to match her oversized Bitcoin staff, her country will nonetheless be in the global spotlight as it hosts this year's 72nd Miss Universe event.
Said the competition's announcer: You don't need a sash to walk around dressed as cash.
But it certainly does help.
---
Learn how you can earn a casino referral bonus by referring friends to Cafe Casino!
---
Get Ripped And Get Crypto With Fight Out Fitness App
January 12, 2022.
Move over, play-to-earn: there's a new kid in town. The health and fitness industry is enjoying a modern makeover thanks to the rising trend of the move-to-earn (M2E) crypto projects, and right now, the fairest of them all is the blockchain-based platform, Fight Out.
Fight Out is smashing the competition in crypto-led fitness, and market-watchers have noticed. This Web3 (which envisages a future of decentralized networks and data, much like cryptocurrency itself) platform offers all of the functionality you'd expect from any decent fitness app.
Unlike a regular fitness app, Fight Out allows users to earn its in-app currency.
Through various fitness challenges, engaging with in-app content, and interacting with the Fight Out community, users are rewarded with REPS. It's redeemable for store products through to professional one-on-one training sessions, and users running low can top up on REPS by using the FGHT native crypto token.
Unlike its M2E competitors, though, it doesn't just track steps; it tracks movement. Squats, weights, rowing. Whole workouts are captured in the metaverse with your avatar through Fight Out's unique use of technology, and it's this point of difference that makes Fight Out such an enticing proposition for users and investors.
The Fight Out token (FGHT) has already earned nearly $3 million in its presale phase which began in early December. At the time of publication, FGHT was valued at $0.0166, and set to rise as it makes its market debut.
While the Fight Out footprint doesn't yet extend beyond the app itself, the full product rollout will incorporate world-class resources and real-world fitness facilities.
---
Have crypto questions? Check out our Crypto Casino FAQ!
---
What Will Happen With Crypto in 2023? Presenting the Top 3 Predictions
December 22, 2022.
2022 was an eventful year for crypto.
Ukraine began receiving aid in cryptocurrency, Biden issued an executive order for digital asset and crypto regulation, Elon Musk catapulted Dogecoin into the spotlight once again, and if you didn't know what FTX was six months ago, you probably do now.
So – what might we expect to see in the world of crypto in 2023?
1. Investors Still Interested in Crypto Despite Bear Market
Bitcoin will continue the start of the year off in a bear market, according to most predictions. Blockchain.com polled over 40,000 people this past month, and 40% of those respondents said they still plan to purchase crypto such as Bitcoin in 2023. Likely they feel these low prices are great opportunity to get in on crypto.
2. Brazil Will be a World Leader in Crypto
Brazilians have already embraced crypto as an asset class, and now its largest bank, Itau Unibanco, will launch a platform that tokenizes financial products. At this pace, they're on track to soar up the list of the world's most crypto-friendly countries in 2023.
3. More Clear Regulation Will be Established
Thanks to a series of hard-learned lessons in the crypto market in 2022, governments the world over have prioritized regulation of digital assets, providing more certainty and more protections for traders. Expect widespread adoption of regulatory frameworks that brings crypto into the mainstream.
---
Cafe Casino is the Best Crypto Casino
Why are we the best place to be for crypto casino games? We've got all the right ingredients, that's why! No other crypto casino online offers the benefits that we do.
Lowest deposit minimum: You can get inside games like our popular Cafe Casino Hot Drop Jackpots for as little as $10, versus the $20 deposit minimum if you use your credit card. On top of that, crypto is more private and more secure than any other deposit method!
Always able to deposit: When you're ready to play a game and intent on snatching up its jackpot, the worst thing at that moment is to wait, wait, and wait. There's a sure-fire way to skip credit card hassles. When you deposit crypto to transfer USD at Cafe Casino, your money will be ready in about 15 minutes, so you can jump right into your game and play for that prize before it's gone.
Fastest withdrawal times: Instead of waiting your typical 4-10 business days for a bank wire or check, you can get your paydays within an hour or less once it's approved, but often it's yours within minutes when you withdraw using crypto at Cafe Casino. That's what we call service, and it's what you deserve.
Bigger crypto bonuses: The cherry on top and the reason most of our players love our crypto casino is the bigger bonuses! Take our refer a friend bonus – it tops you up when you tell friends about Cafe and they deposit with crypto!
You're already at the best crypto casino when you play at Cafe Casino, so now is the time to make your deposit and get a satisfying taste of what the world of crypto casino gaming has to offer.