It's Reel Love With These Valentine's Slots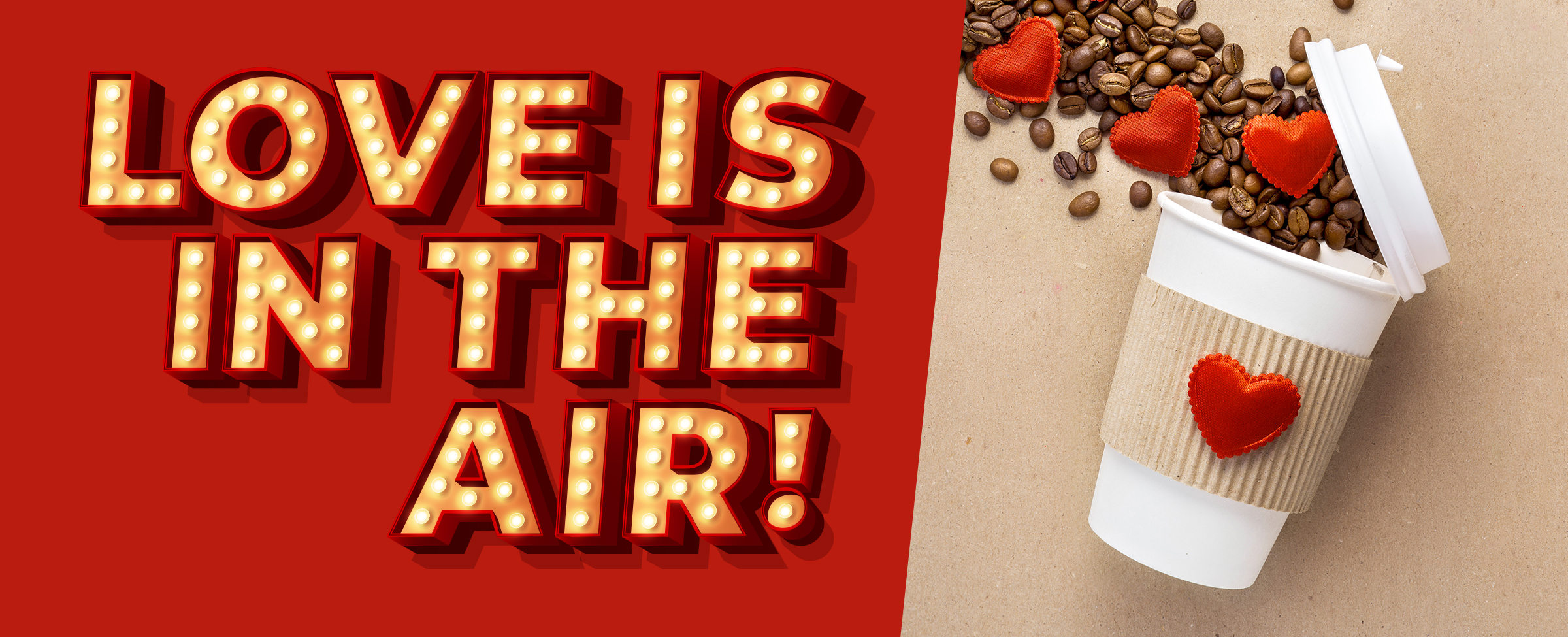 There's one major thing we all think of when February comes around, and it's not the fluffy, white snow you have to shovel in your driveway. Nope – it's something far less cool to the touch.
We are of course referring to that special day, February 14th, when we appreciate the loves of our lives just a little more.
But here's the thing – true love isn't only about the person you're with. Love can blossom for anything that grabs us by the cockles of the heart, including a passion for Cafe Casino slots to play in February.
If you love trying new things, getting swept away by a whirlwind romance, or simply relishing the opportunity to partake in a delicious new treat, then you're facing the right direction. If you also adore winning prizes and jackpots as you're being entertained, then your table at the Cafe of lurrrve is reserved.
On the very special menu you'll find the perfect Valentine's Day slots to celebrate love here at Cafe Casino. Would you be our Valentine?
Caesar's Victory
One of the most famous love affairs of all time involves names we already know well: Julius Caesar and Cleopatra. Legend has it that Cleopatra had herself wrapped in a rug and smuggled into Caesar's personal quarters. From there, a love affair lasting for a few years unfolded until Caesar's death. If only they knew how timeless their story of love would truly be!
While you may not pick up on the romantic side of things right away inside the 5×3 colosseum of Caesar's Victory, if you look a little closer, you'll catch the gaze of Cleopatra piercing through the slots crowd to get Caesar's attention. When he catches her eye as the golden coin Wild comes to life, he winks flirtatiously at his lover – all while saving some of that charm to triple your wins and possibly even award you with the random progressive jackpot.
If you're interested in getting to know Cleo a bit better, you can visit her inside A Night With Cleo Hot Drop Jackpots, where she offers a night in her palace and daily jackpots that must drop every 24 hours.
Forbidden Slot
True love knows no limits. The silver screen has seen no shortage of evidence that this is so, and literature has concerned itself with impossible romance since wordsmiths first put quill to parchment. Even in modern times – or especially in modern times – when it's increasingly rare to encounter a population of two taking on the entire world, you need a game like Forbidden Slot to remind us that love deserves to win.
The two ladies in this goth-inspired slot online represent the forces of good and evil. The two forces were never meant to meet, but the women's magnetism for one another was strong enough to overcome the universal law.
They spin through the 5 reels and 3 rows as giant symbols alongside their equally giant black and white horses. One shows an image of their union. Wild symbols, when they appear, multiply your winning line by up to 10x. When the monochromatic horses unite, the love reins reign supreme while you are awarded 10 free spins with tripled wins.
Lawless Ladies
This one's for all the ladies out there, and the guys who find themselves surrounded by a reliable group of gal pals. There's no better time of year to celebrate true friendship, especially when it's a gang of tough cookies who you know will always have your back. That's why Lawless Ladies is one of our favorite Valentine slots!
Through thick and thin, you'll always know that your five best friends wielding a gun, a knife, a broken bottle, a lasso, and a slingshot will show up to defend you. They're the first ones to offer you support when you feel down, too, in the form of an expanding Wild on reel 3 or a random progressive jackpot that could trigger at any time.
There's always room in the Lawless gang for one more, so be sure to spread the love and get another friend to come along. When you refer friends to Cafe Casino, we'll toss in a referral bonus, which is an undeniable sign of true appreciation!
Gold Rush Gus
Sometimes what we love is the feeling of a new thrill bursting inside you, as you dive headfirst into a brand-new experience.
If that sounds like you, that's your cue to explore the gold mines with the best adventurer there is. Gold Rush Gus is one of our most popular Cafe Casino online slots because everyone just loves its exciting video slot quality.
This slot is full of twists and turns, from its interactive bonus round with side-scrolling action, free spins, re-spins, and even a progressive jackpot buried underneath the earth.
With just so much to see and do, just one adventure with Gus might not be enough. To cherish the experience all over again, you can follow him to the jungle inside Gold Rush Gus and the City of Riches as well, and maybe you'll even discover a new desire in the form of instant wins.
Bess & Becky
No one knows exactly what it is that makes you fall in love with someone. Is it the way their hair flips up at the ends? Is it the little smile that lights up their eyes more than their lips? Or maybe, just maybe, it's the way they award you with multiplying Wilds and tons of free spins. We all have our weaknesses.
In Bess & Becky, you're bound to fall in love with the five fairies for their kindness and generosity. They may live in a secret spot in the woods, but these beautiful forest-dwellers are easy to spot once they trust you and appear as giant symbols.
Their beauty might be what attracts you first in this online slot, and who could blame you? They're glowing with the light of fairy dust and stars. But beyond their physical beauty, these are magical creatures who are offering you Wild multipliers that reach up to 10x, and 10 free spins with multipliers of 3x when a certain special fairy spots you through the trees. Just try not to fall in love!
Since Cafe Casino is the best crypto casino on the blockchain, you have the chance to fall head over heels for greater convenience and faster withdrawals, too. And it's way easier than you might think to set up a digital wallet – it only takes a minute or two!
Larry's Lucky Tavern
If it's an unforgettable experience that captures your heart this February, then we've saved you a seat inside Larry's Lucky Tavern (which is also a bonus if you love the color green!).
Bustling venues, like pubs and clubs, are fabulous places to feel the love of your friends, and perhaps you'll even find a kind of love in the smile of a stranger. You can show up as you are – faded t-shirt and all – grab a stool, order your favorite beer on tap, and surround yourself with the good vibes of truly decent folk. Isn't that really what true love is all about?
While you're basking in the glow of love – whatever form that takes – and feeling a pleasant kick from that last IPA you ordered, you could be swooping up 10 free spins with tripled wins, or following Larry out back for a lucky bonus round full of perfectly-poured prizes.
However you go about it, it's the enduring love for a memorable night out that makes this one of the very best Valentine's Day online slots!
No matter whom you love, and who loves you, these Cafe Casino online slots are just the games to celebrate your affection for the reels this Valentine's!