Which Halloween Slot Game Should You Play?
We've all been eagerly counting down the days 'till Halloween, ever since the very first leaf yellowed.
Although the holiday is on October 31st, the entire month of October can be a pumpkin-filled spookfest… if you have the right supplies. Let's see here… cobwebs, skeletons, and jello brains will be useful, but what you really want to see this season is Cafe Casino Halloween slots.
The prizes in these games will fill up your trick-or-treating pail with an entire month of petrifying paydays. There's a flavor for everyone; pumpkin pie lovers will latch onto a magical recipe of mouth-watering aromas. If corn mazes are your thing, just try to find your way out of this slot's twisted, wicked ways. No matter your favorite spooky season activity, we have just the slot for you to play next.
Can't pick just one? Get ready to enjoy a whole host of Halloween slot machines to suit the season, and you'll be multiplying the thrills and chills alongside your bets with every blood-curdling spin.
If you love baking pumpkin pie, play Potion Spells
You know it's time to whip up Halloween magic when the clock strikes midnight on October 1st… and the KitchenAid is staring at you from a dark shadow in the corner of your kitchen. You're certain it's insisting that you both get to work on the most delicious of seasonal pies. Off to the Potion Spells slot we go, in search of the perfect potion of pumpkin pie.
When you round up your flour, sugar, and pumpkin puree, don't forget to save some counter space for your bets. Those are the main ingredients in this slot, and we think you'll find them plenty filling if you can master the potion. Into the cauldron they go.
On the baking table of the 7×7 slot online, aim to gather as many matching symbols as your oven mitt can grasp to fill up your vials. When those overflow and topple over, the oozing green liquid seeps straight into that bubbling cauldron. Then, it's the sound of a small explosion that disrupts your baking station; one of the four special slots features has ignited, transforming your symbols into a big win.
Aside from devouring that perfect crust with its sweet filling, one of the best parts of making pumpkin pie is the anticipation while it's cooking away in the oven, creating all sorts of heavenly scents. Hot Drop Jackpots are another well-recognized trigger for a steadily rising heartbeat, since they're set to drop before the clock counts down to zero… as frequently as every single hour!
If you love haunted houses, play Monster Manor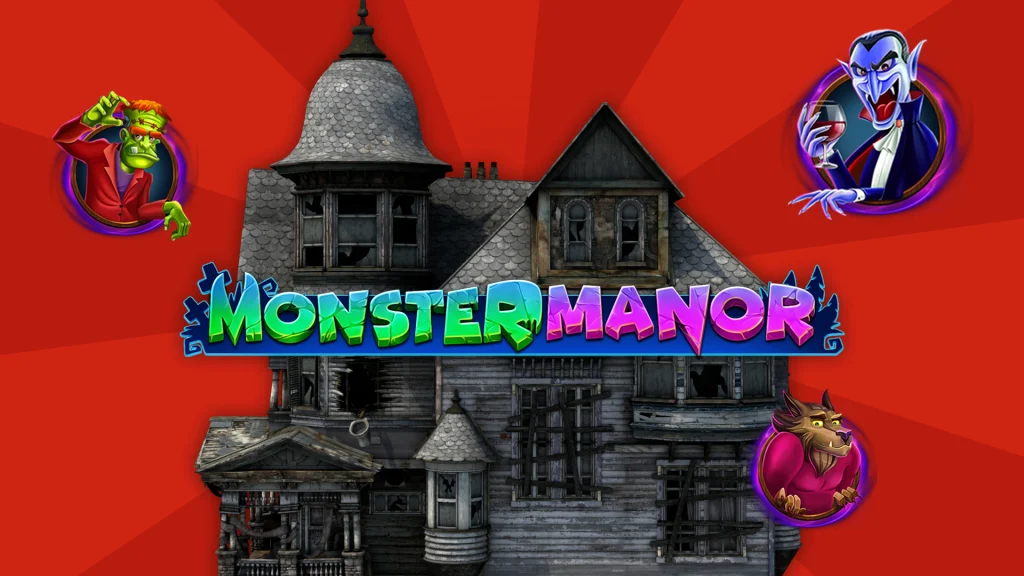 It's not for everyone, but the rush that comes with a good scare somehow makes for a rollicking good time. Fright is fun, and the enduring popularity of horror film franchises – like, Halloween, where Jamie Lee Curtis is chased by Michael Myers, a knife-wielding psycho in a mask – is the perfect demonstration of this.
In the Monster Manor horror slot, you've been abandoned at the towering wooden doors of a haunted mansion atop a desolate hill, and you're curious enough to creak open those doors and explore. You can roam down any hallway and enter any room, but as long as you're inside those weathered walls, no one is responsible for what you find… or whatever finds you.
Black bats fly ominously overhead, but they're not made of harmless paper-mâché. They'll give you a fright, alright, when you see that three of them award a round of 10 free spins with tripled wins.
Lookout for the clever and powerful witch disguised as a cat. Don't jump (or do!) when she reveals herself on reel 3 when she expands as your Wild.
If you love getting lost in a corn maze, play Wicked Ways
In a corn maze where every twist and turn holds a surprise, a game like Wicked Ways gets you pleasantly lost within a labyrinth of slot features.
Well, not too lost, since you do have a well-written paytable to see you through. And it all starts with following the trail of a tempting redhead who acts as your Wild.
As you take wrong turn after wrong turn in a corn maze, the red witch will guide you in her own Wild ways in the slot on reels 2, 3, and 4. At some point, though, the wandering will have to stop. That's when three of your witch Wilds appear together on one reel and freeze in place, allowing the other reels to respin once more.
When two special symbols pop out on reels 1 and 5, they'll lead you through to a fantastic free spins round, which can retrigger for more chances to win.
With Bitcoin slots like these, you get to relish in all the other benefits, too. Haven't tried crypto? Well, deposits are easier, with bigger bonuses, and appear in your balance in USD until you withdraw your winnings. And that means you can jump into playing these Halloween slots so much faster.
If you love mixing up fall cocktails, play Reel Blood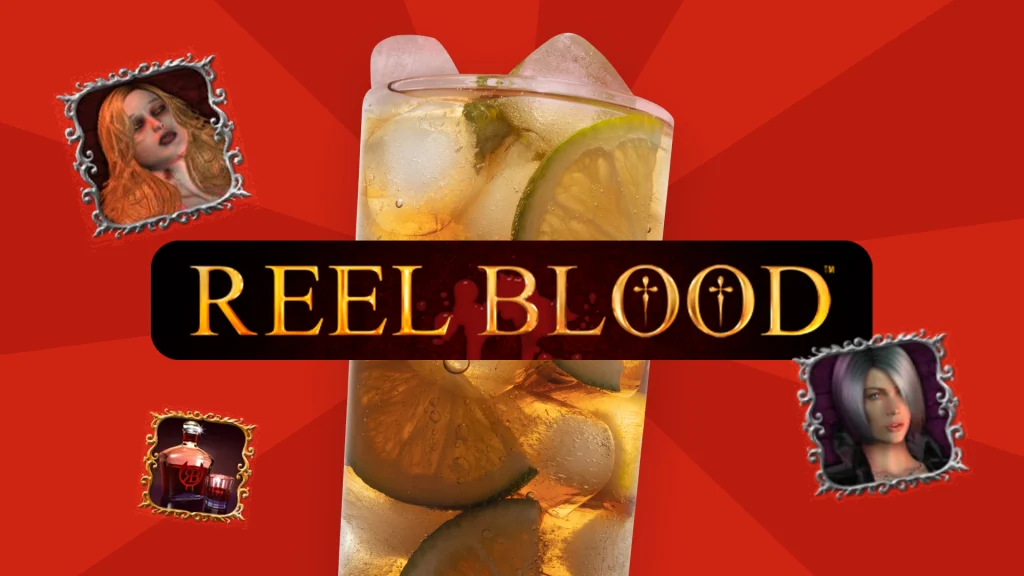 A chill is in the air and a bar is in your lair… or at least it is within the Reel Blood slot.
For anyone who loves to mix apple, pear, and pumpkin-spiced fall cocktails in the days leading up to Halloween, the Blood Bar Bonus awaits you like a bottle of bourbon.
On the wall are 15 bottles of a rather niche liquor that's thicker than usual and tinted the deep red of blood. Then again… maybe blood is exactly what they are.
A bartender with sharp teeth who has never seen the light of day instructs you to select a bottle from the wall. There might be a prize behind the bottle, in which case you can add it to the shaker.
Keep shaking it up until you get a bottle which says "collect". Then all of the prizes are accumulated and strained into your balance in an old fashioned completion of the game.
If you love dressing in costume, play Lucky Dama Muerta
When you go to Spirit Halloween this year to stock up on white, black, red, and pink face paint to transform your face into a piece of art, keep a bit leftover to dress up and blend in with the Lucky Dama Muerta slot online.
If anyone knows how to wear a costume, it's these skeletal partygoers.
Maybe the see-through bones are a bit too realistic for your taste, but you're sure to derive inspiration from the bold color palettes of the sugar skull symbols which blossom over symmetrical marigolds and dice.
You might even be the life of the Dia de los Muertos party as you take a swig of tequila, strum your vihuela, shake your maracas, and dance the Jarabe Tapatio through 15 free spins with tripled wins and Wild multipliers of 2x.
For even more costume opportunities this Halloween season, check out our Miss Cherry Fruits Jackpot Party slot review. It's another party venue, but this time in a disco theme.
If you love trick or treating, play Candy Monsta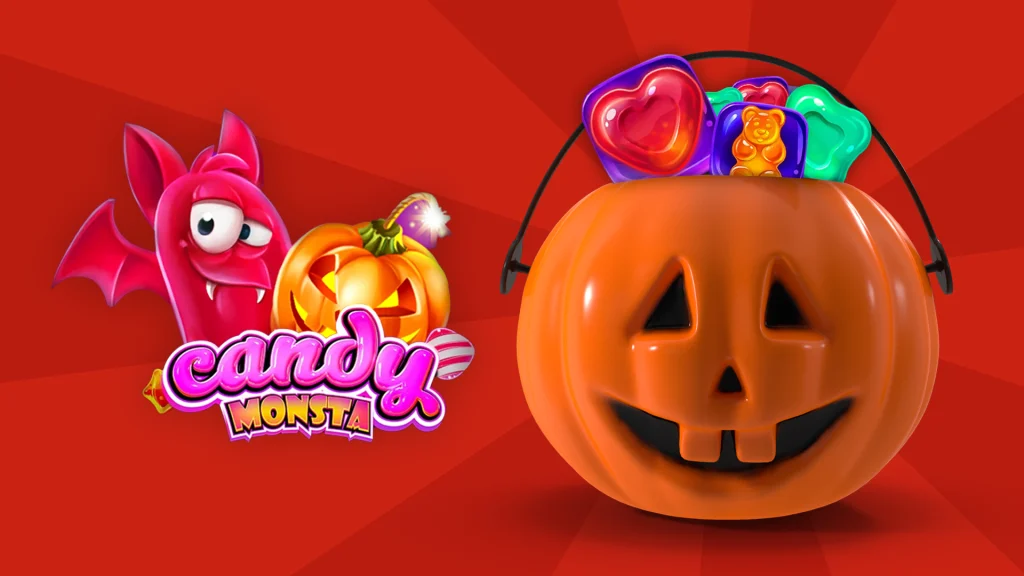 We would never forget the quintessential part of Halloween! You can't let October pass by without donning a raucously fun costume and handing out candy to the neighborhood (while snacking on your own stash, of course).
If you get overzealous with your candy, you might be deemed the Candy Monsta of the neighborhood… and in the case of this Cafe Casino online slot, that would be dandy as candy.
The monsta trick-or-treaters on these 5 reels have an insatiable appetite for sweets, and they're not afraid to strike fear in the hearts of households who don't turn their porch light on.
They may get Wild with a red and white lollipop, or collect enough candies and gummies to create a gingerbread house scatter. As long as they've got three scatters, a round of 10 free spins can land inside their pails, with sticky Wilds to sweeten the deal.
You can also refer a friend to Cafe and join in the Halloween fun. When you've had all the candy your stomach can stand, settle in for a few online slots together, and we'll drop a bonus in your balance bucket for referring.
There's so much to love about Halloween, from the seasonal treats (including the candy!) to the scares to the elaborate costumes. These Halloween slots at Cafe Casino are just as diverse and rewarding, and together they're quite the Halloween party. Just prepare to be disappointed: scary slots are a whole lot less scary when they're bleeding cash.