Nostalgia Unlocked with Plinko and Pineapple Upside-Down Cake
August 2, 2023.
By Genevieve LaMonaca
Genevieve is a former private chef for Las Vegas's elite and currently the proud owner of a top-tier local catering company. In 2020, she began sharing her unique recipes and engaging tutorials on social media and her website, swiftly amassing over 2 million followers on platforms like TikTok, Instagram, and YouTube. She has been a notable Cafe Casino collaborator since October 2022.
Nostalgia has an extraordinary way of whisking us away to cherished moments from our past. Whether it's a simple childhood game or a delectable treat, the power of nostalgia is unmatched. In this article, we'll explore how a classic game like Plinko can be connected to the delightful Pineapple Upside-Down Cake, unlocking memories and emotions that bring a smile to our faces.
If you grew up watching game shows, there's a good chance you'll remember The Price Is Right. It was a game show staple, and one of its most beloved segments was Plinko. (For those who missed out, Plinko involved contestants dropping a disc down a maze of pegs, hoping it would land in a slot at the bottom that corresponded to a cash prize.) The anticipation and excitement of watching the disc bounce and zigzag through the pegs created an unforgettable experience!
Plinko wasn't just a game; it became a symbol of pure entertainment and a comforting constant in many of our lives. Whenever we caught a glimpse of that iconic Plinko board, we couldn't help but be reminded of carefree days spent watching television with our families and friends.
In the world of desserts, few treats invoke feelings of warmth and nostalgia as much as the Pineapple Upside-Down Cake. This classic confection is a culinary delight that carries a piece of history with each sweet bite. The origins of this cake can be traced back to the early 20th century when canned pineapple became a popular pantry item.
The process of making a Pineapple Upside-Down Cake involves arranging rings of pineapple and maraschino cherries in a buttery brown sugar layer at the bottom of a pie dish. The cake batter is then poured on top, and after baking, the cake is inverted, revealing a caramelized fruit topping that glistens like jewels.
At first glance, you might wonder how Plinko and Pineapple Upside-Down Cake could be connected. The answer lies in the emotions they evoke, the memories they unlock, and the joy they bring.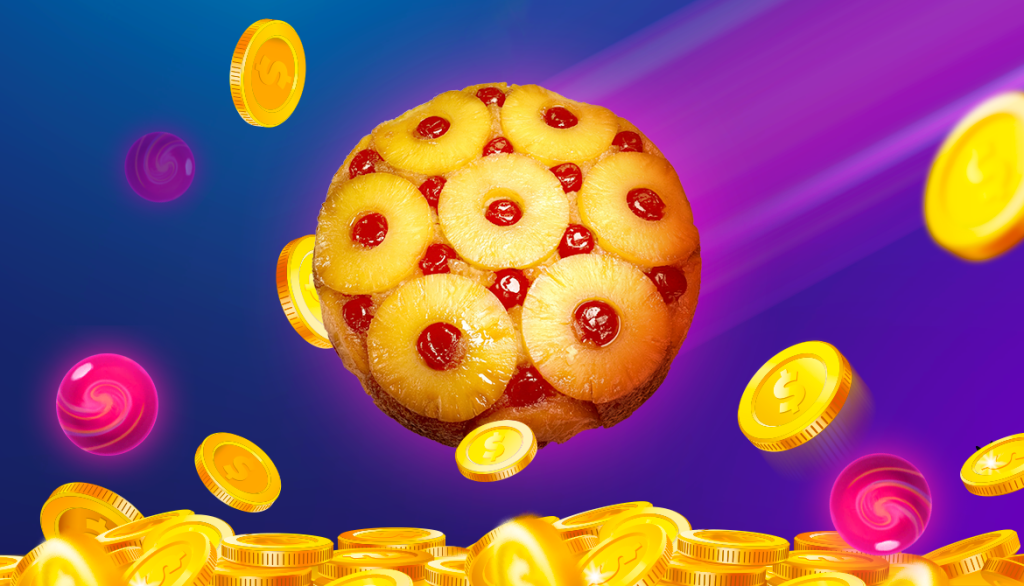 Anticipation and Excitement:
Just like Plinko's contestants eagerly awaited the disc's journey down the pegs, the act of baking a Pineapple Upside-Down Cake is filled with anticipation. From preparing the fruit topping to mixing the cake batter, each step builds excitement for the final result.
Familiarity and Comfort:
Both Plinko and Pineapple Upside-Down Cake represent familiar and comforting elements in our lives. Plinko was a source of comfort in our living rooms with its familiar setup and hosts we grew to love. Similarly, the Pineapple Upside-Down Cake's timeless recipe passed down through generations brings us comfort in the form of a delicious treat.
Shared Memories:
Whether it's gathering around the television to watch The Price Is Right or sitting down with family to enjoy a homemade Pineapple Upside-Down Cake, these experiences are often shared with loved ones. The sense of togetherness enhances the memories we form.
Nostalgia Rekindled:
The act of watching Plinko or savoring a Pineapple Upside-Down Cake is a gateway to our past. It triggers memories of childhood, family celebrations, or moments of pure happiness.
Plinko and Pineapple Upside-Down Cake might seem unrelated, but they share a common power—the ability to connect us to our past and remind us of the simple joys that once brought smiles to our faces. Next time you indulge in a slice of Pineapple Upside-Down Cake or catch a glimpse of Plinko, let the wave of nostalgia wash over you and take you back to those cherished moments.
Want to play Plinko right now? At Cafe Casino, we have hundreds of online slots casino games, including Plinko!
Pineapple Upside-Down Cake Recipe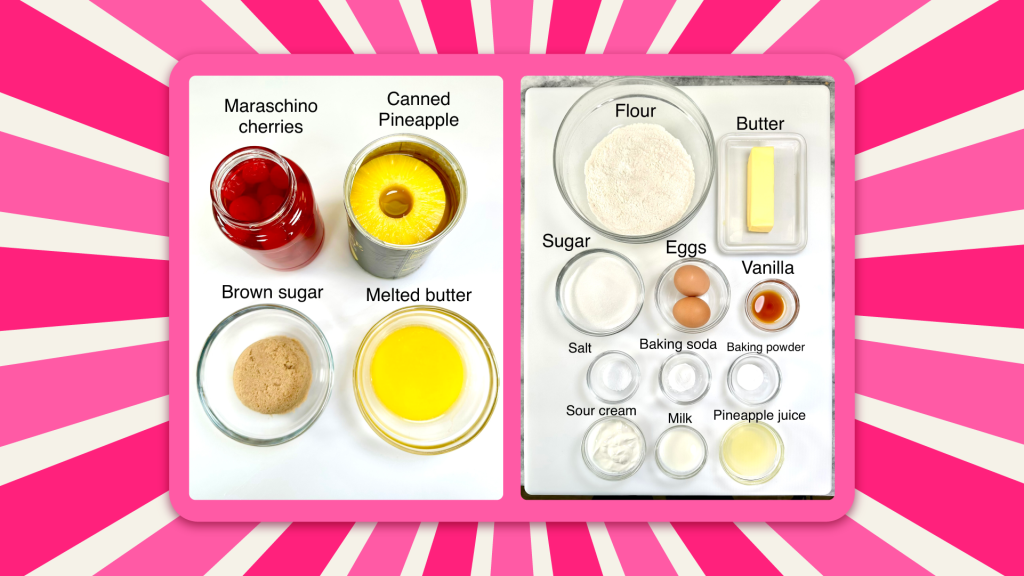 Ingredients:
Toppings:
• 1 can (20oz) pineapple rings
• 25 Maraschino cherries (for the Plinko pucks)
• 1/4 cup butter, melted
• 1/2 cup light brown sugar
Cake Batter:
• 3/4 cup sugar
• 1/2 cup unsalted butter, melted
• 2 large eggs, room temperature
• 2 teaspoon vanilla extract
Dry:
• 1.5 cups all-purpose flour
• 1.5 teaspoon baking powder
• 1/2 teaspoon baking soda
• 1/2 teaspoon pinch of salt
Wet:
• 1/3 cup sour cream
• 2 tablespoons milk
• 2 tablespoons pineapple juice from can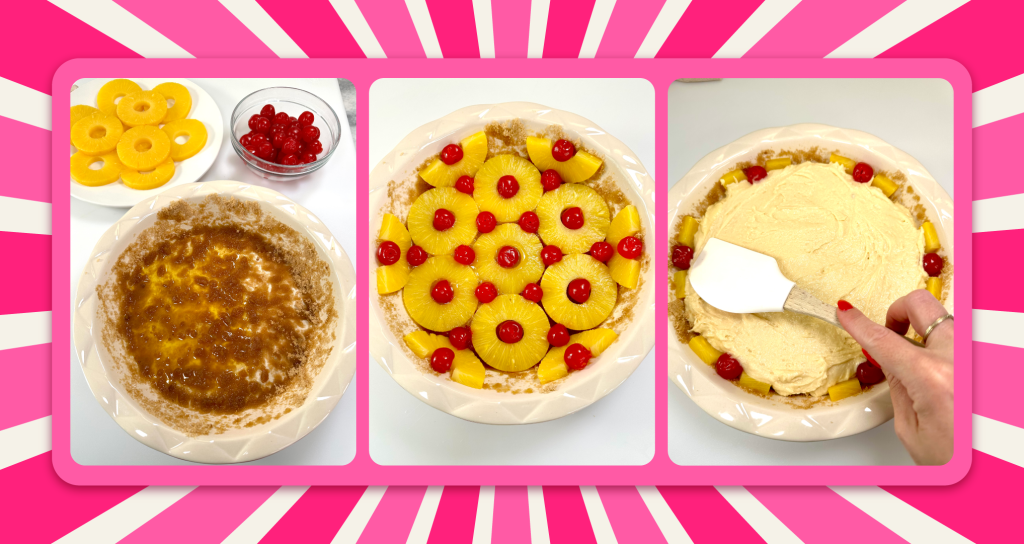 Directions:
1. Preheat oven to 350 degrees F.
2. Pour melted butter into the pie dish and swirl around to coat the dish's bottom and sides.
3. Crumble on the brown sugar over the melted butter on the bottom and sides of the pie dish.
4. Place pineapple rings down starting with one in the middle then working your way out. Use half rings to line the sides of the pie dish.
5. Place maraschino cherries in all empty sections in and around the pineapple rings. Set the dish aside.
6. To make your batter begin by beating the sugar and butter for 1 minute.
7. Add your eggs one at a time and continue beating until combined then add your vanilla extract.
8. Combine all your dry ingredients in a separate bowl (flour, baking powder, baking soda and salt).
9. Combine all your remaining wet ingredients in another bowl (sour cream, milk and pineapple juice)
10. Pour in half of your dry ingredients into the batter and mix until combined, 1/2 of your wet and mix until combined, the remaining half of your dry ingredients, mix until combined and finally the remaining half of your wet ingredients and mix until combined.
11. Pour batter over your pineapple rings and spread evenly.
12. Bake for 25 minutes, cover loosely with foil then continue to bake for another 25 minutes.
13. Allow the cake to rest for 30 minutes then flip onto your presentation dish.
14. Allow to come to room temperature before slicing.
Enjoy!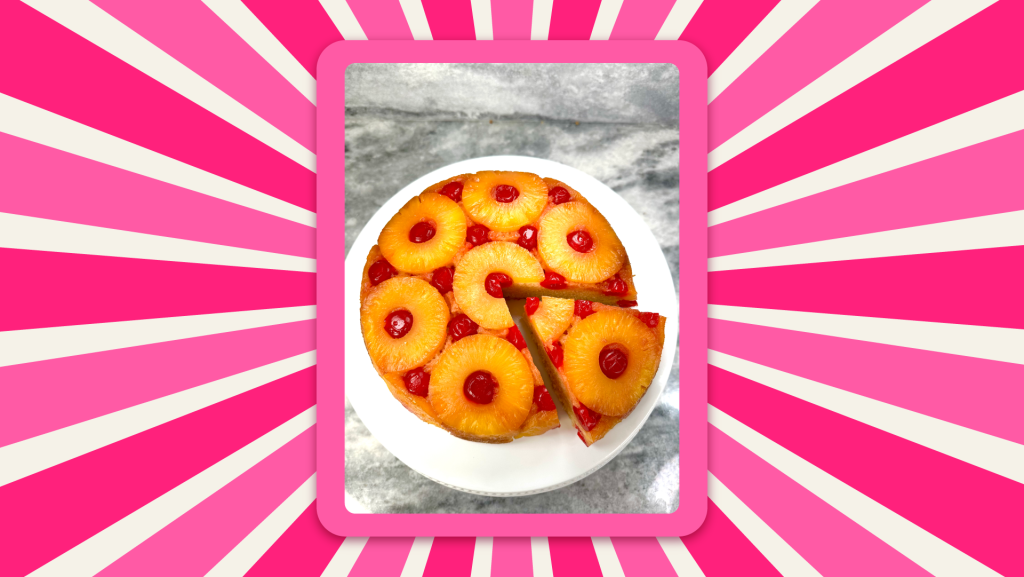 HAVE MORE FUN WITH CAFE CASINO
Add a sprinkle of fun to your recipe for Pineapple Upside-Down Cake by visiting us at Cafe Casino! Our online casino serves up over 250 real money casino games, including slots, table games, progressive jackpots, and Hot Drop Jackpots! You can play using your mobile or desktop at CafeCasino.lv – no downloads or apps required.
Getting started is easy! Cafe is a best crypto casino, accepting popular methods like Bitcoin, Ethereum and more. Playing has never felt so rewarding!