The Best Shrimp Cocktail Recipe (Inspired by Vintage Vegas)
September 12, 2023.
By Genevieve LaMonaca
Genevieve is a former private chef for Las Vegas's elite and currently the proud owner of a top-tier local catering company. In 2020, she began sharing her unique recipes and engaging tutorials on social media and her website, swiftly amassing over 2 million followers on platforms like TikTok, Instagram, and YouTube. She has been a notable Cafe Casino collaborator since October 2022.
Originating in the mid-20th century, the shrimp cocktail quickly gained popularity as a staple in the Las Vegas culinary scene. It was a time when the city was emerging as a playground for adults seeking entertainment. The shrimp cocktail became an integral part of that allure. As visitors flooded the casinos and resorts, the shrimp cocktail became a way for establishments to extend their hospitality and provide a taste of indulgence to their patrons.
Today, that tradition continues with Las Vegas consuming more shrimp than any other city in the U.S. The seemingly insatiable appetite for shrimp cocktails not only signifies the city's love for the dish but also underscores Vegas' unmatched capacity to turn even a simple appetizer into an emblem of luxury and celebration.
At its core, the shrimp cocktail is a simple delight. Plump, succulent shrimp are nestled over a bed of ice, accompanied by a tangy cocktail sauce that tantalizes the taste buds. Its charm lies in its straightforward elegance and the satisfying contrast between the coolness of the shrimp and the zesty kick of the sauce.
This dish embodies the notion that sometimes, the most exquisite experiences can be found in the simplest pleasures. What makes the shrimp cocktail truly special, however, is its ability to adapt without losing its essence.
While the classic version remains a timeless favorite, contemporary interpretations have emerged, showcasing the innovation that defines Las Vegas. Chefs have added their creative flair, experimenting with flavors, textures, and presentations, while always keeping the spirit of the dish intact.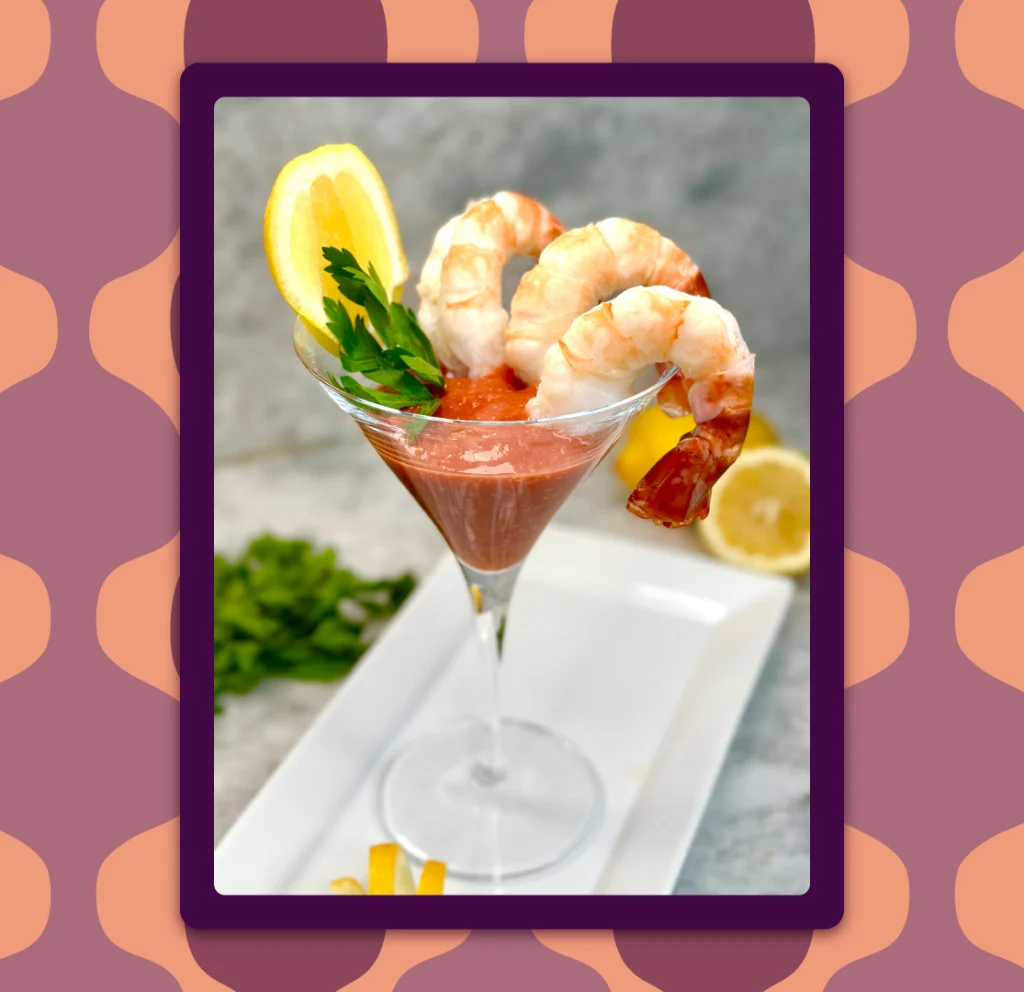 The famous shrimp cocktail isn't merely a dish; it's a cultural touchstone. It's a slice of history, a taste of nostalgia for those who have witnessed the city's evolution. It's a testament to Las Vegas's dedication to providing an extravagant yet down-to-earth experience. As visitors traverse the Strip, from one entertainment marvel to another, they can still find comfort in the familiarity of a shrimp cocktail – a dish that bridges the gap between the past and the present, a dish that encapsulates the essence of Las Vegas itself.
In a city where excess is the norm, the famous shrimp cocktail dish stands as a timeless reminder that elegance and simplicity can coexist in perfect harmony. As the lights continue to shine bright and the city continues to redefine luxury, the shrimp cocktail remains a steadfast companion, inviting all to savor a taste of tradition in a world of constant change.
Here is my take on this classic staple. It's my go-to appetizer recipe for all my hosted dinner parties, and it's also one of the most popular items ordered on my catering menu.
With your shrimp cocktail in-hand, complete your at-home Vegas experience with games from Cafe Casino! There's hundreds of online slots available to play – many inspired by Sin City – including 10 Times Vegas and Vintage Vegas.
Super Colossal Shrimp Cocktail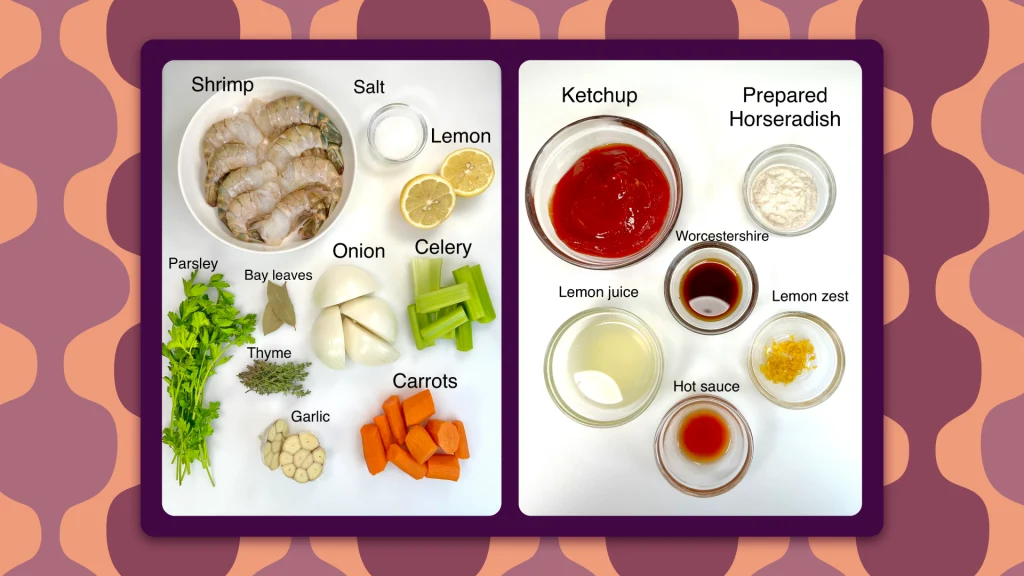 Ingredients Shrimps:
   • 1 lb U8 (2oz ea) shrimp, shell on, deveined
   • 20 cups cold water
   • 2 medium carrots, peeled and quartered
   • 2 stalks celery, quartered
   • 1 large onion, skin removed and quartered
   • 1 head garlic, sliced in half
   • 1 lemon, halved
   • 1/4 bunch parsley
   • 10 sprigs fresh thyme
   • 2 bay leaves
   • 2 Tbsp kosher salt
Ingredients Cocktail Sauce:
   • 1 cup ketchup
   • 1 lemon, zested and juiced
   • 2 Tbsp prepared horseradish
   • 1 tsp Worcestershire sauce
   • Dash hot sauce (TT)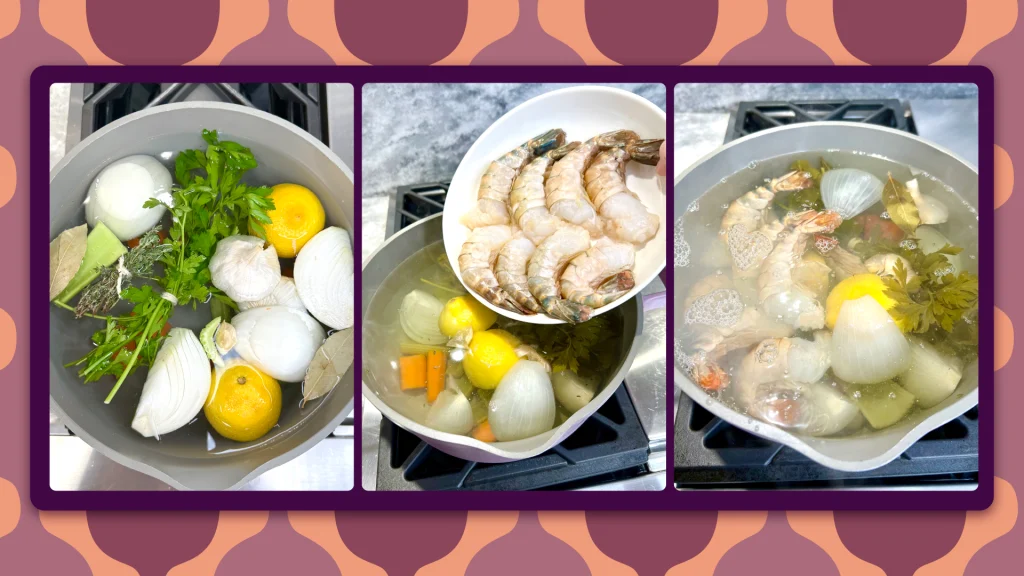 Directions:
   • Add carrots, celery, onion, garlic, lemon, parsley, thyme, bay leaves and salt to 20 cups of water in a large pot.
   • Bring up to a boil then down to a simmer for 30 minutes.
   • Shut off the heat then add the shrimp and allow to poach no more than 3 minutes.
   • Transfer shrimp to an ice bath for 5-10 minutes.
   • Once completely cooled, peel shell off the shrimp, keeping the tail intact.
   • For the cocktail sauce, combine all ingredients.
   • Serve shrimps with cocktails sauce and lemon wedges.
Enjoy!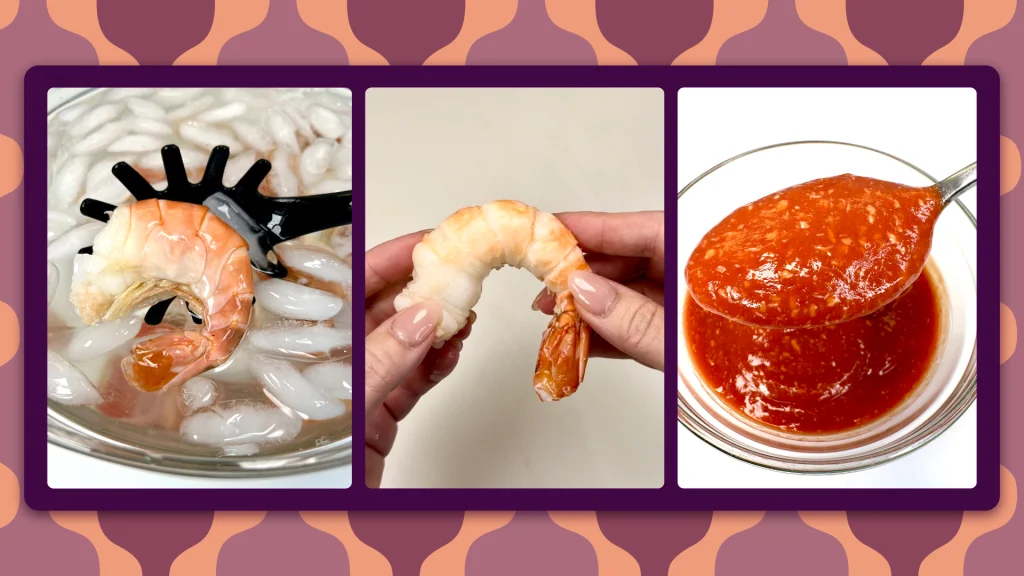 HAVE MORE FUN WITH CAFE CASINO
After you've prepared your shrimp cocktail recipe, dip into some more fun by visiting us at Cafe Casino! Our online casino serves up over 400 real money casino games, including slots, table games, progressive jackpots, and Hot Drop Jackpots! You can play using your mobile or desktop at CafeCasino.lv – no downloads or apps required.
Getting started is easy! Cafe is a best crypto casino, accepting popular methods like Bitcoin, Ethereum and more. Playing has never felt so rewarding!