Plinko Specialty Game Review
The price was always right for fans who recall eagerly cheering extra loud every time Plinko appeared on the famous game show. Now, Cafe Casino officially has its own version of The Price is Right game.
For a jog of the memory, Plinko was the audience-favorite game segment where contestants dropped chips into a slanted box of pegs and watched it settle into a pocket that determined their dollar prize. In the Cafe Casino Plinko specialty game, you get the chance to put your own luck to the test any day, any time, simply by playing it online.
With the Plinko game at Cafe, you can adjust your bets, lines, and levels of risk, all to land a maximum multiplier of 1,000x your stake. Now that's a prize that's better than a recliner!
In this Plinko specialty game review, you're always the chosen contestant, so try not to be shy. Look on over to the camera, beam 'em your brightest TV smile, drop the ball down, and let's go for the big money.
Plinko Game FAQ
Is Plinko an online slot?
Nope – it's in a different category altogether. Plinko is one of our most popular Cafe Casino specialty games, with its own rules and format. What it does have in common with slots is the same randomization software, meaning that gameplay is fair and unpredictable.
How much can you win with Plinko?
The max win is 1,000x your bet, and this can happen whenever you're playing on the highest risk, lines, and bet settings.
What's the RTP?
Here's a number you won't see here too often: the RTP of Plinko is a super-high 98.91% to 99.16%, depending on your settings.
Plinko Game Theme
The Plinko screen is as simple and classic as you remember from TV – with a bit more oomph. Its background is like a deep blue ocean that's calm and still… until you let the music rip when you first hit "PLAY".
If you've got a regular soundtrack lined up, you might want to put it on pause. Plinko will have your heart beating with anticipation, but it'll have your head bobbing and your feet tapping to the riff of a rock guitar solo and the arcade-like plinking of the pink ball to the beat, too.
Plinko Game Format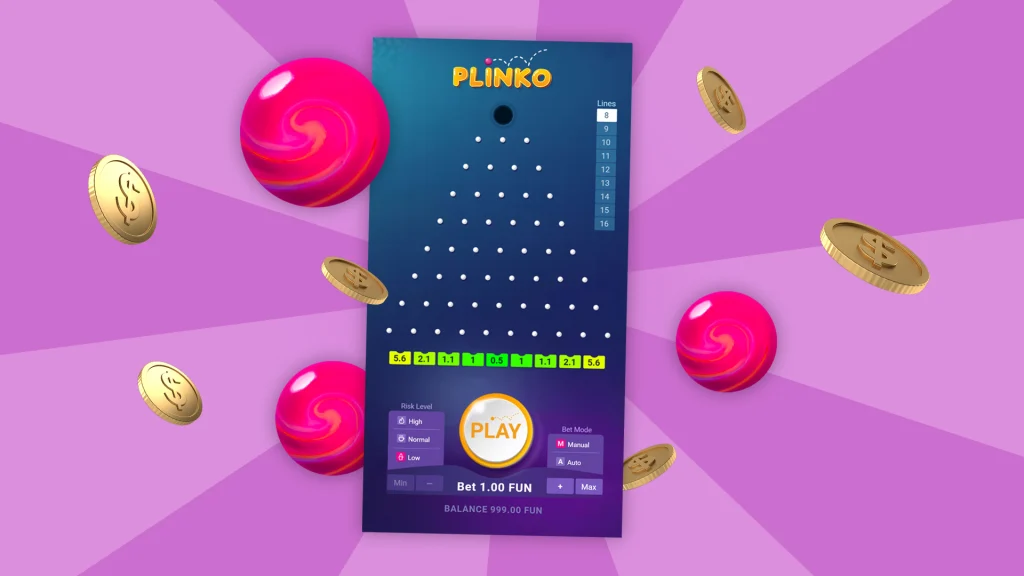 The Plinko pyramid is the star of the show and it's populated by offset rows of pegs.
The number of rows can be adjusted (which we'll go over in just a sec), as can the bet size and your level of risk.
After you adjust your settings, you can hit "Play", and you'll watch the ball plink through the pyramid. When it reaches the end, it'll settle into a pocket with a number. That number represents the multiplier value you're awarded.
The multipliers go from 0.2x to 1,000x your bet. The minimum bet is $0.10 and the maximum bet is $20.00. All of your bets and payouts are recorded on the sidebar.
And here's the greatest part about the Plinko game at Cafe Casino, and something that you won't find in any slot online. The lowest RTP is already 98.91% – far higher than your average slot RTP of 96%. If you apply an optimal Plinko strategy to the adjustable settings, you could impress even Drew Carey with the highest RTP of 99.16%!
Plus, being a game at Cafe Casino, Plinko is already eligible to be played through crypto gaming. That just means you can deposit easier and more securely, and get bigger bonuses with any supported crypto deposit transaction; all while still seeing your player balance in USD.
Plinko Game Features
In this Plinko game review, the "features" are more like a series of adjustments that can be approached strategically.
Adjustable Bet Size
Ranging from $0.10 to a $20, your bet size determines your prize value. Winning a multiplier of 4x means you win $40 on a $10 bet; on a $0.10 bet, you'd win $0.40. If you want to win bigger amounts, you'll need to adjust your bet size accordingly.
Adjustable Lines
The number of lines in the pyramid can be adjusted from 8 to 16. The more lines in play means the more pockets are available. The variance of the multipliers in those pockets, however, will depend on the level of risk you play with.
Adjustable Risk
Your options for risk are low, normal, and high. Playing on the highest risk puts more variance, or space, between the multipliers. For instance, high risk with 12 lines jumps from 24x to 170x your bet; whereas 12 lines with a low risk only jumps from 3x to 10x.
Maximum Win
In order to get the highest possible win in a specialty game like Plinko, you have to play on the max bet with the highest risk and the highest number of lines. This could result in a payout of 1,000x your stake, which makes for some very nice dollar figures.
Plinko Strategy
If you're in it to win it BIG time, then the way to play is to play big: "max" all the way. Any lesser setting reduces the highest possible win multiplier.
If you want to stay steady in the game and have a good time for longer, it's best to lower your risk, lines or bet amount.
Overall, it just depends on how big you want to go, and that'll come down to your gameplay style.
Before implementing any winning strategy, don't forget to refer a friend. When you do, you can collect a referral bonus to use towards games like Plinko.
Is Plinko worth playing?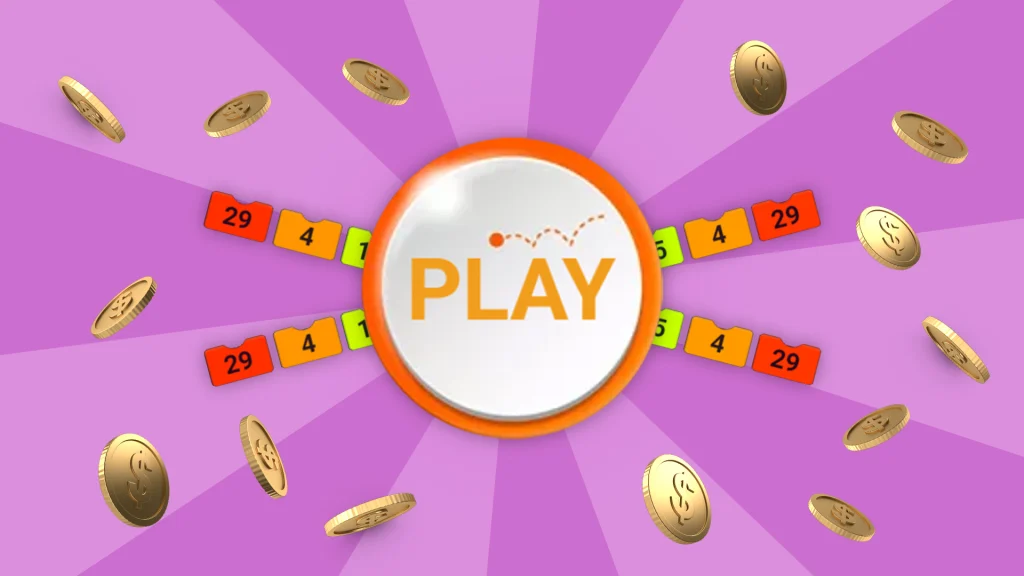 Whenever there's a game with an RTP of about 99%, the answer is easy. No matter how you adjust your settings, on pure statistics, there's little to lose and plenty of potential to gain.
And, as you know, you'll get the same random and fair outcome as you do by spinning online slots, but with the benefit of strategy choices that are closer to a table game. The play hard/win big option is always dangling within reach. More importantly, its adjustments allow for those who like to cruise through small, consistent wins to stay afloat, too.
If you want to try something a little different, definitely play Plinko game next!
When you're done, bounce over to Hot Drop Jackpots to see what else is new. We always have new slots coming in with three jackpots that must drop by certain times, including one that goes every hour.
Play Plinko Specialty Game at Cafe Casino Now
This Plinko game is a unique experience at Cafe Casino. It's a refreshing break from the flashiness of most slots games, and it comes with an unbeatable RTP. Channel the encouragement of Bob Barker and a roaring audience as you hit "PLAY" and watch the ball plink down the pegs. When it approaches that final row, get ready for it to hopefully drop into the winningest pocket and scoop up 1,000x your bet!