777 Deluxe Slot Game Review
Is 7 your lucky number? Well, it just might be after you play Cafe Casino 777 Deluxe slots game! Sure, this classic fruit machine has all the usual BARs, Cherries, and Bells, but 7 is by far the star of this show. The best paying game symbol is a lucrative neon purple 777. To top that off, the Bonus Round features an assortment of 7s that lead to big prizes, including a progressive jackpot that can be triggered by – you guessed it – three gold 7s.
If you aren't seeing sevens everywhere yet, you'll want to be! In this review, we share what makes this slot so popular, from the retro design to the easy-to-use features to the big paydays behind lucky number 7.
---
TRACY W. FROM FL WON $51K PLAYING 777 DELUXE AT CAFE CASINO IN JULY 2023!
---
777 DELUXE SLOTS FAQ
What's the maximum win per spin with 777 Deluxe?
You can win up to 5,000x your total bet!
What is the RTP %?
96%
Is there anything to choose in the bonus round?
Nope – it plays automatically. Just kick back and let the winnings roll in!
What slots are similar to 777 Deluxe?
If you love a classic Vegas-inspired slot, try on 5 Times Vegas for size! There's no progressive jackpot but loads of potential for consistent wins.
Can I play 777 Deluxe with a crypto deposit?
Yes – this is a crypto slot, meaning if you deposit with any cryptocurrency, such as Bitcoin, it'll be instantly converted into USD and you can play.
777 DELUXE GAME THEME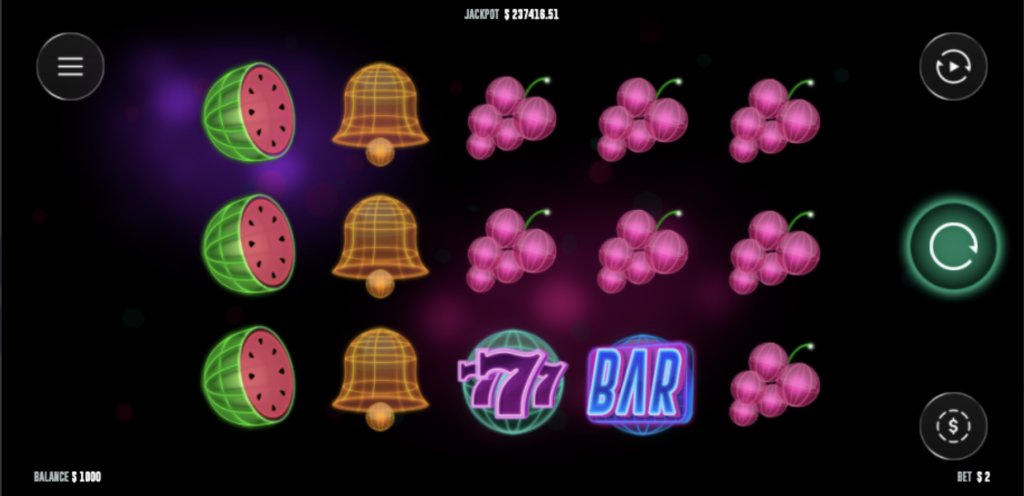 777 Deluxe transports you to old-school Vegas with its bright neon design and traditional symbols, including cherries, watermelons, and of course, 7s. Matching fruits offer the most modest payouts, followed by bells, horseshoes, BARs, and then 7s at the top of the chart. The Question Mark mystery symbol adds a little extra flare to the gameplay, spinning to transform into other symbols to help you get payouts.
The soundtrack keeps things moving along with its light and lively synth beats. Each spin of the reels actually creates waves of sound that add a neat effect as you play. 777 Deluxe slot at Cafe Casino definitely gets high marks for its sound, which was one we enjoyed consistently over long sessions.
Overall, this slot uses a simple and classic design, perfect for those who want a little less fuss when they play, so they can focus on winning.
777 DELUXE GAME FORMAT
777 Deluxe slot at Cafe Casino has 3 rows, 5 reels, and offers 10 paylines, so it's pretty easy to keep track of what's going on here. Bet amounts range from $.20 to $100, meaning that this game is flexible enough for lots of different types of players, whatever your bankroll!
Paylines are pretty straightforward too. Wins pay from left-to-right and right-to-left, as well as the three reels in the middle. The neon purple 777 is the top paying symbol – land 5 and you can win 1000x your wager!
If you want to build up that bankroll a bit more, consider referring friends to Cafe Casino!
777 DELUXE GAME FEATURES
If you get three Question Mark symbols, they will transform into Bonus Symbols and launch the Bonus Game. This is where those lucky 7s come into play!
In the Bonus Round, three 7s will spin across one payline, revealing a color at the end of each round. Your multiplier depends on the color combination of your 7s:
Golden 7s: Progressive Jackpot
Red 7s: 250x
White 7s: 50x
Blue 7s: 25x
Green 7s: 10x
Purple 7s: 5x
Pink 7s: 2x
Mixed 7s for 1x your bet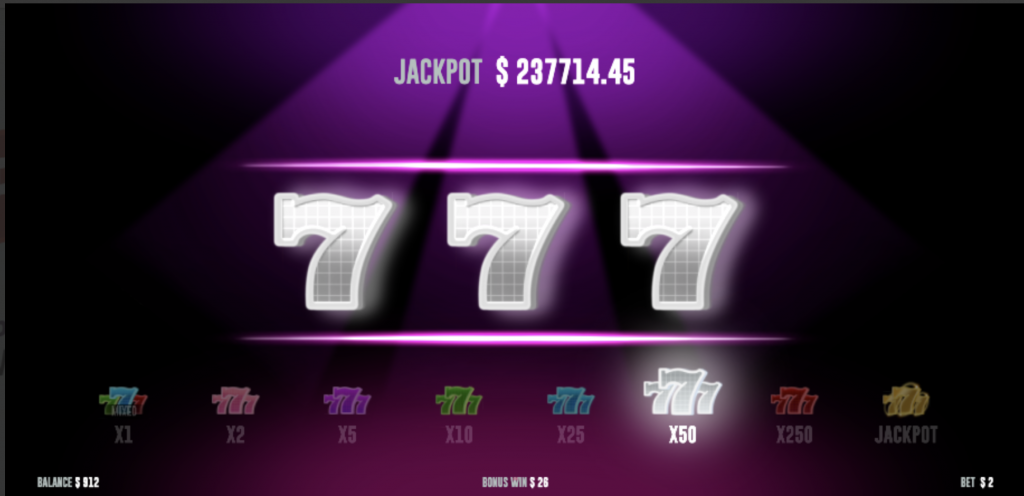 You get a few spins in the Bonus Round – not just one – so don't worry if you miss the big win your first few times. Every win adds up!
777 DELUXE PROGRESSIVE JACKPOT
As mentioned, the top prize in the Bonus Round comes when you get three golden 7s. You'll win the entire progressive jackpot, which can easily total six figures! What a lucky break that would be!
It goes without saying then that the Bonus Round is the key to winning the big progressive jackpot. You first need three Question Mark mystery symbols if you want to trigger the Bonus Round, and then you need to land the top 777 combo to win it all.
IS THE 777 DELUXE SLOT GAME WORTH A SPIN?
Don't let the simple design fool you; 777 Deluxe has HUGE profit potential, especially when the Cafe Casino progressive jackpot gets big. If you see it climbing up over $100K, it's definitely time to get some spins in with this game. The Bonus Round isn't that hard to trigger either, and then you've got a few shots to land the top prize.
There's no feeling quite like having a chance to win life-changing money, so 777 Deluxe is definitely a slot for players who want to be the next Cafe Casino Big Winner!
PLAY 777 DELUXE SLOT GAME AT CAFE CASINO NOW
The progressive jackpot is climbing while you read this! Head over to the Cafe Casino slots now to see what's up for grabs when you play 777 Deluxe. Today just might be your lucky day!
777 DELUXE HOT DROP JACKPOTS
If you love 777 Deluxe progressive slot, you'll also want to check out our 777 Deluxe Hot Drop Jackpots version! This is a separate game (in the same look and feel as the original) where you can play for hourly jackpots with a prize pot of over $1K per hour, and daily jackpot with a prize pot of on average $25K per day. Plus, there's a huge super jackpot going off before it reaches up to $300,000! It's available for the game 777 Deluxe and several other popular slots, so check it out now!