Make Sushi Like A Pro (And Play Sushi Wins While You Eat)
You've found your favorite little nook at your favorite sushi joint. Your fingers grip on the chopsticks as you anticipate the moment when the platter comes out, all fresh and delicious and perfectly balanced in flavor and texture.
You're just a few seconds away from a mouthful of rolled goodness, and it's been well worth the wait.
That blissful sushi moment is exactly what you're about to recreate with our "anyone-can-do-it", super-easy sushi recipe. But learning how to make sushi is not the only treat that will have you brimming with anticipation.
That's because our sushi recipe takes its inspiration directly from a tasty slots game: Cafe Casino Sushi Wins – Reels and Rolls. While you're waiting for your mouth to stop singing from the extra dip of wasabi on your real-life sushi plate, you can use the game's sushi ingredients to transfer the heat into free spins and multipliers. Let's get rolling, shall we?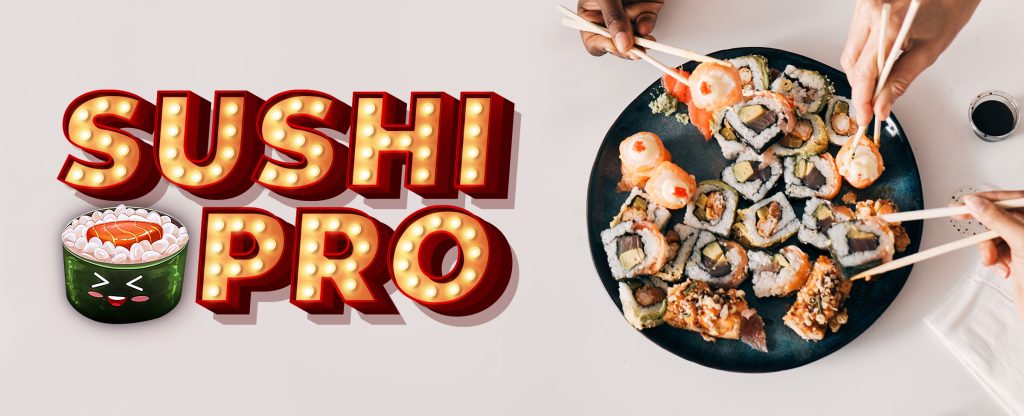 SUSHI-WINS SUSHI ROLLS
Ingredients:
6 sheets of nori (sushi seaweed)
1 batch sushi rice
½ pound either sashimi-grade raw salmon or smoked salmon, sliced into razor-thin strips
4 oz cream cheese sliced into strips
1 avocado
1 cucumber
The holy trinity: soy sauce, pickled ginger, and wasabi (for serving)
Supplies:
Bamboo mat or basic hand towel with plastic wrap
Rice paddle (but your fingers will do a fine job, too)
DIRECTIONS
Get It All Ready
Cook the sushi rice 1-2 hours in advance so that it has time to cool to room temperature
Set down the sushi mat with the smooth side on the bottom; if using a towel, lay it flat with plastic wrap over the top, and be careful to keep it smooth
Place the nori on the sushi mat or towel, with the longer side of the nori facing you
Assemble
Evenly place about 1 cup of the cooked rice over the nori, leaving a 1-inch border at the top. TIP: a bit of water on your fingertips will stop the rice sticking
Using your rice paddle (or simply your fingers), gently but firmly pat down the rice so it's even at every edge of the nori, except for our 1-inch border at the top
Place your sliced salmon, cucumber, avocado, and cream cheese in horizontal lines over the rice. The ingredients should start about 1 inch in from the bottom and end about halfway through the entire sheet of nori. Don't overpack the rice, as you'll need it for rolling. You'll quickly get a feel for the perfect quantity!
Roll Time!
To roll, lift up the bottom edge of the sushi mat or sushi mat/towel. Snuggly enclose the fillings in that first little roll, and continue rolling tightly, stopping at the 1-inch border
Dip your fingers in water again and use that last little 1-inch bit to seal the roll
Give it a few more tight squeezes to secure the ingredients, then remove the sushi mat/towel
Cut up the sushi roll into 8 equal pieces, and put it on a plate with a few slices of pickled ginger to the side
Put a dollop of wasabi inside a small side bowl of soy sauce.
Now dig in and enjoy, and keep up that winning streak as you go for second helpings in the Sushi Wins slot!
PLAY SUSHI WINS – REELS AND ROLLS AT CAFE CASINO TODAY
Cafe Casino online slots are a delectable addition to any meal. Some prefer to think of them as appetizers. But Sushi Wins – Reels and Rolls is the sauce to your pasta; or the soy sauce to your sushi, as it were. Each spin in this game coincides with each bite of your homemade sushi, and with each win, you'll soon be waving your last sushi roll in the air like a team mascot. Team Sushi!
Your seat is always available at this restaurant, and the wins are always fresh. The chef hasn't spared any of their special ingredients on the plate. You've got four types of sashimi and five types of rolls, served up as your highest-paying symbols.
For those who don't mind a rush of heat in their game, a big dollop of Wild wasabi may appear and pile up on reel 3. Don't forget to take a few sips of sake – three to be precise. If you do, you'll be 10 slots free spins with multipliers of 2x richer. Can you handle it that hot? Sure you can.
If you need a pick-me-up to get yourself out of the post-sushi food coma, why not pour yourself a cup of coffee? You might even discover what Hot Drop Jackpot slot to play, based on how you like your coffee…
CAFE CASINO IS THE BEST ONLINE CASINO
If there's one thing we take even more seriously than our recipes, it's the quality of our casino and our online slots. When you're a welcomed guest at Cafe Casino, you get a five-star experience from your deposit to your wins.
As a BTC Casino, or a Bitcoin Casino, you have the opportunity to deposit and withdraw with any supported crypto for faster transaction times and higher security.
If you're looking for the best games to play, just head over to our section with Cafe Casino Hot Drop Jackpots. These slots online produce some of our biggest winners because they come configured with three jackpots, including one required to drop every hour of the day.
If you love to share the joy with someone, and wouldn't mind a few extra bucks to play with either, you could always refer a friend. When you do, you get a bonus to use directly toward games.
There's always a seat at this table for a few more blissful bites of prizes. Gather up all the ingredients, whip up one of the best sushi recipes around, add the Sushi Wins – Reels and Rolls slot into the mix, and enjoy chomping down on a platter of sushi and wins!