Jungle Jam Donuts Recipe That'll Rock Your World
What do you get when you combine a jar of jam, a gorilla guitarist, and heaps of free spins and Wild multipliers in a jungle? A big mess, sure, but beyond that you'll have a platter of delectable prizes, a sugar rush, and an uncontrollable urge to shuffle to the beat of the jungle. All thanks to the Jungle Jam online slot and our divine recipe for the most delicious hot jam donuts at Cafe Casino.
These jam donuts are simply oozing with sugary decadence; perfect for the Jungle Jam slot which inspired us to whip them up.
Oh, and they're surprisingly easy to make, too.
Let's turn on some tunes, gather our ingredients, and let the appetite howl as the smell of hot jam donuts fills the neighborhood and online slots fun looms on the horizon.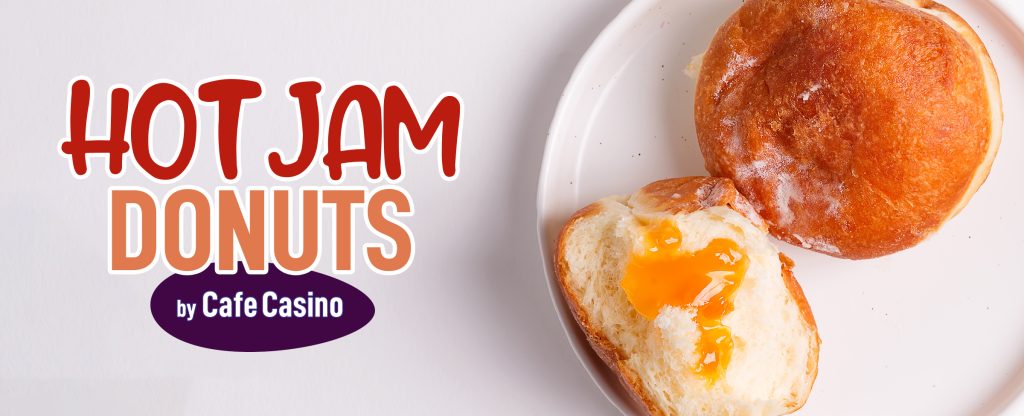 HOT JAM DONUTS – INGREDIENTS
½ cup whole milk
1 tablespoon unsalted butter
2 cups white/baking flour
1½ tsp instant yeast
¼ tsp salt
1/3 cup caster sugar
1 large egg
2 liters rice bran oil for deep frying (vegetable oil is also fine)
Granulated sugar for rolling the donuts
½ cup fruit jam – strawberry and raspberry work best
Special Supplies
Deep fryer
Dough hook (optional)
Piping tip and bag OR a clean, empty sauce bottle and nozzle (to insert the jam)
INSTRUCTIONS
In a medium-sized saucepan, slowly warm up the milk and butter until the butter starts melting. In a separate bowl, add the flour, yeast, salt, and sugar. Stir in the egg to the warm milk and butter combo. Pour the warm milk mixture into the bowl one splash at a time, and use a wooden spoon to mix it through the dry ingredients. Knead the dough mixture until it is smooth and silky; you can use either a dough hook or your hands, and it'll take about 10 minutes.
Grease a large bowl with another knob of butter or a splash of your oil. Place the dough inside, then cover the bowl with cling wrap. Set the bowl aside in an average-temperature place to let it rise; this should take about 1-2 hours, and it should roughly double in size.
Knead the dough until it's smooth. Cut the dough in half and roll it into 10-inch logs, and cut each of those logs into 12 pieces. Roll each of the 12 pieces into a ball, more or less – it doesn't have to be perfect! Line a tray with baking paper, and place the rolled-up balls on it. Loosely cover the balls and allow the dough to rise for another 15 minutes.
Grab your deep fryer and heat the oil to 375°F. Gently lower a few donuts at a time to cook for 5 minutes each. Be sure to flip them over halfway so they come out evenly browned on each side.  Remove the cooked donuts and drain on a paper towel. Roll them in sugar until they're fully coated. Hot tip: a tiny sprinkling of cinnamon can take things to new heights! Spoon the jam into your plastic bag or empty sauce bottle, and squeeze a generous amount of it into the center of each sugar-coated donut.
PLAY JUNGLE JAM AT CAFE CASINO TODAY
With your hot jam donuts oozing sugary goodness, there's only one thing left that could make this decadent treat complete: a spin on the Jungle Jam slot!
The only ingredients you'll need for this sweet experience are a bet anywhere from $0.40 to $40, a few minutes to spare, and a tap in your toe to go with the beat.
The gorilla who runs the show in this jungle knows how to get a crowd worked up. His mindblowing guitar solos have ended many a jungle war between the species. With prizes to rock out to, you hit the stage and begin beating that Jungle Jam drum. The bumble bee bobbles along to the tune of you landing three golden ticket bonus symbols. These are some of your greatest hits in this online slot.
As you soar up the charts, you can devour up to 20 free spins with your spin finger, and a few extra homemade jam donuts with your other hand. Even better is when you land Wilds during slots free spins, and they promptly transform into Wild multipliers up to 4x.
Of course, most of us were rugrats when we were first told to finish our dinner before having dessert. If that's still your style, as it would be for most adults, try our Build a Burger mini-game for free! Your folks would admire your self-discipline.
CAFE CASINO IS A BEST ONLINE CASINO
Even when you're done with the donuts and the Jungle Jam slot, the burst of flavor doesn't have to stop there.
Cafe Casino is the best crypto casino you can find online. That means when you deposit with crypto to transfer USD, your deposits are completed within minutes. Plus, it's super easy to deposit, especially for beginners. And you donut want to miss out on all the crypto-exclusive benefits.
After such a quick deposit, you can jump right into a game with Hot Drop Jackpots. Cafe Casino Hot Drop Jackpots have three must-drop jackpots that trigger every hour, every day, or by the time they reach a predetermined dollar amount. Big Winners are created every single hour!
You'll have so much fun, in fact, you'll want to refer a friend to share in the joy with you. When you do, we'll give you a bonus to use in whatever game you'd like, including Jungle Jam.
You can almost feel the tartness and sweetness dancing over your tongue, and your wallet can practically feel the stuffing of prizes from our Cafe Casino online slots. You're only a few clicks and a few steps away from sinking your teeth into both, so swing by our casino and we'll treat you to a jam-packed adventure.