The Future is Bright for Cryptocurrency and Online Casinos
July 20, 2023.
You can buy anything from a decorative throw pillow online to the real-life house in which you'll put it. Some countries even let you pay your taxes using crypto. Shout out to Brazil.
With that in mind, it only makes sense that online casinos would adopt the technology, too. And judging by the pace at which crypto innovation is blitzing forward, it's a really great thing that they did.
Once crypto stepped in, the entire casino industry leveled up. An essential part of playing – aka depositing and withdrawing – was totally transformed. Transactions became infinitely faster, wholly safer and, happily, more affordable for everyone on both sides. We've already come such a long way thanks to crypto.
From here, the future of cryptocurrency in online casinos and the current gambling world is mighty bright indeed. In fact, why don't we follow that bright light and learn more about what it's illuminating?
What is cryptocurrency?
In short, cryptocurrency is digital money. However, unlike your bank card or credit card, crypto isn't controlled by any central bank or third-party institution. Instead, crypto runs off of a blockchain.
To be clear, a blockchain is a digital ledger that records and verifies crypto transactions across a network of computers. The record is permanent and cannot be altered. That means there is total transparency for users and nearly impossible to commit fraud.
There are tens of thousands of cryptocurrencies out there, and all of them are independent of any financial institution or government, meaning they are decentralized.
The ones you're most likely to see in a cryptocurrency online casino are Bitcoin, Ethereum, and Litecoin, among a few others that offer similar utility. They each operate in mostly the same way, although they do have slightly unique properties that set them apart. It's really just a matter of figuring out which cryptocurrency is best for you.
Cryptocurrency Gambling Growing in Popularity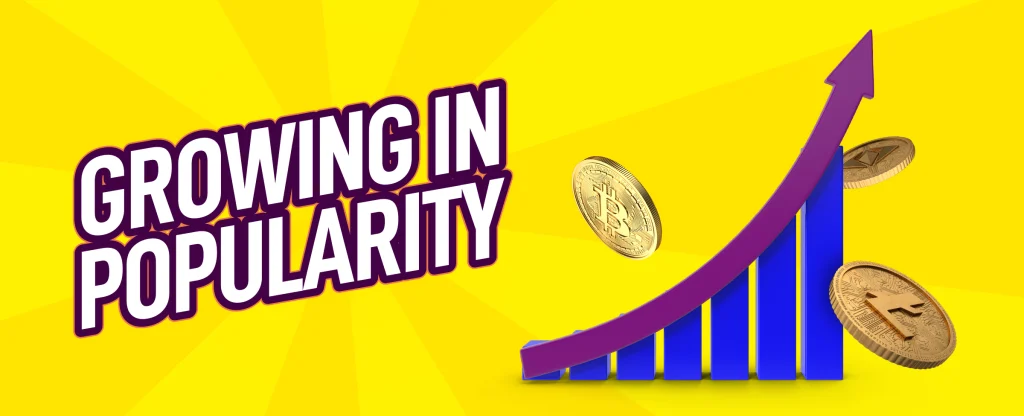 The upside of crypto is that, for all its innovative technology, you don't need to understand any of the jargon in order to use it. The truth is, using crypto is surprisingly very easy. That's just one major reason it's become so popular at casinos online.
As you might know, waiting for your bank to come through with your payday is a real buzzkill. By the time you get your money weeks later, the excitement of the initial win has long since worn off. With crypto, that's not happening.
With most casino crypto withdrawals, you can have your payout in less than 15 minutes after your request is approved, and deposits are even faster than that.
Plus, every transaction you make is completely anonymous. There is no hidden file of your name, address, or any other personal information. The decentralized blockchain of crypto makes it inherently secure, which means your crypto account, and therefore transactions are more secure, too.
Since there is no third party who may interfere and hold them back, your crypto transactions are guaranteed to go through, eliminating any headaches of failed deposits. The crypto wallet fees are also negligible, and most online casinos don't charge any on their end.
What casino players really love, however, are the bonuses. Since the transaction fees are so small, most online casinos can offer enhanced crypto bonuses and perks that can make a huge difference in your bankroll. Just deposit with crypto, and voila. More bonus. It's unreal.
The Future of Cryptocurrency in Online Casinos
The future of cryptocurrencies in the online casino industry relies heavily on the suitability of both sides of the (bit)coin; i.e. the player and the house. As it is now, there have been nothing but benefits by adopting crypto, and it's only going to get better from here.
Sources indicate that crypto will eventually become the primary way players fund their accounts.
Once that starts happening, we can expect a major boom in crypto in the online casino industry since more and more casinos will have the confidence to adopt it full-on and charge forward.
New Crypto Innovations on the Horizon
We've already come such a long way since the start of Bitcoin back in 2009. New innovations are developing fast, and players at online casinos are going to be some of the biggest benefactors!
For starters, a higher selection of stablecoins entering the market will instill more confidence in users. Stablecoins are tied to fiat currency, such as USD, so their fluctuations on the market are less dramatic.
"Non-fungible tokens", or NFTs, are another buzzword that you've probably heard. In short, NFTs are unique digital assets that use blockchain technology to establish ownership. As NFTs become more prevalent, new in-game assets may be introduced. For example, slots could offer unique character NFTs that help trigger bonuses and even allow you to trade with other players.
NFTs often get spoken about hand-in-hand with Web3 and the metaverse. Players could find themselves using crypto to enter into a virtual reality casino, featuring slots and table games, which mirrors real life.
Cryptocurrency technology is also responsible for "smart contracts". These contracts rely on blockchain technology. If that technology was applied to online casinos, they could become even more private as players can sign them using pseudonyms. Games would also be more transparent since the public could verify your bets and payouts, thus resulting in total trust and fairness in the games.
Which cryptocurrencies are leading the trends?
Of course, the future of cryptocurrency in online casinos relies mostly on the crypto tokens that drive it. Each token is doing its part in progressing more convenient and secure transactions, but they're each slightly different in their own unique ways.
Bitcoin: Since Bitcoin was the first-ever cryptocurrency, it's also considered the most popular. That's great for accessibility. However, sometimes Bitcoin transactions can be slightly slower than the rest due to congestion on the blockchain, much like a traffic jam during rush hour.
Ethereum: Ethereum is built differently than Bitcoin with its own separate blockchain, so transactions are typically faster. As the second-largest crypto, Ethereum is widely accepted like Bitcoin as well.
Litecoin: Litecoin was developed as a "lite" version of Bitcoin but on the same principles. It has faster transaction times than most other tokens as well as more negligible fees. Its speed and affordability make Litecoin great for day-to-day transactions, especially when your deposits are on the smaller side.
Enjoy Playing at Cafe Casino
Using cryptocurrency at online casinos is the most convenient way to deposit and play, and Cafe Casino is all about easy relaxation and great service. Select from over 250 online slots with progressive jackpots and Hot Drop Jackpots, or try your hand at table games like Blackjack. Experience new game features fresh from the developers' hands. We're serving up loads of fun – so, if you're ready to get in the game and win prizes while having a good time, make an account at Cafe.