5 Cozy Winter Cocktails To Make Now! (Inspired By Our Online slots!)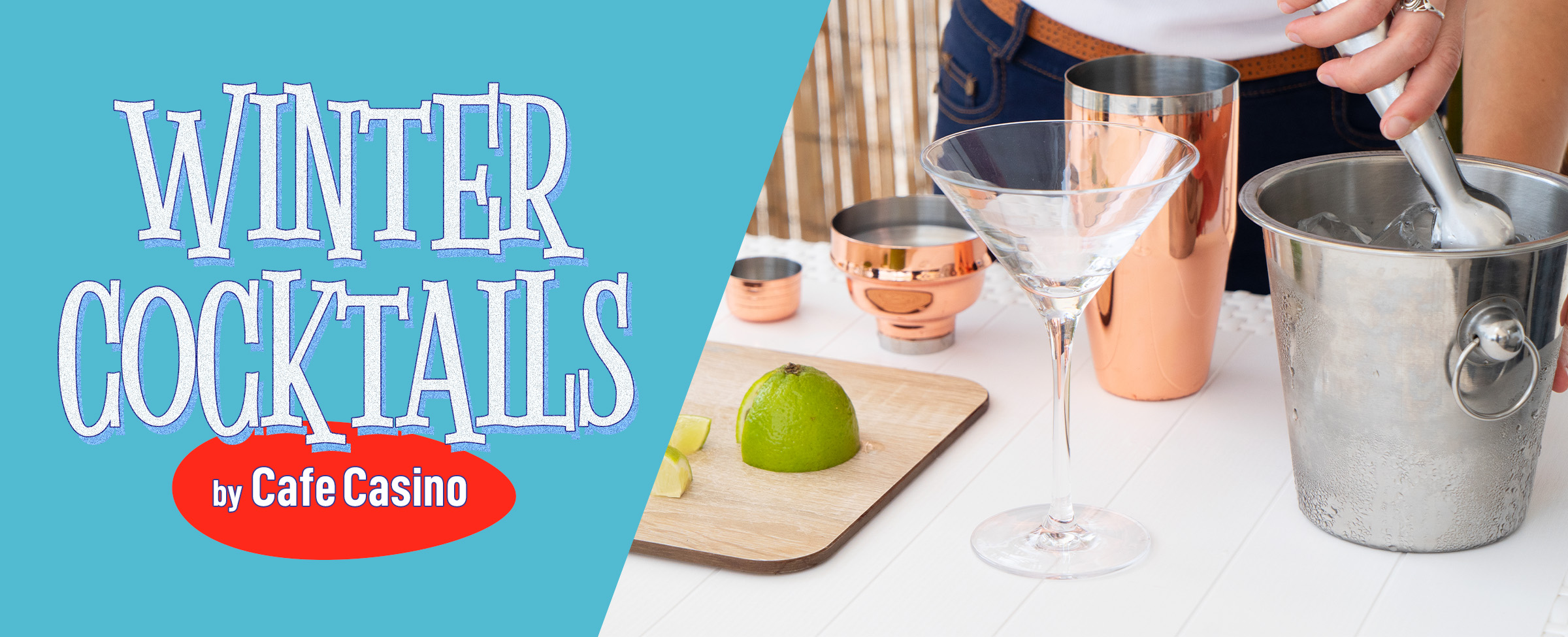 Can you hear the jingle bells a-jingling? That means it's almost time! The holidays have officially arrived for yet another year. Among all the merriment slowly making its way through your neck of the woods, one of the best parts of the holidays is the festive food and drink.
Peppermint, cinnamon, nutmeg, and cider; whatever flavorful treats you're planning to whip up this holiday season, we've got a few more tasty ones to add to the yuletide list.
These fabulous holiday cocktails are inspired by Cafe Casino online slots, and they're sure to be the hit of the party when you serve them up in a tumbler, martini glass, or mug.
When you're done gathering up your faves and swooping up the ingredients from the store, why not take a practice run of these cocktails and treat yourself before the holiday guests arrive?
So, let's see what's jingling around in the martini shaker this year!
---
Want a video tutorial instead for your next cocktail? Watch TikTok and YouTube sensation Johnny Drinks create the *MOST DELICIOUS* Cannoli Martini, sponsored by Cafe Casino.
---
Crazy Christmas Peppermint Martini
Ingredients
1 ounce of peppermint schnapps (white Creme de Menthe works as well)
½ ounce vodka
1 ½ ounce of Creme de Cacao
1 ½ ounce of heavy cream
Crushed peppermint candies and grenadine for the rim
Instructions
Crush the peppermint candies and set them on a plate in an even layer.
Grab another plate and pour enough grenadine to cover the bottom.
Place the rim inside the grenadine and make sure it's coated nice and evenly.
Immediately roll the wet rim inside the crushed candies.
Now grab your cocktail shaker and pour the peppermint schnapps, vodka, Creme de Cacao, and heavy cream inside.
Add a handful of ice and give it a hearty shake until the shaker is super cold.
Strain the drink into the martini glass with the rim.
This cocktail is the perfect tipple to set the winter mood. And in keeping with the season, Santa extends his personal invitation for a Crazy Christmas at the North Pole. If you accept, he'll show you the exclusive area, where you'll make free spins and multipliers in his North Pole toy factory. He won't let you leave empty-handed, either, and you could get 25 Free Spins with multipliers up to 10x, or even a random progressive jackpot to burst out from under the tree.
Plus, since Cafe Casino is a Bitcoin casino, you can deposit with crypto to make your trip to the North Pole a quick and easy one. That way you can get started playing fast and be back just in time for after-dinner drinks, where you will be the star of the show with this festive cocktail recipe, of course!
Larry's Lucky Tavern Beer Americano
Ingredients
1 ounce Campari
1 ounce Cinzano Rosso
Pale Ale of your choice
Instructions
Polish up a beer mug, and pour inside equal parts Campari and Cinzano Rosso.
Pour your favorite pale ale into a martini shaker – yes, the shaker! – and make foamy magic by shaking it up into a velvety foam.
Pour the foam into the beer glass and stir it up.
While this hearty cocktail may not be traditionally holiday-like per se, it does offer a wonderful alternative to the typical sweet and spicy drinks. And we must say, it really does have a special kick!
While you're sipping your wintery ale, the entire holiday party will be alive with energy and good cheer, much like the regular pub-goers at Larry's Lucky Tavern. There are nothing but smiles and good vibes at this slots bar, and Larry loves to lavish his guests will free spins and multipliers as well as the chance to crack open some prize barrels of beer for special real cash drinks.
Amigos Fiesta Apple Cider Margarita
Ingredients
1 ½ ounces tequila
2 ounces apple cider
¾ ounce Triple Sec or Cointreau
¾ ounce lime juice
Cinnamon and sugar for the rim
Ice for serving
Star anise and cinnamon stick for the garnish
Instructions
Cut a slice of lime and run it around the edge of the martini glass.
Dip the rim of the glass inside the cinnamon and sugar.
Pour the tequila, apple cider, Triple Sec/Cointreau, and lime juice into your martini shaker, along with some ice, and do a little jig with the shaker in the air!
Pour the whole thing out, ice and all, into the prepared glass, and enjoy!
PRO TIP: Want to make it a pitcher? Just swap "ounces" for "cups" in the ingredients list and pour it all together in one big pitcher for the whole party!
When you have a tequila cocktail that's this delicious, you won't be able to stop yourself from having a party! In that case, you'll want to join the fun-loving gang inside Amigos Fiesta. There's dancing, drinks, laughter, and games, and a heat meter that rises with slots multipliers. That will certainly help keep you warm, too.
Of course, no Amigos Fiesta would be complete without the amigos, so don't forget to refer a friend to Cafe Casino to join the festivities. We'll even give you a bonus for bringing them along!
Pirate's Pick Hot Buttered Rum
Ingredients
 For the spiced butter – yep, it's from scratch! And this amount will make 4 drinks.
6 tablespoons salted butter
3 tablespoons brown sugar
1 teaspoon cinnamon
¼ teaspoon nutmeg
¼ teaspoon allspice
For the drinks
1 ½ tablespoons spiced butter (made by yours truly!)
2 ounces rum
6 ounces boiling water
Instructions for the spiced butter
Roll the butter with a rolling pin until it's flattened on the surface.
Evenly sprinkle on the brown sugar, cinnamon, nutmeg, and allspice.
Using a spatula, roll the butter over a few times with the sugar and spices until it's well mixed. Just be sure to use it right away, or otherwise store it in the fridge!
Instructions for the drink
Add 1 ½ tablespoons of your spiced butter to each glass.
Add the rum and boiling water.
Mix it all up and take in the aroma!
Feel free to add some whipped cream for something even sweeter.
Speaking of rum: there's a certain game out there whose characters I'm sure would love to join you as you mix up a rum drink and sit by the fire. The crewmates inside Pirate's Pick would just love it if you asked them to come along for a swig!
They'll bring the entertainment if you bring the drinks, including a special Pick Me bonus game with hidden prizes waiting for you to reveal them. You'll find even more treasure inside this slot… and that is to say, your treasure chest (of which represents the two scatters in this game!) will be overflowing with loot.
Reels of Fortune Maple Old Fashioned
Ingredients
2 ounces bourbon
1 teaspoon maple syrup
4 dashes Angostura bitters
Orange peel and cocktail cherry for garnish
Ice for serving
Instructions
Pull a lowball glass out from the cupboard and mix in the bourbon, maple syrup, and bitters. Add some ice and mix again.
Cut out a 1-inch strip of orange peel, squeeze it into the drink, run the peel around the edges for a tangy surprise, then place it in the glass.
Add the cherry as garnish.
This is a classic drink with a festive, modern twist, similar to the mood you'll find in Reels of Fortune Hot Drop Jackpots. You'll be transported back to the old-school life with 3 reels, 1 payline, bars, sevens, and cherries. What most certainly is not old-fashioned, however, are the three Cafe Casino Hot Drop Jackpots you get in this game. One is even set to drop every hour of the day, so they create more big winners than any other game around!
These knock-'em-dead drinks are the perfect way to embrace the winter season with friends and family, and you might even find a perfect moment to play complementary online slots Cafe Casino. That shopping list is a recipe for bliss, so whip up these special recipes, and sign in to Cafe Casino for a little dessert.