Get Your Spring Fling On: 5 Lively Cocktails Inspired By Slots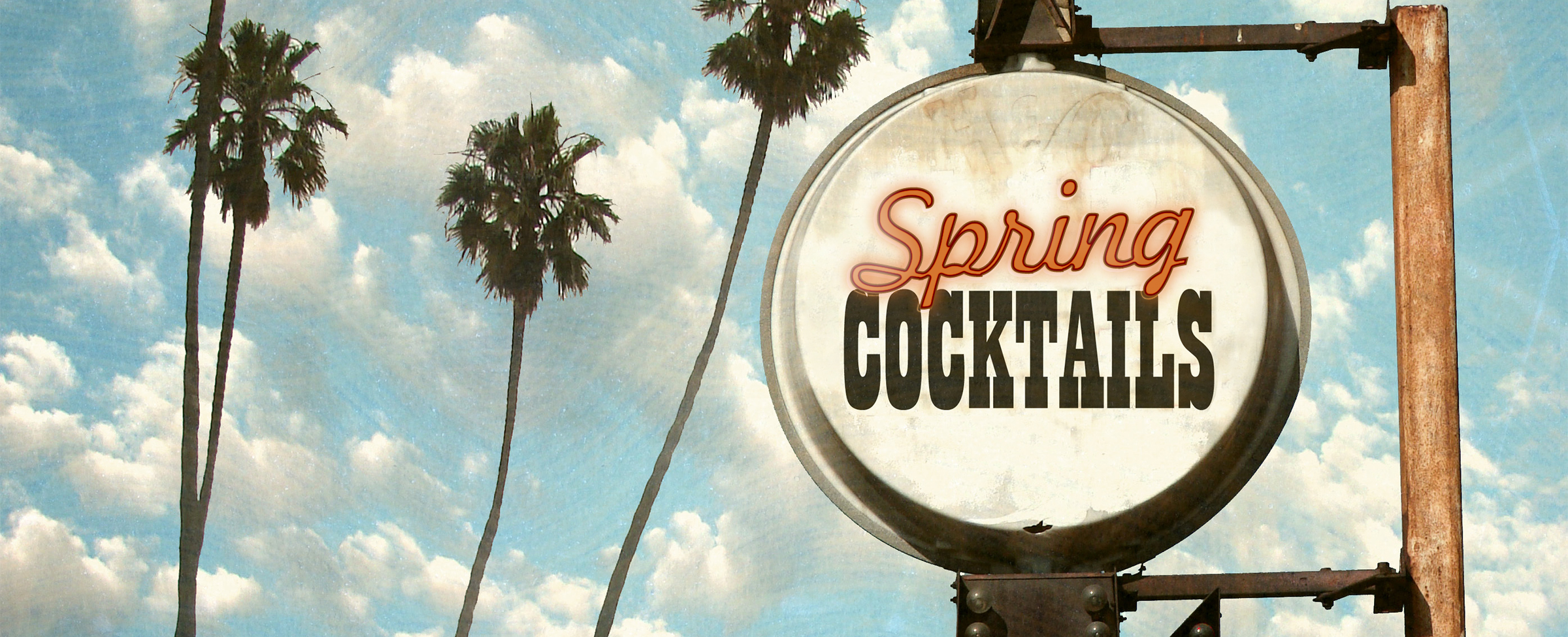 Phew – we made it. Spring has finally sprung! After a long, wintery season full of snow and cozy nights in, it's about time we shed some layers and hit the defrost button. And nothing says "sunny days are here again" like a delicious, chilled cocktail, topped with a mini-umbrella and served with a recyclable metallic straw.
If you're still stuck in a wooly-coat mindset, this is your call to bare arms – and legs! – under the sun's warming rays once more. Cafe Casino presents to you a list of our most delectable spring cocktails to capture the very essence of the bright, longer days, and that easy transition from indoor retreat to the outdoor heat.
There's mixed drink recipes for any type of spring occasion, whether that be admiring the flourishing plant life in your very own garden, savoring fresh, seasonal fruits, or throwing a springtime party. You'll want something delicious to sip on to make it complete.
Right alongside them are the Cafe Casino online slots that inspired these fresh, fun, and cheerful cocktail recipes, all the qualities you'd expect out of spring.
Take a deep breath and savor the aroma of spring slots, before you tackle your new favorite drink.
Aperol Spritz with 777 Deluxe Hot Drop Jackpots
Ingredients
3 oz Aperol
3 oz dry Prosecco
1 oz (just a splash) club soda
Orange slice, for garnish
Ice
Instructions
With a big, wide wine glass, add ice until it's pretty much full
Pour in the Aperol and Prosecco. Basically equal parts of each until the liquid reaches nearly the top.
Top it off with club soda
Add your sliced orange on the rim
An Aperol Spritz is like plucking the fruit symbols from the 777 Deluxe Hot Drop Jackpots game and squeezing them over the ice. Just right for a cheerful spring day!
If you don't mind a bit of mystery with your clear skies, there's a symbol in the game for that, too. The question mark transforms into other symbols in the base game, and three of them lead you to the slots bonus round where you win prizes for landing matching 7s.
More importantly, there are three Cafe Casino Hot Drop Jackpots that must drop by certain times, including the Super jackpot that triggers before it reaches a sky-high amount! That's certainly something to clink your glasses over.
Cherry Blossom with Secrets of a Geisha
Ingredients
3 frozen cherries
2 oz vodka
1 oz cherry simple syrup
Lemon, for garnish
Ice
Instructions
 Use a wooden spoon or a muddler to muddle the cherries in a cocktail shaker
Add the vodka and cherry simple syrup and fill the shaker up with ice
Heartily shake it up for about a minute. Remember – nice and cold!
Strain it all into a martini glass (a pre-chilled martini glass looks extra sharp)
Garnish with a cute lemon twist
When it comes to decadent cocktails like the Cherry Blossom, there was no better inspiration than a game also blooming for spring. In Secrets of a Geisha, you're surrounded by stunning cherry blossoms in a quaint and peaceful garden, capturing the very essence of the changing season.
In the online slot, you can lay on the grass and gaze up at the clear sky. While you relax, a Japanese geisha dressed in a stunning pink kimono will entertain you with her flute. Close your eyes and listen carefully, because when you open them, you just may be covered with a fresh floral blanket of up to 10 free spins and tripled wins.
Floral Sangria with Amigos Fiesta
Ingredients
25 oz white wine (Sauvignon Blanc for sweetness; or Chardonnay for crispness)
8 oz elderflower liqueur
2 ounces Cointreau
10 sliced strawberries
Full 8oz cup of raspberries
1 orange, sliced
1 lemon, sliced
A handful of edible flowers (from your favorite farmer's market or specialty site)
Instructions
Prep the fruit by slicing or cutting it into small pieces
Combine the white wine, elderflower liqueur, and Cointreau into the largest pitcher you've got
Add the fruit and edible flowers to the pitcher
Place the whole pitcher of sangria in the fridge to let the flavors infuse. Infuse for at least an hour (or more if you like it stronger!).
With the flowers blossoming and Cinco de Mayo on the way, this Floral Sangria is a great way to enjoy a bit of Latin flavor this spring. So why not mix it up and take it to a party?
In fact, you're in luck! The Amigos Fiesta is kicking off as we speak. As long as you can handle a bit of spice, you could dip into the heat multiplier meter that rises after any non-winning spin. As soon as you land a win, you're awarded that multiplier value.
As the raspberry on top, if you refer a friend to join, we'll sweeten up the sangria even more with a referral bonus, which you can use on any of these online slots.
Mint Julep with Derby Dollars
Ingredients
8 mint leaves
¼ oz simple syrup
2 oz bourbon
Mint sprig, for garnish
Angostura bitters for a final splash (optional, but you'll thank us!)
Ice
Instructions
Using a standard rocks glass, put the mint leaves and simple syrup inside. Lightly muddle using the tip of a wooden spoon (or a real muddler if you have a cocktail kit)
Pour in the bourbon
Crush up some ice and pack it all in nicely
Plop the mint sprig on top and dash a few drops of bitters
With the Kentucky Derby riding up on May 6, thousands of horseracing fans in fancy elaborate hats will be sipping on Mint Juleps while the horses bound around the track. You don't have to be at the Derby to enjoy the drink, however. You can whip it up and go to the races at home instead. Have you played Derby Dollars yet?
Derby Dollars is an online slot where you can wager on the horses racing, almost like you were really at Churchill Downs. You even get a pair of binoculars to see your prizes better, like up to 25 free spins in which all prizes are tripled, and a randomly-awarded progressive jackpot.
Basil Tom Collins with Reels and Wheels
Ingredients
6 basil leaves
5 cucumber slices
2 oz gin
1 oz simple syrup
½ oz lemon juice
2 oz soda water
Ice
Instructions
Grab a cocktail shaker and muddle up all the basil leaves and 4 cucumber slices. You can use a muddler or the tail end of a wooden spoon.
Add the gin, simple syrup, and lemon juice to the cocktail shaker, and fill it with ice
Shake it up! You want the outside of the shaker to feel totally cold. Then strain the drink into a tall glass with ice.
Top with soda water and garnish with a slice of cucumber
If you're into a classic with a twist like the Basil Tom Collins cocktail, then no slot online hits the mark better than Reels and Wheels.
This is classic slots game with 3 reels, 3 paylines, bars, sevens, and cherries, that's just like the gin and simple syrup of a Tom Collins. It's the Bonus Wheel and Jackpot Wheel, however, that give it a modern twist of basil, so to speak. Once you make it to the jackpot wheel, you can win one of five progressive jackpots. And that's the part that makes you go golp…aaahhh.
Spring brings out the best in us! With one of these fresh spring cocktail recipes, you'll be feeling as cheerful as the birds chirping outside. Kind of like taking a few spins on these online slots. The warmth will take over your senses before the sun even meets your skin. So come on down with a fresh spring in your step, because these big wins are ready to bloom!
---
Cafe is a Bitcoin casino! That means you can deposit fast while earning extra perks like bigger bonuses!