THE PERFECT SUMMER RECIPE YOU'LL LOVE (TAKE YOUR TASTE BUDS ON A JOURNEY)
June 26, 2023.
By Lindsay Moser
Lindsay Moser, also known as The Hunger Diaries, is a viral digital content creator bringing joy to eating and cooking with her delicious, easy-to-follow recipes and enthusiastic appetite. Check out all her recipe videos on TikTok, Instagram, and YouTube, and even more appetizing posts (especially if you love pasta like Lindsay does!) on her website TheHungerDiaries.com.
When it comes to a memorable Cafe Casino experience, it's not just about the games and entertainment. It's also about indulging in delightful culinary creations that enhance your enjoyment. Today, I'm excited to share this super simple summer recipe that combines the smoky flavors of charred green beans with the vibrant zest of lemon, the nutty crunch of Marcona almonds, and the creamy tang of goat cheese. These Charred Lemon Basil Green Beans with Marcona Almonds and Goat Cheese are SO good — they'll take your taste buds on a journey.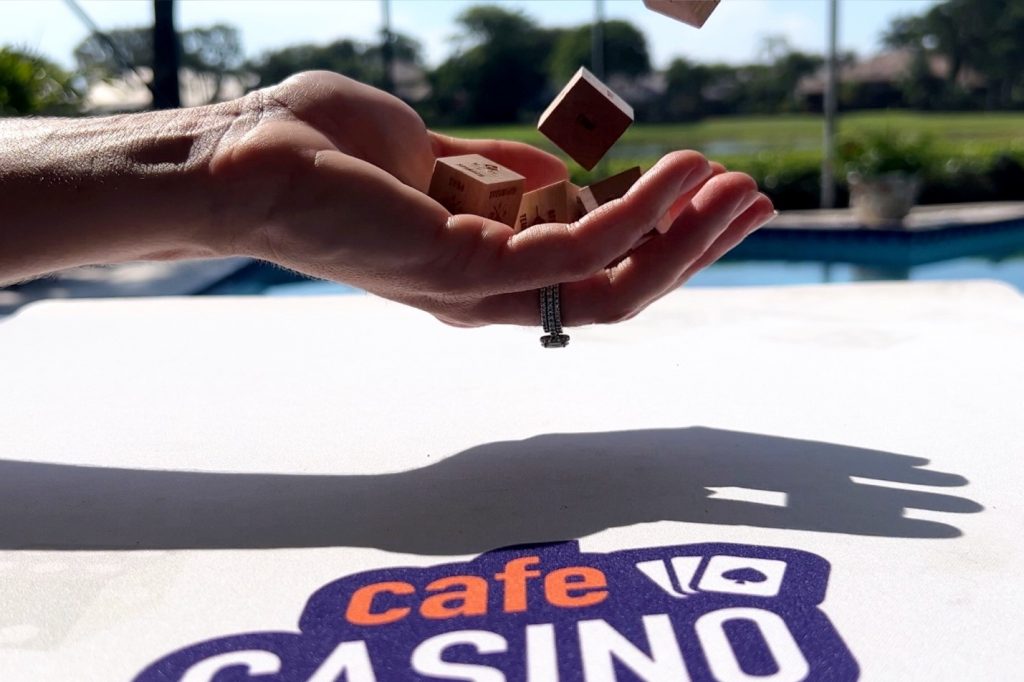 As you may know by now, one of my favorite ways to get my creativity flowing in the kitchen is to bring out the famous foodie dice for a game of CCC — Cafe Casino Cooking, baby! Just roll the dice and put on your creativity cap for the ingredients and cooking method you land on. What makes it so fun is the endless ways you can change things up or make substitutions, if you'd like.
I was HYPED when I rolled this month — I love these ingredients! I did make a little change this month and decided not to use one of the dice (the grain) as this is more of a summery side dish, and I didn't feel like it needed it. Speaking of summer, it's grilling season and I rolled "grill", so fire up that grill and let's get cooking.
Before we get cooking, if you didn't see my previous Cafe Casino-exclusive recipes, check them out now!
---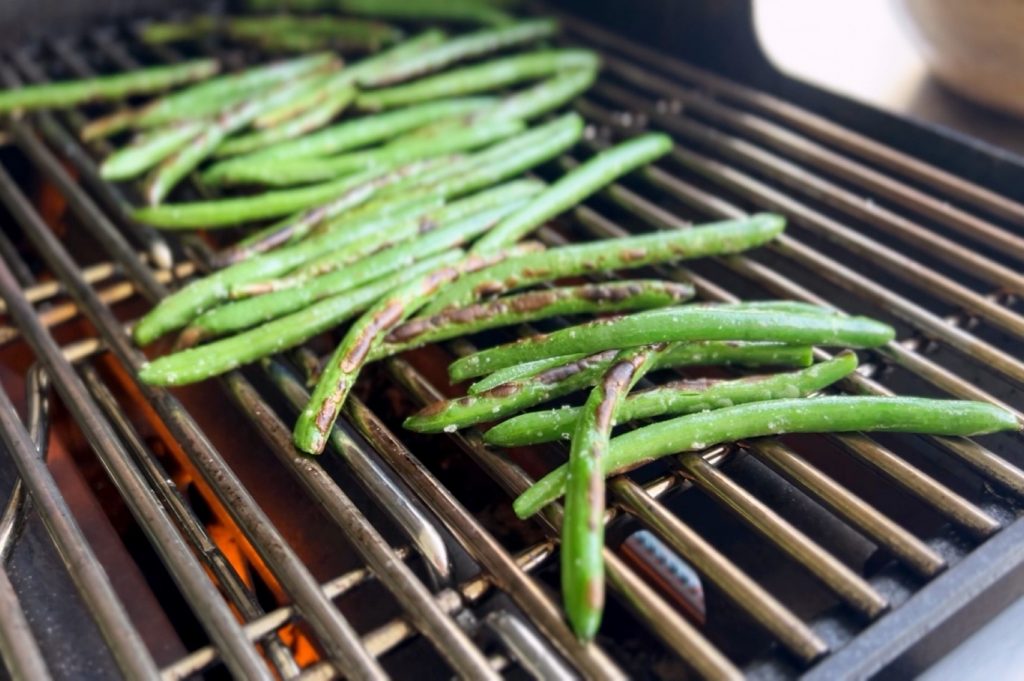 Start by giving your green beans a good wash and drying them thoroughly. Snip off the ends, then place the beans in a bowl, drizzle with olive oil, sprinkle with salt, and toss them gently to ensure each bean is coated.
With your grill preheated to medium-high heat, it's time to lay those green beans directly on the grates. Depending on your grill, the green beans might be more prone to falling through the grill grates. If you're worried about that happening, you can place a cooling rack (from a cookie sheet) on top of the grill grates to provide more surface area and make it easier to move the beans around without the risk of them slipping through. Grill the beans for about 3-4 minutes per side, or until they develop a beautiful char. Hear that sizzle? That's the sound of summer magic happening!
If they start to crisp up too quickly, reduce the heat to make sure they cook all the way through. Alternatively, if they're shriveling up and not getting much color, raise the heat to maintain that perfect balance of tenderness and smoky flavor.
When your green beans are cooked and charred, add a burst of citrusy freshness by squeezing some lemon juice overtop and tossing. This will bring out the salty, smoky and fresh flavors of those beautiful beans!
In a dry skillet over medium heat, let the Marcona almonds work their magic. I used the grill for this part so that I could soak up the sun and keep an eye on the green beans. Toast the almonds until they turn a gorgeous golden brown, releasing their irresistible aroma. Keep an eye on them to prevent burning. Once perfectly toasted, chop them into smaller pieces.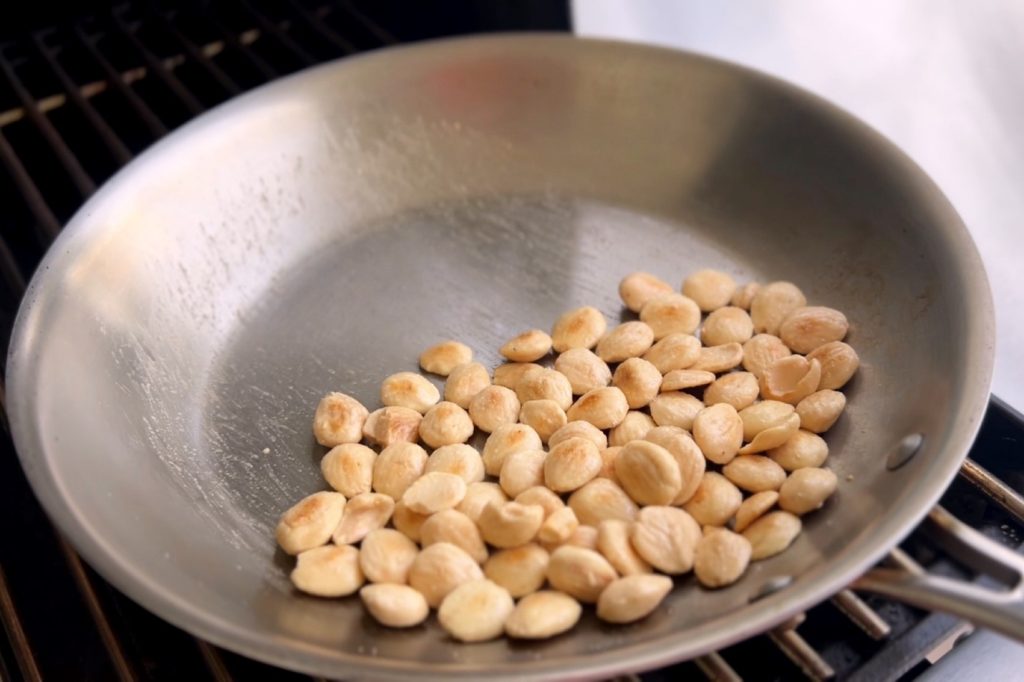 It's time to bring in the star of creaminess and tang—goat cheese! Goat cheese, also known as chèvre, is a versatile and creamy cheese made from goat's milk. With its distinct tangy flavor and smooth texture, goat cheese adds a delightful richness to both savory and sweet dishes. Take a log of goat cheese and crumble it over the grilled green beans. Watch as it gently warms and mingles with the smoky flavors, creating a luxurious texture and tangy goodness.
No summer dish is complete without a touch of vibrant green. Tear a handful of fresh basil leaves into small pieces and sprinkle them over the beans, or you can use smaller leaves like I did. The aromatic basil leaves add a burst of freshness, adding to and enhancing the amazing flavors in this dish.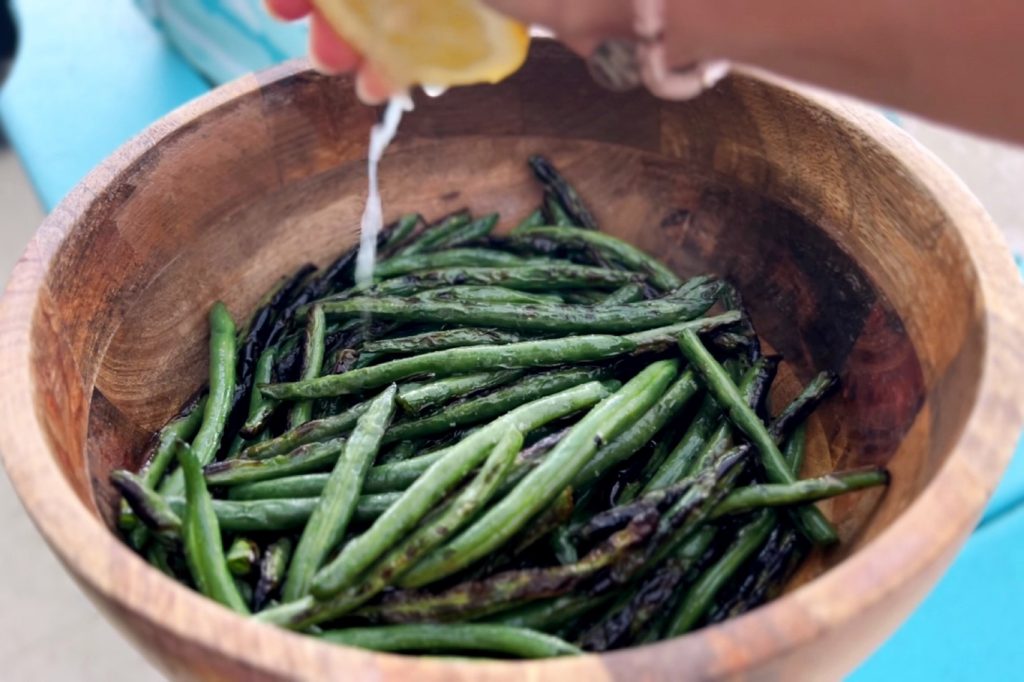 As the summer sun graces us with warmth and the smell of grilling season fills the air, these Charred Lemon Basil Green Beans with Marcona Almonds and Goat Cheese deliver on simplicity, flavor and freshness. The smoky charred green beans, the burst of citrus from the lemon, the nutty crunch of Marcona almonds, the creamy tang of goat cheese, the aromatic touch of fresh basil — Oof! Absolutely stunning. Just goes to show that you don't need a lot, nor a bunch of fancy ingredients to elevate fresh, seasonal produce.
While you dig into these beans, you can enjoy some fun summer games! Play one of the many Cafe Casino online slots now.
And, may these beans bring you joy and happiness all summer long! Happy eating!
CHARRED LEMON BASIL GREEN BEANS WITH MARCONA ALMONDS AND GOAT CHEESE
Servings: 4
INGREDIENTS:
1 pound green beans
2 tablespoons olive oil
1 teaspoon salt
1 lemon
1/4 cup Marcona almonds
2 ounces goat cheese (from a log)
Handful of fresh basil leaves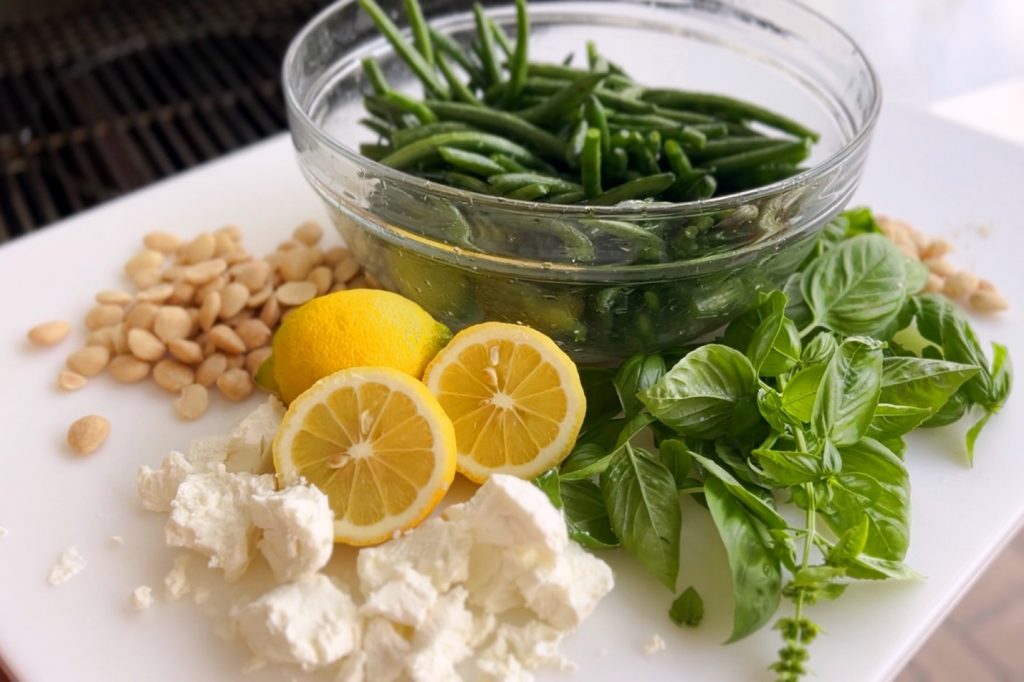 INSTRUCTIONS:
Wash the green beans thoroughly and pat them dry. Snip off the ends of the beans.
In a large bowl, toss the green beans with olive oil and salt until they are evenly coated.
Preheat your grill to medium-high heat. Place the green beans directly on the grill grates and cook for about 4-5 minutes, or until they are nicely charred. If the beans start crisping too quickly or shriveling up, reduce the heat to prevent burning. If they're shriveling up and not getting much color, increase the heat.
When the green beans are done grilling and nicely charred, squeeze some lemon juice over the beans and toss them gently to coat.
In a dry skillet over medium high heat, toast the Marcona almonds until they turn golden brown. Be careful not to burn them. Once toasted, remove from the skillet and chop them into smaller pieces.
Transfer your grilled green beans to a serving dish and top with toasted almonds, dollops of fresh goat cheese, some fresh basil, and another squeeze of lemon and serve immediately. Enjoy as a delicious and refreshing side dish or appetizer!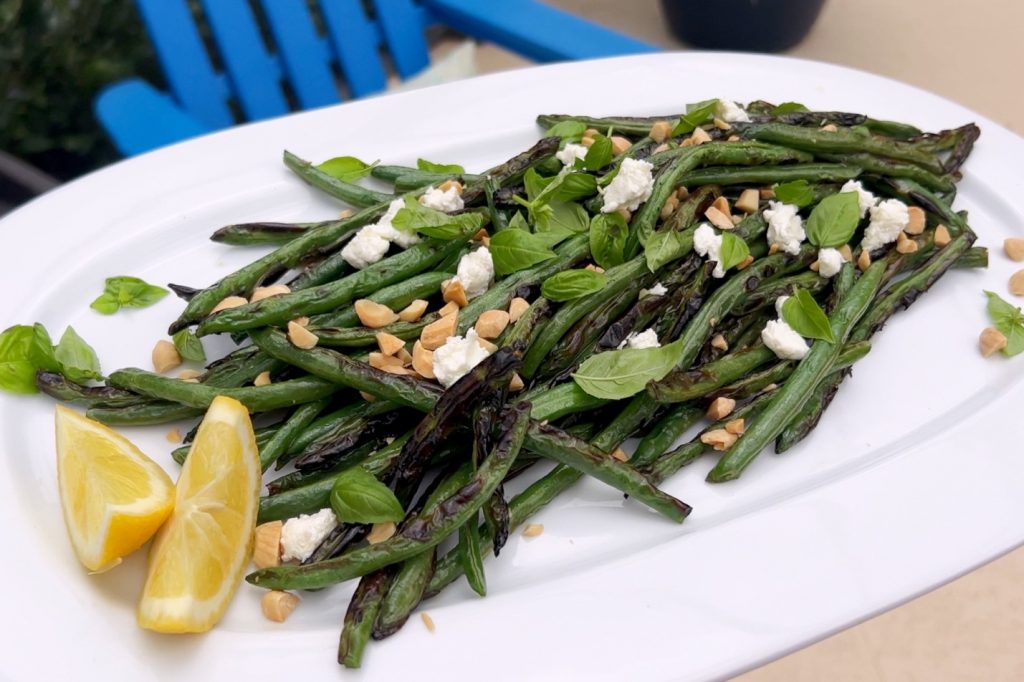 HAVE MORE FUN WITH CAFE CASINO
Add a sprinkle of fun to your refreshing side dish or appetizer by visiting us at Cafe Casino! Our online casino serves up over 250 real money casino games, including slots, table games, progressive jackpots, and Hot Drop Jackpots! You can play using your mobile or desktop at CafeCasino.lv – no downloads or apps required.
Getting started is easy! Cafe is a best crypto casino, accepting popular methods like Bitcoin, Ethereum and more. Playing has never felt so rewarding!