Candy Carnival Slot Game Review
If you've got a sweet tooth, then you're in the right place.
The Cafe Casino Candy Carnival slot is all dressed in pastels bursting with sugary goodness at an outdoor carnival. You're invited to explore the fairgrounds, and just try to keep your hands from reaching out and seizing a few handfuls of sweet free spins. It's practically impossible!
With your very own assortment of goodies just an arm's reach away, your lips will be smacking, alright, but not only for the candies, cakes, and donuts. This game is plump with lip-smacking slots prizes, too.
Free spins with walking Wilds are already frosted and ready to be served, so come along in this Candy Carnival online slot review and join us as we lick, bite, and savor every spin.
CANDY CARNIVAL SLOTS FAQ
What is a walking Wild?
This is a bonus round feature of Candy Carnival where a fully expanded Wild moves one reel to the left for each free spin, till it reaches the first reel. It's the biggest money-maker of this particular game, and it does look a little like the Time Warp.
Do you have to bet on max?
Since Candy Carnival doesn't have a slots progressive jackpot which often requires the max bet, you're welcome to play on any bet size you'd like. But remember that the higher your bet size is, the higher your wins are, too.
Can this game be played with a Bitcoin deposit?
Yes! Cafe Casino is the best Bitcoin casino you can find online. You can deposit and withdraw with any supported crypto for faster transaction times. It's just more convenient and efficient all round, so you have more time to strike the carnival bell.
CANDY CARNIVAL GAME THEME
Are you ready for dessert? When you play Candy Carnival slot at Cafe Casino, you'd better be!
Every spin is oozing with sugary high-paying symbols like slices of cake, cupcakes, ice cream cones, donuts, and peppermint candies.
As one of the best new online slots, the super bubbly theme has vibrant graphics that are sure to brighten your day. Think: the board game Candy Land with soft pastel pinks, yellows, and greens accompanied by an upbeat and playful accordion soundtrack that might belong in a cartoon. Basically, this game is a ton of retro-style fun!
CANDY CARNIVAL GAME FORMAT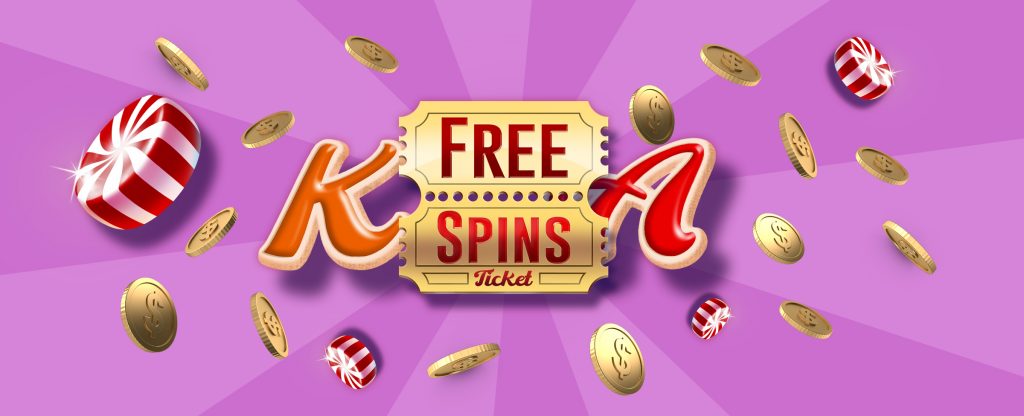 When it comes to candy, it's the more the merrier, right? Right! That's why Candy Carnival has 6 reels and 4 rows totally decked out with these yummy treats. You get 40 paylines to land the wins, and with an RTP of 96%, you can expect to see decent returns over time.
If your sweet tooth isn't as strong for one session, you can still play for the minimum bet of $0.4. Then again, if you've been hankering all day for some treats while you play, you can satisfy the craving with a maximum bet of $100, and that's the way to get the maximum payout of 5,000x your stake!
CANDY CARNIVAL GAME FEATURES
Before you dive in and devour the candies straight away (we know it's tempting!), review the slots features and make sure you know what you're about to taste. Taking a couple of minutes to learn about our Cafe Casino online slots is a winning casino strategy.
EXPANDING WILD
If there's ever been a more decadent cake out there, we've never seen it!
The Wild symbol is a fully decorated multi-layered cake, and it looks so good you'll want to reach out and take a huge, greedy bite. Any time the Wild lands in the base game, it expands and fills the entire reel, kind of like the way your stomach would if you ate the whole thing.
FREE SPINS
A carnival like this one has pulled out all the stops for a delicious show. To get the best treats in the tent, you'll need to play some games and collect at least three golden ticket scatters. These lead to a slots free spins round where the number of free spins you get depends on the number of scatters you land.
3 scatters = 10 free spins
4 scatters = 15 free spins
5 scatters = 25 free spins
6 scatters = 50 free spins
And guess what? They can all be retriggered. Just imagine if real desserts worked like that!
WALKING WILDS
During the free spins round, any Wilds that appear still expand into a giant cake that's four rows high, but this time the cake has a mind of its own.
These expanding Wilds "walk" or shift (and nearly wobble over) one reel to the left with each free spin until reaching reel 1, helping award more slots wins along the way.
Keep in mind the best feature of any game at Cafe Casino, not to mention the easiest way to earn free spins, is the renowned referral bonus. If you refer a friend who makes a successful deposit, you get a bonus to use directly inside a game.
IS CANDY CARNIVAL SLOT GAME WORTH A SPIN?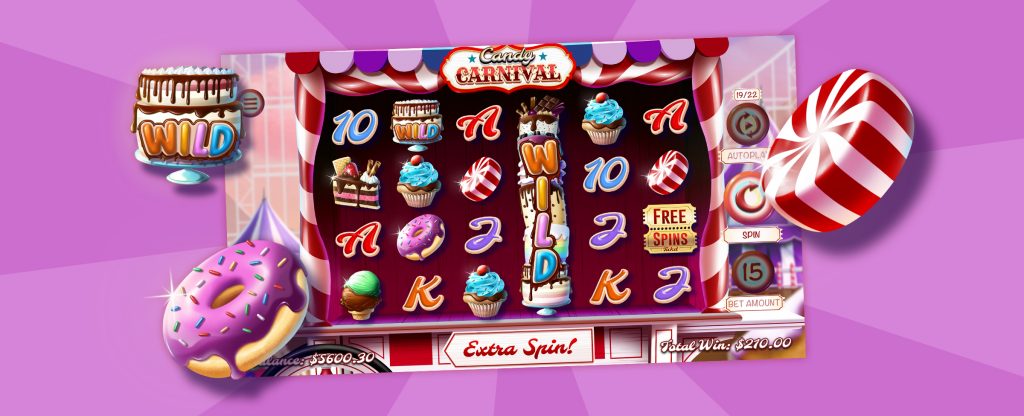 We'll answer that question with another question: Is chocolate cake worth a bite? What an easy answer – YES!
Candy Carnival is a decadent treat of sweets, expanding Wilds, and walking Wilds within free spins. There's so much to make your mouth water here, especially given the RTP off 96%, then you'd be a total sour puss not to try it. (Unless, of course, a sour candy is your preferred candy in the game!)
If you're not too full after this Candy Carnival slot review, try heading over to the Hot Drop Jackpots section for the cherry on top. These slots online are all tied to jackpots that will be won by certain times – hourly and daily, but the sweetest one of all is the 6-figure Super Jackpot!
PLAY CANDY CARNIVAL SLOT GAME AT CAFE CASINO NOW
It looks to us like you could use a little sweet treat. So, step on up to Cafe Casino, select Candy Carnival slot, and take your pick. Will it be a pink-frosted donut, a mint and chocolate ice cream cone, or a cake stacked up so tall you need a stepping stool to reach the cherry on top? Whatever it is, it only takes a minimum bet of $0.40 to try it, so give in and let yourself indulge.