Pour Yourself a Cup of New Slots This Winter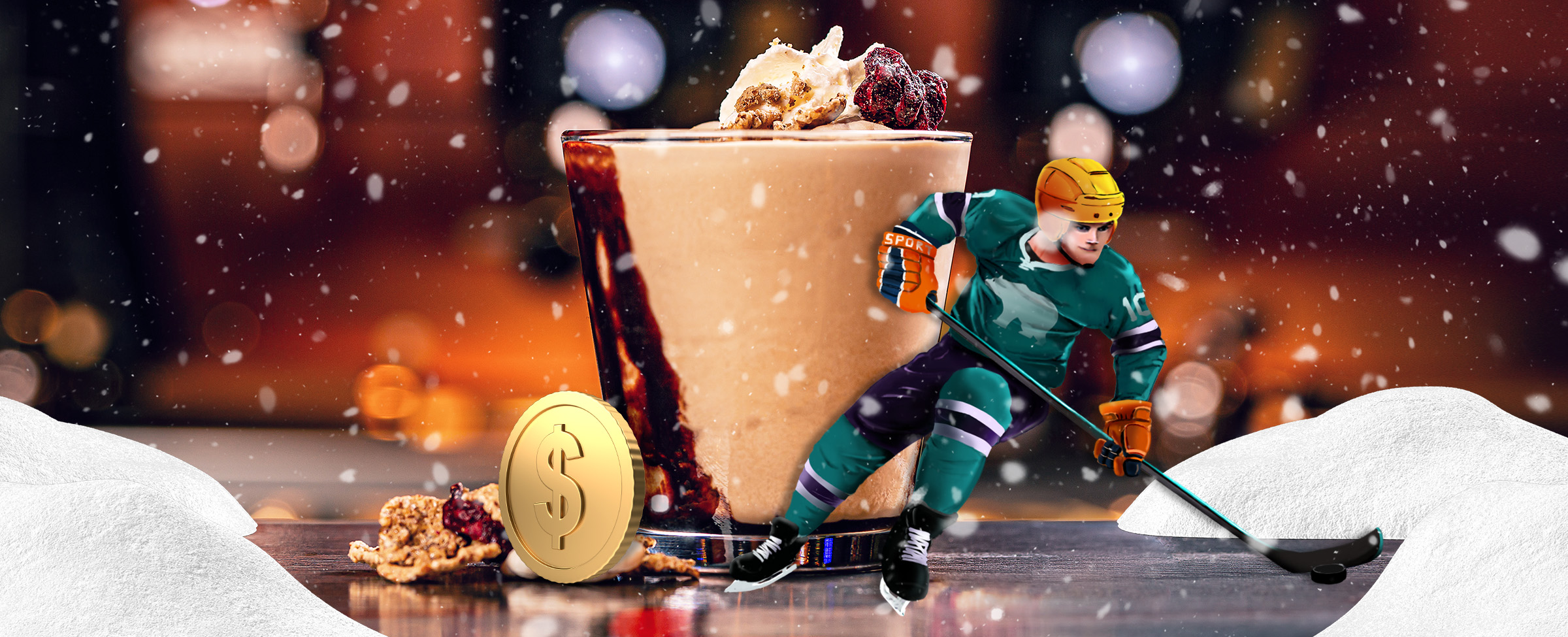 There's nothing better than a steaming mug of hot cocoa on a crisp, snowy day. Unless you add a handful of marshmallows, that is. Or unless, come to think of it, you top up those marshmallows, on that cold, wintery day, with a bevy of Cafe Casino new slots!
So be sure to leave a little room besides the marshmallows, because Cafe Casino has got an entire ceramic pot of new online slots that you'll definitely want in the mix. These slots will go down as smooth and velvety as chocolate topping, especially when you discover the prizes that are being stirred up just inside their reels.
There are extra-large dragons lapping at the side of the mug, a Tiki tower growing straight out of the froth, and two royal Queens fighting for your attention in the saucer as you reach out to take the first tentative sips.
Everyone wants their fill of the new slot games at Cafe Casino, so go on and try the freshest brew. These are going to hit juuuust the right spot!
Dragon's Scroll XL
If anyone's ever told you that you had your head in the clouds, now is your time to prove them right!
The Dragons Scroll XL slot takes place above those pillows of white, where the sky is a bright blue. Radiant dragons soar through the air over an extra-large game screen of 5 reels and 4 rows. A red and blue koi fish swim playfully in a pond, a dragon turtle guards his pile of gold coins, and pink flower buds lay in waiting to bloom.
The dragons inside this game would never go anywhere without their crystal ball, and one of them clutches it tightly to form the bonus scatter. This symbol pays from any direction and leads you to the Golden Dragon Free Spins feature where you are awarded 20 free spins with tripled wins.
The colorful blue dragon is the leader of the pack, and he is your Wild symbol with a mane of silver hair. When this symbol piles up on one reel, the dragon transforms into his highest form which is a Wild dragon the size of the entire reel, made up of pure gold.
If you don't mind some background noise, this is also the perfect slot to play while watching TV, especially a fantasy show, since it's perfect for inspiring imagination!
Tiki Tower
Tikis aren't only found as bars on beachy vacation spots. In a game like Tiki Tower, these tall Hawaiian statues with their large mouths and intense faces are standing menacingly in the jungles of one of the best CafeCasino newest slots, and they loom as large as the expanding rows and paylines.
Tikis are an ancient Hawaiian tradition. They are seen as spiritual figures who scare away evil. Where there is no evil, there's more room for good, and in the case of this new online slot, that means more room for prize potential!
When you open up the reels, you get up close and personal with the Tiki, complete with tribal drum music setting the scene. It starts off with 5 reels, 3 rows, and 30 paylines, but that's only the beginning. Just as a real Tiki statue stretches high into the sky with layers of unique rows, your game progressively expands upwards to eight rows and 80 paylines.
As the game size increases, so do your chances of landing Tiki tower symbols on reels 2, 3, and 4 which awards seven free spins.
As your balance grows upward along with your game screen, the ever-expanding tower of big winners could possibly add another layer as well, but this time with your name at the very top. It seems these faces weren't so frightening after all.
American Jet Set Hot Drop Jackpots
Step aboard your private jet, the high life is waiting for you in American Jet Set Hot Drop Jackpots. An attendant hands you a glass champagne as you settle in for the ride of your life. You glance at your wrist and your gleaming gold watch says you'll be there in no time.
When you land in this new slot game, you grab your designer bag filled with diamonds and luxury car whisks you off to your presidential suite at an extravagant hotel, with a view of the fountains out front. Here, you'll don your lucky suit, which is your Wild to help form more wins.
The excitement continues when two shiny gold Bonus symbols and a colorful Wheel icon catch your eye, and you're served up a Bonus Wheel filled with delicious multipliers from 5x to 500x your bet.
You keep spinning your way through lavish symbols until a stunning crown stops three times on the reels. You gasp as you've triggered the Cafe Casino Hot Drop Jackpots, and the hourly, daily, or super jackpot are about to find its way into your hands and make you that much wealthier. What a life!
Luxe 555
It's time to dial it back a bit, but not in excitement or the size of your wins, only in time.
In Luxe 555, you go back to the good ol' days when retro reels ran the scene. The days before elaborate Hot Drop Jackpots changed the world of slots forever with jackpots that must drop every hour.
Back in those days, a simple 3×3 setup was all you needed to make a win. As it turns out, that's all you need in these days, too.
This game takes place inside a luxurious VIP room with walls made up of quilted black leather lined in 24-carat gold between the creases.
You're not just any regular patron when you're on these reels, however. Inside the Luxe 555 room, you are granted special control over the game. You can select 'Custom Bet' to multiply your line wins with Luxe Lines by adjusting each line on the board to play 1x, 3x, or 5x.
Plus, since Cafe is the best Bitcoin casino online, you can get the old-school vibes of the game with some very modern methods to take out your cash. All it takes is 15 minutes to see your winnings after your request is approved!
Bloodlines
With the Bloodlines slot, new slot games at Cafe Casino have taken a seriously dark turn… but certainly not without some light at the other end.
Before you navigate the reels with their 100 paylines, be warned: a family of blood-thirsty zombie vampires call this online slot their home. Their castle may reveal its many secrets at will, but the best one arrives with the Scatter symbols. The crimson-red Bloodline logo present themselves in the halls of the reels. When they do, three or more will award 15 free spins with tripled wins. That's something to sink your teeth into.
During free spins, Wilds emerge from those thick, mirrored walls and stack together on a single reel, combining to form a coffin in their place. The coffin is your cue to grab your prize and keep it moving like your life depends on it – you certainly don't want to get caught and pushed inside!
There are still more slots prizes to be unveiled throughout the house as long as you can stay away from the dastardly zombie vampires for long enough.
You may want to invite a friend to come along. You know – for moral support. That way you can take a casino referral bonus to help you navigate the hallways and grab your prizes before the hungry monsters capture you and devour your blood.
Clash of Queens
The Clash of Queens slot is based on the classic tale of Alice in Through the Looking Glass by Lewis Carroll. Just as Alice tumbles through the mirror to discover a strange and intriguing world, you'll find yourself inside a fantastical land of prizes alongside timeless characters from the original story.
The Red and White Queens await you in one of the most exciting interactive bonus rounds in all of our new slots. A battle is about to commence, and the Queens ask you to choose a side. You'd be wise to choose carefully… because if your Queen wins the battle, you receive her rewards at a magnified value that would make Alice dizzy.
But don't give up the war just because you lost the battle: if your chosen Queen doesn't win this round, you can still reap the unique rewards associated with her name. The Red Queen offers free spins and Wilds, and the White Queen offers a special you-choose game.
With all of these fantastic interactive bonus rounds and a whole world to discover, this is the perfect game to play over a long weekend, so get comfortable and cozy up!
Sit by the window, watch the snow or the last of the crisp leaves swirling on a gust of wind, and wrap your hands around the warmth of these new slot games. They're hot as furnaces with their simmering jackpots, so be sure to blow the steam off the top before you drink them in. As soon as it cools off just a little, be ready to indulge in a generous gulp of heartwarming prizes from your favorite table at Cafe Casino.