GOLD RUSH GUS SLOT GAME REVIEW
If we're to believe the history books, we'd think that we couldn't be much farther from the Gold Rush of the 1840s. But one game at Cafe Casino knows a secret from the days of yore: there is more treasure to be dug up, and X marks the spot precisely inside this online slot!
Cafe Casino Gold Rush Gus slot is one of our most famous games. The animations are unforgettable, and the ground is ripe with riches. As you dig through this Gold Rush Gus online slot review, you'll unearth tips on how to play its unique features like an interactive bonus round, instant wins, free spins with multipliers, and multiple jackpots. There are enough features in this action-packed slot to keep you reeling for days!
Do you have your shovel handy? Get ready for a rush of thrills and a game of gold with one of our most popular slots.
GOLD RUSH GUS SLOTS FAQ
How many jackpots does Gold Rush Gus have?
There are two mini jackpots and one progressive jackpot. Not too shabby!
Is there another slot online that features Gus?
Yes! Gus is so popular around here that we offer another game called Gold Rush Gus and the City of Riches. In this version, you join Gus in digging for ancient relics in the jungle, with yet another set of unique and interactive features. Read our Gold Rush Gus and the City of Riches Slot Game Review for tips now.
Is this game eligible for bonuses?
Yes, the most popular bonus to play with is the Refer a Friend bonus. You get a bonus for having friends sign up and deposit to play at Cafe.
GOLD RUSH GUS GAME THEME
The best way to describe the Gold Rush Gus slot at Cafe Casino would be a fun-filled trip into an old west mine. There you'll meet, Gus, a mustachioed prospector, and his mole friend; together, you'll go on a mission to dig for – and find – precious gems.
Instead of spinning reels, Gus swings his pickaxe over the animated reel set and the symbols crack and break away to reveal what's underneath. The result is a one-of-a-kind gaming experience that's far closer to a video game than a slots game!
GOLD RUSH GUS GAME FORMAT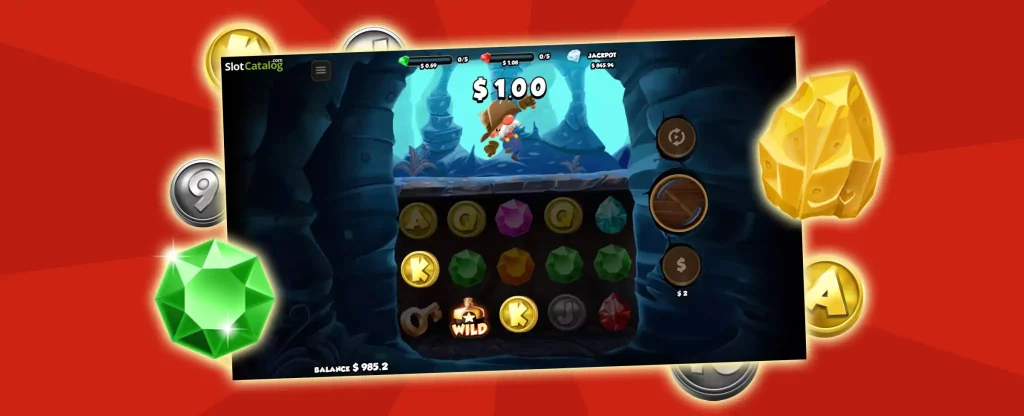 Gold Rush Gus is a dazzling game with high-end graphics and consists of 5 reels, 3 rows, and 10 paylines. Anyone who simply wants to enjoy the graphics can play for as little as a minimum bet of $0.60.
If you want to take full advantage of the major collection of slots features, you can play on a maximum bet of $120.
That's a good thing, too, since the maximum win per spin is 10,000x bet per line!
Since Cafe is a crypto casino, you can take advantage of the fastest and easiest deposits by using crypto. You'll still view your balance in USD during the game, but using crypto for your deposits and withdrawals makes it a great deal faster and easier.
GOLD RUSH GUS GAME FEATURES
We already know that this game is upbeat, and once you encounter the amazing features, you'll see that it's exceedingly generous, too.
WILD
The bottle of moonshine is your Wild, and it substitutes all symbols except the Key and Free Spins icons.
LAVA REELS RE-SPIN
With this online slots feature, you'll be pleasantly surprised when lava randomly covers between two and five reels on a non-winning spin. It burns up the symbols with a jet of lava, and reveals new symbols to give you a fresh shot at striking gold.
FREE SPINS
If you pick up three of your free spins symbols – the pickaxe and shovel – from reels 1, 3, and 5, you get a hefty combo of slots free spins and multipliers. That's either 5, 10, or 15 free spins, and multipliers of either 2x, 3x, or 4x, and they can all be retriggered!
The multipliers do not accumulate, however there is still a chance of scoring the maximum win per spin of 10,000x your bet.
TREASURE CHEST
When two key symbols land on reels 1 and 3, that little mole friend appears with a treasure chest. When the chest opens, and you hear a whooping "woohoo!" from Gus, you barely need to look to know that you've just scored yourself one of these online slots prizes:
Instant win
Bonus game
One of two mini jackpots
The big progressive jackpot itself!
BONUS GAME
We hope it hasn't been too long since you played Mario Kart. That's because your steering and navigating skills are about to be put to the test! When you find yourself taking a precious-looking map from the treasure chest, you'll be whisked off into the Gold Rush Gus bonus game, where you'll take a thrilling go-cart ride over a rickety wooden track. There's no time to just stretch out as you take in the scenery whirling past you! Your steering skills will be required to reach out and collect as many coins as possible to pump up your payday.
2 MINI JACKPOTS
If it's not a map you're pulling from the treasure chest, it may well be a green or a red gem. If you collect five of the same color gems, you win that gem's mini progressive jackpot.
PROGRESSIVE JACKPOT
Of course, the real treasure you're probably after is the blue and white diamond. If that's what comes out of the treasure chest, then you and Gus will be hootin' and hollerin' all the way to the bank with the major progressive jackpot!
IS GOLD RUSH GUS SLOT GAME WORTH A SPIN?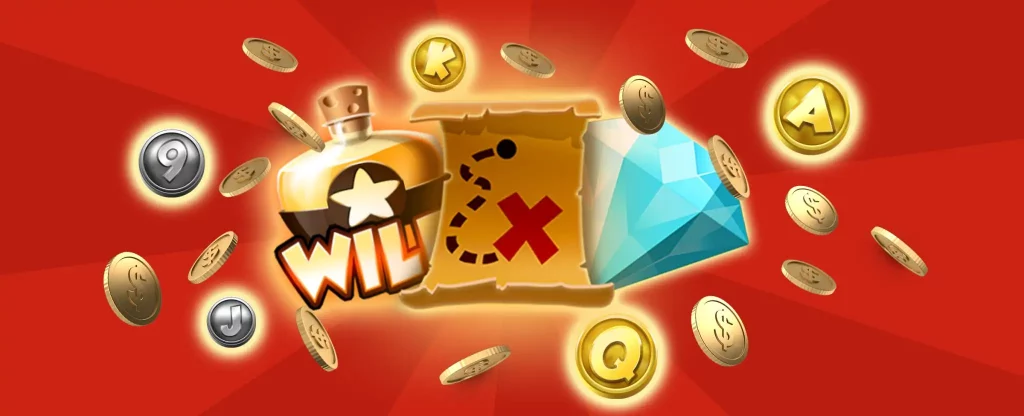 There's a reason why Gold Rush Gus is one of our most popular go-to games, and since you've come nearly to the end of this Gold Rush Gus slot review, you'll have a good idea what those reasons might be. The fabulous graphics are made even sweeter by the fact that there are three jackpots and a huge max win per spin. So we'd be crazy if we didn't say it: this game is definitely worth a spin!
After this game gets your adrenaline going, why not take some of that energy to our Hot Drop Jackpots when you're done? These are online slots with three jackpots on offer, including one with a growing prize pool that's ready to drop every hour of the day.
PLAY GOLD RUSH GUS SLOT GAME AT CAFE CASINO NOW
We just flipped the history books up on their heads: the Gold Rush isn't over yet. And of all our Cafe Casino online slots, Gold Rush Gus is solid-gold proof!
So what do you say? Are you up for the chance to dig up one of three progressive jackpots? Your overalls are hanging just over your betting hook, and all that's left to do now is to set your amount and grab a shovel!