Best Carrot Muffins Recipe for Easter (Play Hot Drop Jackpots While They Bake)
As the Easter bunny, everyone's second favorite rabbit (after Year of the Rabbit, of course) hops his way onto the 2023 calendar on April 9th, we have perhaps the most perfect treat to attract his attention: warm, golden, decadent carrot muffins. You know the little guy couldn't resist, and for very good reason, too.
When it comes to games like Cafe Casino Year of the Rabbit Hot Drop Jackpots, you can quickly see how carrots are worth their weight in gold. With multiple fixed jackpots and the highly coveted Hot Drop Jackpots, you'll be sinking your teeth into the golden carrots of paydays (and a silky peanut butter frosting, because you only live once!) right alongside the rabbits themselves.
So when you swing by the store to pick up ingredients for all your Easter recipes this year, be sure to save some space in your shopping cart. You'll need a few extras to treat your tastebuds. As for the treats for your bank account, those will get baked up in the slot.
Ready to whisk up an Easter to remember? An extra special Easter begins just below with this best carrot muffin recipe from Cafe Casino.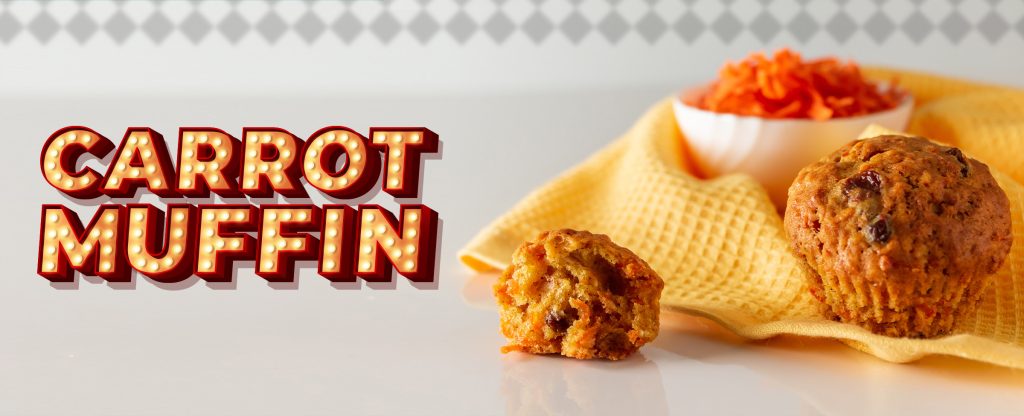 CARROT MUFFINS WITH PEANUT BUTTER FROSTING: INGREDIENTS
For 24 muffins:
2 cups roughly chopped raw walnuts, pecans, or both
2 cups all-purpose flour
1 cup whole wheat flour
4 tsp baking powder
½ tsp baking soda
3 tsp ground cinnamon
1 ½ tsp ground ginger
2 tsp kosher salt
4 large eggs
2 cups unsweetened applesauce
1 ½ cups brown sugar
1 cup vegetable oil
2 tsp finely grated orange zest
3 cups peeled and grated carrots (about 2 large carrots)
1 cup golden raisins
OPTIONAL: hemp seeds, chia seeds, flaxseeds, and/or sesame seeds for topping
For the peanut butter cream cheese frosting:
2 packages, softened (8 ounces) cream cheese
1 cup smooth peanut butter
3 cups powdered sugar
1 teaspoon vanilla extract
2 tablespoons heavy cream
1 cup roasted peanuts, roughly chopped and coated in honey
Supplies
2 standard 12-cup muffin/cupcake pan
24 muffin/cupcake liners or grease paper
1 large bowl
1 medium bowl
Cooling rack
A standing mixer if you have it, otherwise a whisk will do just fine
DIRECTIONS
Get ready:
Preheat the oven to 325° F.
Line the cups of the muffin pan (you will need to do this twice for two batches).
Prepare the muffins:
In a large bowl, combine the all-purpose flour, whole wheat flour, baking powder, baking soda, cinnamon, ginger, and salt. Mix it all up with a whisk.
In a medium bowl, whisk together the eggs, applesauce, brown sugar, vegetable oil, and orange zest.
Add the mixed ingredients from Step 2 to the dry ingredients in Step 1. To combine, use a rubber spatula to gently fold them into each other until they're almost totally combined, but not all the way. Do not stir in circles.
Grab your grated carrots, raisins, and nuts and gently fold them into the batter as well with the rubber spatula. Do this lightly just until they're settled in the batter, and avoid over-mixing!
Now pour your batter into the lined muffin cups. You can fill them up to just below the brim.
If you're using the seeds, sprinkle them over the tops now.
Bake the muffins:
Place the muffin pan on the middle rack and bake for about 18-22 minutes.
Now that you've got a few minutes to spare, grab your phone and play Year of the Rabbit. By the time your muffins are done, you may have already won one of the Hot Drop Jackpots! One has to drop every hour, after all.
Around the 20-minute mark, the tops of the muffins should be puffed out and golden brown. When you stick a knife or toothpick in the middle, it should come out clean.
When you take them out, put the muffin pan on a wire rack to cool for about 5 minutes.
After 5 minutes, remove the muffins from the pan and place them directly on the rack to cool all the way.
Now's a good time to do the frosting.
Whip up the frosting:
Cream together in your mixer, or with a whisk, the softened cream cheese and peanut butter. Make sure they're soft enough to avoid lumps.
Add the powdered sugar a little at a time to avoid making a mess.
Add the remaining vanilla, heavy cream, and nuts until the blend is even, and the frosting is silky smooth.
When the muffins are cooled, use a regular butter knife to slather on a layer of frosting for each muffin.
Dig in. You earned it!
PRO TIP: These muffins store well in the freezer! Just ensure they're in an airtight, moisture-free container.
PLAY YEAR OF THE RABBIT HOT DROP JACKPOTS AT CAFE CASINO TODAY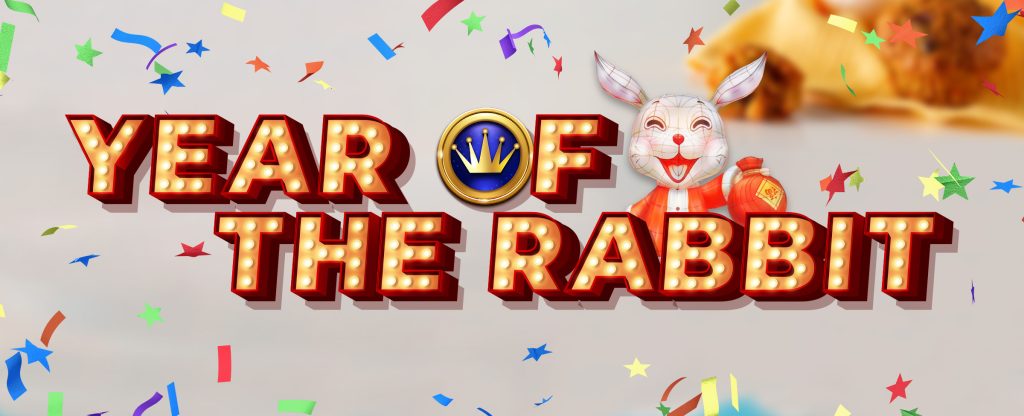 SO: how'd that carrot muffins recipe turn out? Fabulous? Just like we thought! But that's not even the best part of your Easter agenda. Okay, let's call it equal best. The other best part is the very lucky Chinese-themed slot game that we're featuring to mark the occasion.
The Year of the Rabbit slot was already one of our best slots to celebrate the Chinese New Year. Which, it just so happens, is the year of 2023! So, let's give it another round of love, and maybe it'll give us another round of easter eggs… after the divine muffins are all devoured, of course.
When you play this online slot, the rabbit's qualities of longevity and prosperity are shared over the 5 reels, 3 rows, 243 paylines, and lush fields of free spins.
With the presence of one or more Wild symbols on the reels, the bonus game may trigger at random to award you one of four fixed jackpots reaching as high as 1,000x your bet.
As if the rabbit's own luck wasn't enough, three special crown symbols may grace your reels with their presence at random. If they do, you'll get to spin a wheel to win one of three Hot Drop Jackpots, making this an Easter that you'll truly never forget.
CAFE CASINO IS A BEST ONLINE CASINO
Just as the muffin top is the best part of the muffin, you can be sure the jackpots are the best parts of this Year of the Rabbit slot. But that's not all the perks you get at Cafe.
Since we're a crypto casino, using cryptocurrency means simply that you can enjoy faster and safer deposits and withdrawals. You'll also earn more rewards along the way.
If you can't wait to share all of these delectable experiences, and you decide to refer a friend, we'll even give you a bonus to use towards Cafe Casino online slots. It's one of the best casino referral bonuses you can find!
Just like the jackpots in Year of the Rabbit, we offer an a la carte menu of slot games with the ever-popular Hot Drop Jackpots. These jackpots must drop either every 60 minutes, every 24 hours, or the Epic pot can drop at any time and award huge amounts.
So, heat your oven to 325℉… but prepare to turn up the dial to five or even six figures when the value of a huge jackpot win burrows deep into your account. Then – it's 24 carrot gold time.
That's all, folks.