CLASSIC AMERICAN DINER FOOD RANKED (DID YOUR FAVORITE MAKE THE LIST?!)
What's more American, as they say, than apple pie? How about Walmart, you might reply, or baseball, or the Statue of Liberty? But even more than all these things baked together, and especially if your stomach is grumbling, you might be tempted to place your vote on one of the few things we all have in common. From Alaska to Alabama and Maine to Miami, classic American diners are on the map of every town, and have a special spot in every American's heart.
Neon signs on the wall, vinyl booths, checkered floors, and a jukebox playing the same Eagles song at least once an hour.
At Cafe Casino, that classic American diner is a constant inspiration. We take the decadence, friendliness, and endless refills of good stories and good times, along with the coffee, of course, and bundle it to present to you every time you take a break to play with us. With cream and sugar.
So how about that apple pie? Well… did it even make the list? You're about to find out! We've ranked the best dishes at American diners, from best to… well, best.
Pull up a stool, hon, and listen to our specials through the din of busy chatter. We'll have you served up and chowin' down in no time, but first, you've got to see what's on the American diner menu.
#7. WAFFLES
Light, fluffy, and crispy on the outside. Golden centers. Piping hot. How in the world do they make waffles as good as this?
That's all part of the diner magic, it seems. They know how to take a classic and somehow reinfuse it with an even more classic version of itself.
In the best American diners in the USA, you can take the waffle and make it your very own, which of course is all a part of the experience. Melt some butter, douse it in syrup, and dress it up with whipped cream and berries. Sure, you can add bacon.
If you're really hungry that morning, level this dish up to a "chicken and waffle" with a few pieces of fried chicken and syrup on top. Do the heavens know no limit?
#6. MEATLOAF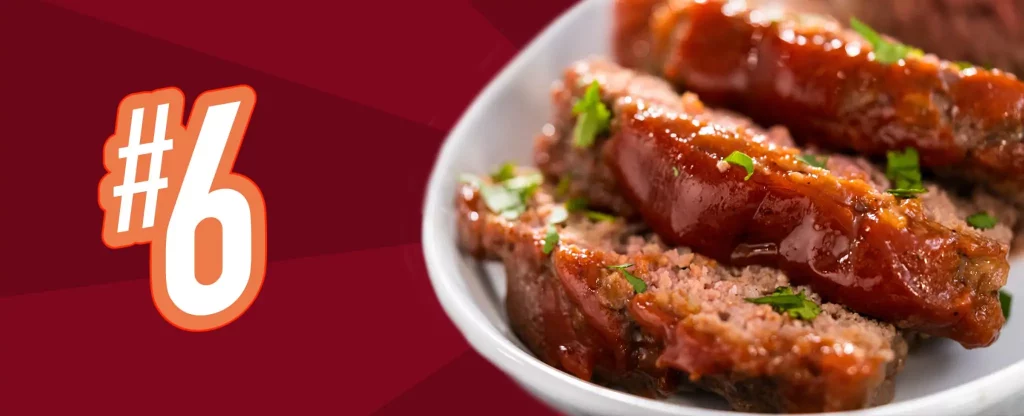 Growing up on American soil, a good deal of us will recall coming home to the aromas of roasting beef and garlic wafting from the oven. You hurry to wash your hands and slide into your usual seat at the dinner table with your napkin at the ready. It's as familiar a scene – and smell! – as they come, and one that you can experience again and again in American diners the country over.
Meatloaf is the epitome of American comfort food – ground beef, breadcrumbs, a secret assortment of spices, and a rich, savory gravy to accompany each bite.
Of course, you can't have meatloaf without a side of creamy mashed potatoes and greens, so let's add that to the plate for delicious diner dish number six!
#5. FRENCH TOAST
French toast is a decadent treat to make at home, but enjoying this syrupy, cinnamon-spiced, and vanilla-filled breakfast is best enjoyed when you can skim the newspaper, coffee pot on hand, and let the kitchen take over the pan.
It takes a special touch to achieve the perfect golden brown, slightly crispy outside, and a soft, custardy – but perfectly cooked! – texture on the inside. When it's done right, French toast is an all-encompassing, fully melt-in-your-mouth delight, especially when it's topped with fruit and covered in maple syrup. It's a well-earned fifth place in this American diner food list.
#4. REUBEN SANDWICH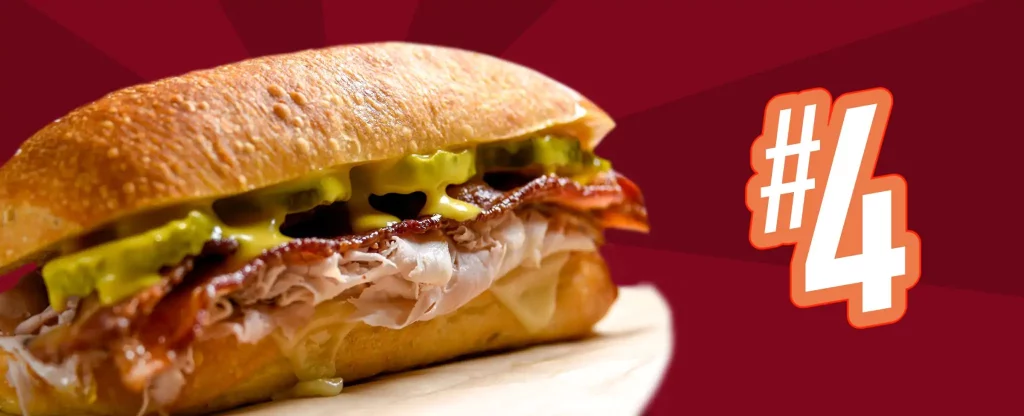 From the very first bite, your teeth sink through the crispy rye bread and into an explosion of flavor. The tender and salty corned beef pairs with the tangy sauerkraut, which are leveled up by the creamy Swiss cheese, before the sweet thousand island dressing takes it to soaring heights. If there's a better sandwich on this green Earth, then we've never seen it.
#3. MILKSHAKE
Chocolate, vanilla, strawberry, mint chocolate, or cookies 'n cream ice cream – everyone has a go-to flavor: what's yours? At the best American diners, the milkshake artistes will blend the milk and flavoring together before adding all the fixings; perhaps some syrup, cookie chunks or nuts and cherries. They're ready to serve up a rich and creamy glass of liquid heaven right there in your booth.
If it happens to be around the holidays, some American diners might even offer a pumpkin pie milkshake, and you just can't beat service like that! Be sure to get that extra whipped cream on top, and you'll get the third-ranked American 50s diner dish.
#2. BACON CHEESEBURGER
If there's anywhere that knows how to build a burger – like, seriously build a burger – it's classic American diners. Once you have a real American diner burger, everything else is a poor imitation.
You know how it's got to look: the soft, pillowy bun, the juicy, seasoned beef patty (fried on a griddle as old as time), and plenty of deliciously gooey American cheese melted on top. The bacon should have some crisp, but never arrive dry. The lettuce, tomato, and onion must be fresh and provide a little crunch, without risking tomato ooze, and the sauce should be so delicious that you can't even name it, but you feel a primitive need to have more. Pickles or no pickles.
And that is what makes an American diner bacon cheeseburger so very nearly at the top of our list!
#1. BISCUITS AND GRAVY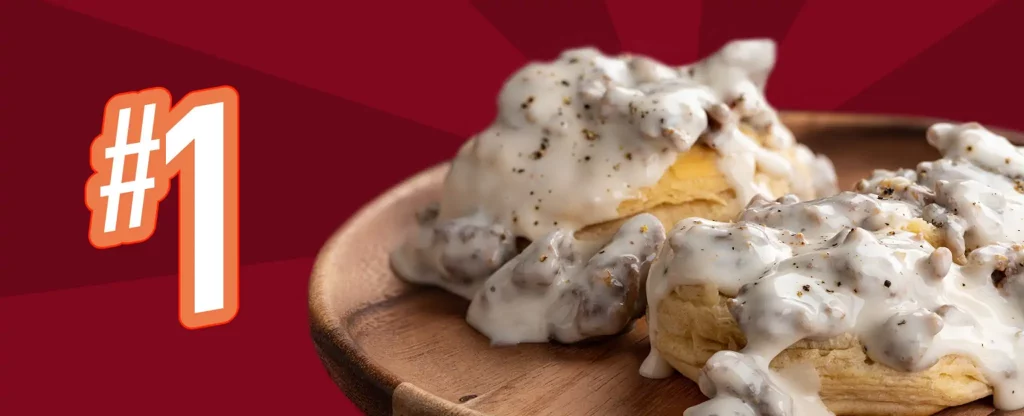 Who's been to an American diner and never ordered biscuits and gravy? Is that even legal? It might even be in the Constitution.
Jokes aside, this hearty dish is a tried and true classic in the U-S-of-A. If you want to get technical, the history of American diners says that this dish has been around since the 1800s. Let's just say they've had plenty of time to perfect the ideal texture of the biscuit: soft and fluffy yet still rich and buttery.
Add the creamy crumbled sausage gravy and maybe a side of scrambled eggs or hash browns, and you've got yourself one of the most classic and satisfying dishes at a classic American diner. Which is why we've enthusiastically placed this gem as number one on our table…and why we might be greedily wolfing it down by the time this diner list is done!
So, what do you think? Did we hit the spot with our number one? Let us know on Twitter @CafeCasinoLV.
CAFE CASINO IS A BEST ONLINE CASINO
At Cafe Casino, we have hundreds of games to enjoy, including our new slots and seasonal online slots, huge progressive jackpots, and Hot Drop Jackpots that must drop by a certain time. We're talking one jackpot that must drop every hour, while another must drop every day of the week. It's safe to say there's always something hot on the menu at Cafe.
Unlike a busy American diner, there's no wait time to get started – especially if you deposit with crypto at Cafe. Since Cafe is a crypto casino, you can deposit with crypto, get bigger bonuses, and get right into your game within minutes of feeling that strike of inspiration.
You'll still view your balance in USD – so there'll be no difference during gameplay. But after you rack up some wins, you can withdraw your crypto balance far quicker than any other transaction method.
No one likes to dine alone for every meal, and no one likes to play alone for every game, either. If you refer a friend to deposit and play at Cafe, we'll give you a bonus to use in a game. That's just for you, to say thanks for coming in with friends!
Whether you're pulling up a chair for a sweet and decadent breakfast of new games, or just dropping in for a hearty, satisfying lunch with all the fixings, we have prepared your diner dish of choice, and we're ready to serve up Cafe Casino online slots with a huge gravy boat of jackpots. Order's up! Get 'em while they're hot!